JYM
MASS JYM
High-Quality Protein And Carb Blend For Max Muscle Growth*
The Ultimate Lean Mass Gainer Formulated With Only Premium Protein Sources
Product Overview
High-Quality Protein

And Carb Blend for


Max Muscle Growth!

JYM supplements combine scientific research with premium ingredients at precise doses to bring you the best possible results. Mass JYM is the ultimate lean mass gainer. With both a 1 scoop and 2 scoop serving, you can customize Mass JYM to fit your personal fitness goals or diet requirements. Combining only premium protein sources and a complex carbohydrate blend, Mass JYM is made for one thing: building serious size.*

Unlike most mass gainers on the market, you won't find low-quality concentrate protein or cheap maltodextrin in Mass JYM, only the highest-quality ingredients that produce incredible results.*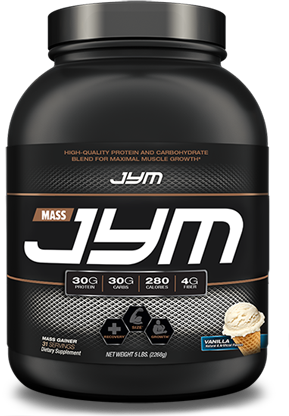 What You Get with Mass JYM
30 grams of protein from quality sources. No concentrate protein.
30 grams of carbohydrates from a combination of Pea Starch, Polydextrose, Isomaltulose, Oat Fiber, and Dextrose. No maltodextrin.
Complete transparency. You see the exact gram amount of each protein and carbohydrate source.
Free from Concentrates
Protein is paramount. When shopping for an effective mass gainer, don't make the mistake of simply looking at overall calories and total protein—there's a whole lot more that goes into an effective gainer.
If Mass JYM's protein blend looks familiar, that's because the same combination of protein sources used in Pro JYM protein powder is in Mass JYM. Each scoop provides 30 grams of protein from high-quality whey protein isolate, micellar casein, milk protein isolate, and egg white protein. We skip the whey protein concentrate, which you'll find in just about every other mass gainer on the market. Don't sacrifice quality for calories. You can get both with Mass JYM.*
Egg albumin: 3g • Micellar casein: 9g • Milk protein isolate: 9g (7.2g casein, 1.8g whey) • Whey protein isolate: 9g
Are Blends Best?
This is a hotly debated topic within the fitness and nutrition community: Which is more effective for muscle growth and recovery, a protein blend or whey alone? While whey protein is crucial for muscle growth, whey protein alone may be coming up short. A well-engineered blend of premium proteins will help maximize muscle growth.*
Whey is a rapidly digesting protein that results in a quick spike in muscle protein synthesis (MPS), which is exactly what you need post workout. However, this quick spike lasts a short amount of time due to the quick-digesting nature of whey proteins.
Adding medium-digesting and slow-digesting proteins to whey results in an increase in MPS for a longer period of time than whey alone. Muscle protein synthesis is directly responsible for muscle growth and an increase in muscle size, so increasing your body's anabolic response over a longer period of time can seriously impact your overall results.*
1:1 Carbs to Protein Ratio
Carbs are crucial when you're trying to put on mass and load up on quality calories, which is why they're a key part of Mass JYM's ultimate lean-mass gainer formula.*
Just like protein, there's more to the carbohydrates in a mass gainer than just the gram count. You want a specific blend of carb sources that digest at a consistent rate to avoid a rapid rise and fall in blood sugar.* The best way to assess the blood sugar impact of carbohydrates is with the Glycemic Index.
The Glycemic Index, or GI, measures carbohydrates based on how they raise blood glucose. These carbohydrate sources are ranked in comparison to reference foods. Glucose and white bread, both with a value of 100, are at the upper end of the GI spectrum. The lower the GI value of a food, the slower its carbohydrates are broken down and released as glucose into the bloodstream. Foods with a lower GI value have a positive impact on your body's insulin sensitivity, which is a crucial component of how your body utilizes protein and carbohydrates.
There is a time and place for both high-GI and low-GI carbohydrate sources. A perfect example is the dextrose used in Post JYM Carb. Post-workout dextrose spikes blood sugar to help replace the glycogen your body just used to fuel your workout and enhances the uptake of creatine and carnitine, which you will find in Post JYM Active Matrix(link).* A mass gainer requires a precise combination of fast- and slow-digesting carbohydrate sources that will work at any time of day.*
Mass JYM can be taken in the morning, between meals, post workout, before bed, or whenever you can fit in a shake to help you hit your macronutrient targets.
Beat the Bloat
The key carbohydrate component of Mass JYM is pea starch, a very low-GI carbohydrate. It produces a steady rise in blood sugar and a correspondingly steady insulin response.* Best of all, pea starch has a very low osmolality. Osmolality refers to the concentration of solutes in a given solution, such as a protein and carbohydrate shake. A shake with a high osmolality won't diffuse properly through the membranes of your digestive system, causing serious bloating, a very common problem with mass gainers. Pea starch is also a source of prebiotic fiber, which helps increase beneficial intestinal flora.
Dextose (3g) • Creamer/Flavor System (5.5g)
Pea Starch(14.5g) • Polydextrose(4g) • Isomaltulose(2g) • Oat Fiber(.25g)
Rounding out the carbohydrate blend in Mass JYM are dextrose, polydextrose, isomaltulose, and oat fiber. Mass JYM provides your body with both quick-digesting carbs for immediate utilization and high-quality complex carbohydrates to extend elevated blood glucose and insulin levels for optimal recovery.* You'll find the amount of each carbohydrate source listed below along with a chart showing the ratio of low- to high-glycemic carbs, making Mass JYM the most transparent gainer on the market today. These low- and high-glycemic values were established according to the guidelines set by the American Diabetes Association, which considers a GI value of 55 or less low-glycemic, and a GI value of 70 or more high-glycemic.
Raising the Bar
Most mass gainers list the ingredient maltodextrin first or second. Maltodextrin is an extremely cheap carbohydrate source that is also very sweet and helps make a mass gainer taste good. Maltodextrin is considered a complex carbohydrate due to its chemical structure, which allows companies to list little to no sugar on the product label.* Sound too good to be true? It is.
Maltodextrin breaks down extremely quickly in the body and has a glycemic index rating higher than sugar--it's a whopping 105! This is actually off the charts since glucose is the gold standard value of the glycemic index at 100. Some of the most popular mass gainers sold today have in excess of 100 grams of maltodextrin in one serving. This can be devastating to your digestive system and energy levels, not to mention the potential digestive irritation that can come from such a giant serving size of a low grade carbohydrate.*
Safe from Protein Spiking
The protein content listed on the back of the Mass JYM bottle is exactly what you will get in each scoop. We never add cheap amino acids to falsely inflate our products' protein content, a process known as nitrogen spiking or amino spiking. Many of these added amino acids are advertised as beneficial. Though many of these ingredients are beneficial, it's at the expense of grams of protein you think you're paying for.
Make it Your Own
Mass JYM was strategically flavored to match the taste profile of Pro JYM, not only because Pro JYM is by far the best-tasting protein powder available, but also to make Mass JYM extremely versatile. Looking to make Mass JYM more protein-heavy? Try combining one scoop of Mass JYM with 1 scoop of Pro JYM. You'll have a hefty dose of 54 grams of protein with 35-38 grams of carbohydrates.
Have a favorite Pro JYM pancake or baking recipe? Try swapping out Pro JYM with Mass JYM when you need a few extra calories. Since Mass JYM is roughly double the serving size, you'll want to double all other ingredients as well. You're welcome!
Ratings & Reviews
By clicking the button above, you agree to entering the Bodybuilding.com Reviews section. Products in the Store are not intended to diagnose, treat, cure, or prevent any disease.

OMG the absolute best tasting mass gainer in the world.
10Chocolate Cookie Crunch

The ingredients are excellent - just what i was looking for - but hot **** does everything have to be so sweet?! I know it's an artificial sweetner (not sugar) but why make it sweet at all?! Same goes for the other jym proteins and the pre/post drinks - really great mix of amino's protein, etc - spot on in fact - but please - less strong on the artificial fruit flavors and not so sweet!


No written review.
10Chocolate Cookie Crunch
I recently finished up a tub of Mass Jym in the chocolate cookie crunch flavor! It is a great product. Here are the details. The Mass Jym formula is one of the best mass gainer formulas I have seen. I am a big fan of the 1:1 carb to protein ratio. Most mass gainers have more carbs than protein, I think it is great to finally have an option that balances the two. The 30 grams of protein is composed of 10% egg protein, 36% whey protein, and 54% casein protein. This breaks down to 3 grams of egg albumin, 9 grams of micellar casein, 9 grams of milk protein isolate, and 9 grams of whey protein isolate. The 30 grams of carbs is 70% low glycemic carbs and 30% high glycemic carbs. This breaks down to 14.5 grams of pea starch, 4 grams of polydextrose, 2 grams of isomaltose, 0.25 grams of oat fiber, 3 grams of dextrose, and 5.5 grams of creamer/flavoring system. There is only 4 grams of fat with only 1 gram from saturated fat. This is an excellent profile and well suited for someone looking to gain muscle but still stay lean; it fits well into that type of diet. I absolutely loved the the chocolate cookie crunch flavor! It was one of the best flavors I have ever tasted in all of the protein powders I have tried, which is a lot! The flavor is perfectly sweet and creamy, and the little cookie pieces add awesome texture and are a nice treat. Additionally, Mass Jym mixes very well and pretty smoothly for a mass gainer; this is true even when using milk to mix. However, I suggest slightly larger volumes of milk when mixing. There is some bubbling that occurs from mixing, but it isn't an issue when drinking or after drinking. There is little to no bloating from Mass Jym use, which I really appreciate. I feel I could even use it a little bit before workouts and be excellently fulled. Overall, I think this product has a good value even at $1.55 per serving because of the great formula, high quality, and amazing taste! 10 out of 10!
10Chocolate Cookie Crunch

OMG the absolute best tasting mass gainer in the world.
10Chocolate Cookie Crunch
I absolutely love the packaging and especially the detailed information on it concerning the protein ratios, carb content compared to protein content, ingredient profile and Glycemic Index. Why or why can't other brands do this simple thing?? Logo is cool and sets off an overall attractive package. Probably the coolest aspect is the QR code that takes you straight to Stoppani's 2 programs, Shortcut to Size or Shred. This really does a great job at totally dissolving (if you call getting a thick shake dissolving) into milk or water. Meaning it will be think but there's no clumpy residue/leftovers sitting on the bottom. Marshmallows all float and are crunchy unless you allow them to sit for about 5 minutes. The taste is phenomonal and actually a bit too sweet for me at first (I do not have a sweet tooth so I attribute this to that factor) but after 3 shakes I thought it was perfect. If only they could do this with a natural sweetener and achieve the same taste. But then again, it might be impossible till natural sweeteners take a quantum leap. I started out weighing 190-191 at the gym consistantly at the beginning of this tub. Weighing myself before my workouts at the end of my day every time I finished up at 193-194. I will say with confidence I put on 3 lbs while at the same time dropping a couple fat %'s due to the program I am on. I took this product before bed a couple hours after dinner and can really tell upon waking that it helped with nighttime recovery. Also I wasn't famished hungry in the morning either. I would really like to go through a few more tubs of this stuff and try out the other flavors. Mass Jym is a very well made and ratio'd out product that really did deliver weight gain, recovery, and fat loss (program speific on that one). It tastes amazing, is made from a very trustable and reputable manufacturer and is priced very competitively. The fact that it derives its calories (280 exactly) from real food and doesn't rely on empty maltodextrin puts this product in a class with few other gainers. While you might not get the weight gain other gainers give you (which is mostly fat) this will put a few pounds of quality mass on your frame. Loved it!!

The ingredients are excellent - just what i was looking for - but hot **** does everything have to be so sweet?! I know it's an artificial sweetner (not sugar) but why make it sweet at all?! Same goes for the other jym proteins and the pre/post drinks - really great mix of amino's protein, etc - spot on in fact - but please - less strong on the artificial fruit flavors and not so sweet!

5 Lbs.
31 Servings | $1.55 Per Serving
What's in JYM MASS JYM
Serving Size: 1 scoop (73.4g)

Servings Per Container: (1 scoop) About 31

Amount Per Serving

% Daily Value*

Calories

280

Calories from fat

35

Total Fat

4 g

6%*

Saturated Fat

1 g

5%*

Cholesterol

10 mg

3%

Total Carbohydrates

30 g

10%*

Dietary Fiber

4 g

16%*

Sugars

7 g

**

Protein

30 g

60%*

Calcium

500 mg

50%

Sodium (As Sodium Chloride)

170 mg

7%

Potassium

480 mg

14%

* Percent Daily Values are based on a 2,000 calorie diet. ** Daily Value not established.

Other Ingredients:

Protein Blend (Micellar Casein

, Milk Protein Isolate

, Whey Protein Isolate

, Egg Albumin)

, Carb Blend (Pea Starch

, Dextrose

, Polydextrose

, Isomaltulose

, Oat Fiber)

, Nondairy Creamer (Sunflower Oil

, Corn Syrup Solids

, Sodium Caseinate

, Mono-And Diglycerides

, Dipotassium Phosphate

, Tricalcium Phosphate

, Soy Lecithin

, Tocopherols)

, Cocoa Powder (Dutch Process)

, Natural And Artificial Flavors

, Chocolate Cookie Gems (Rice Flour

, Sugar

, Tapioca Starch

, Cocoa Processed With Alkali

, Palm Oil

, Corn Starch

, Salt

, Natural Flavors

, Sodium Bicarbonate

, Soy Lecithin)

, Gum Blend (Cellulose Gum

, Xanthan Gum

, Carrageenan)

, Acesulfame Potassium

, Sucralose

, Lecithin

, Silicon Dioxide.

ALLERGEN WARNING: Contains MILK, EGGS and SOY and is produced in a facility that also processes PEANUTS and WHEAT.
Directions For MASS JYM: Mix each scoop of Mass JYM with 10oz. of cold water or the liquid of your choice. Consume throughout the day to increase your total calorie and protein intake. Mass JYM can be used pre or post workout, in between meals, in the morning or before bed to maximize muscle gains.
Warnings: Do not use as a sole source of nutrition. Keep out of reach of children. Check with a qualified healthcare professional before taking this product if you are pregnant, nursing a baby, under 18 years of age, or if you have any known or suspected medical condition(s) and/or are taking any prescription or OTC medication(s). This product contains a chemical known to the State of California to cause cancer, birth defects, or other reproductive harm.
* These statements have not been evaluated by the Food and Drug Administration. This product is not intended to diagnose, treat, cure, or prevent any disease.
---