JYM Supplement Science
JYM Legacy Tee
60% Cotton, 40% Polyester
Show Your Love For #JYMLegacy With This Comfortable Tee
Product Overview
Additional Images:
Click to Enlarge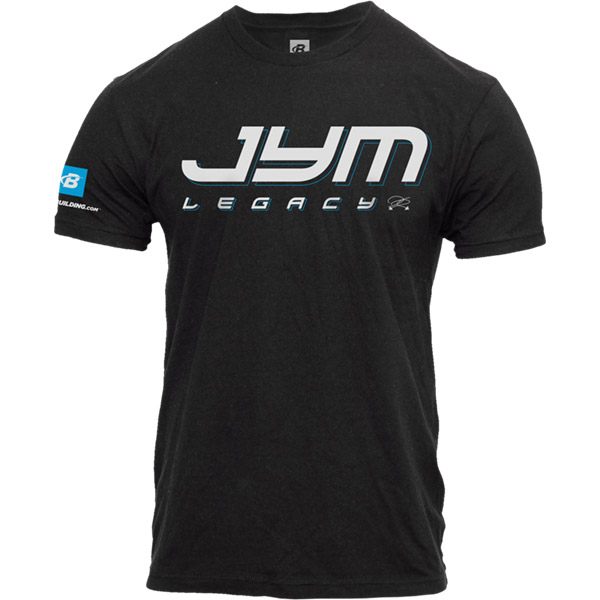 JYM Supplement Science
JYM Legacy Tee
The JYM Legacy goes back to 2013. Bodybuilding.com supported my mission at JYM Supplement Science of providing consumers the highest quality supplements, using the highest quality ingredients, and most importantly, always offering full transparency. The result was the groundbreaking and innovate JYM product line, starting with Pre JYM, Post JYM, and Pro JYM, aka the "JYM System" – three supplements that work in synergy to cover all your needs before and after workouts to maximize performance and results.*
Experiencing gains is the bottom line, but we wanted those gains to taste great, too. Through cutting-edge flavoring technology, the JYM System became known as much for amazing taste as for results – from Orange Mango, Raspberry Lemonade and Cherry Limeade Pre JYM, to Watermelon and Fruit Punch Post JYM, to S'mores and Chocolate Cookie Crunch Pro JYM. The combination of great gains and delicious flavors earned JYM Supplement Science the coveted distinction of Bodybuilding.com's #1-selling brand.
That's the JYM Legacy – innovative products plus innovate flavors for unsurpassed, and delicious, results! Taste and experience it for yourself exclusively at Bodybuilding.com, the only place JYM Legacy flavors are available.
Size Chart
| | | | | |
| --- | --- | --- | --- | --- |
| Size | M | L | XL | XXL |
| Neck | 17.83" | 18.4" | 18.98" | 19.55" |
| Chest | 40" | 42" | 44.5" | 47.5" |
| Sleeve | 34.25" | 35" | 36" | 36.75" |
| Length | 29.5" | 30.5" | 31.5" | 32.5" |
Ratings & Reviews