Infinite Labs
Final Form
, 100 Capsules
Advanced Metabolic Optimizer!*
Helps Mobilize Fat Stores To Be Utilized As Energy!*
Product Overview
Final Form®
Final Form® is a comprehensive supplement that incorporates thermogenic and fat burning properties to support an overall healthy body composition. Combining CLA, L-Carnitine and Raspberry Ketones, Final Form offers a non-stimulant formula designed to support thermogenesis, appetite suppression, and the mobilization of fat stores to be utilized as energy.*
EFFECTIVE

WEIGHT MANAGEMENT

Raspberry ketones are a natural phenol, organic compound responsible for creating the aroma in red raspberries. Raspberry ketones have been suggested to support metabolic functioning and promote lipid utilization. The primary mechanism of action is a result of their ability to manipulate the enzyme lipase. Lipase facilitates the breakdown of fat cells, so the increase in lipase activity due to raspberry ketones may result in a greater amount of fat cells being broken down and burned as fuel during training sessions and everyday activities.*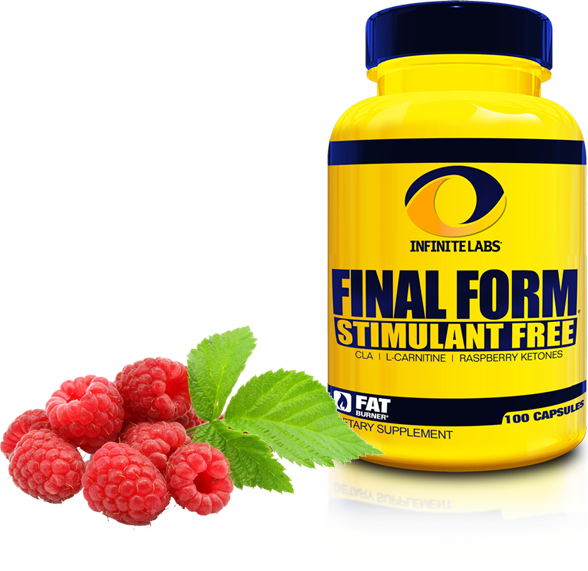 STIMULANT FREE
How am I different?
Ratings & Reviews
What's in Infinite Labs Final Form
100 Capsules

Serving Size 2 Capsules

Servings Per Container

50

Amount Per Serving

% DV

CLA (Conjugated Linoleic Acids)

500 mg

†

L-Carnitine

500 mg

†

Raspberry Ketones

250 mg

† Daily Value (DV) not established.

Other Ingredients:

Gelatin (Capsule)

, Dicalcium Phosphate

, Magnesium Stearate

, Microcrystalline Cellulose
Directions For Final Form: As a dietary supplement, adults take one serving (2 Capsules) twice daily on an empty stomach or as recommended by a licensed physician.
Warnings: Seek advice from a physician before consuming this product. Do not exceed recommended dosage. Do not use if you are contemplating pregnancy, pregnant, nursing, prone to dehydration, or exposed to excessive heat. Reduce or discontinue use of this product if sleeplessness, tremors, dizziness, nervousness, headaches, or heart palpitations occur. This product is only intended for use by healthy adults 18 years of age or older. Discontinue use two weeks prior to surgery. Keep out of reach of children and pets. Store in a cool dry place away from direct sunlight. Consumer is responsible and assumes all risks, liabilities, and consequences related to the use of this product, including compliance with the rules and regulations of all governing bodies or other entities having jurisdiction over any sport or athletic activity in which he/she participates, as well as any career regulations.
* These statements have not been evaluated by the Food and Drug Administration. This product is not intended to diagnose, treat, cure, or prevent any disease.
---