Infinite Labs
Elevate Final Cutz
, 180 Capsules
Doctor Formulated Fat Loss Capsule
Aids In Promoting Lean Mass*
Product Overview
ADVANCED
METABOLIC
SUPPORT*
Scientifically developed in partnership, Infinite Labs® and Heuer M.D. Research, proudly introduce the Elevate Series—the newest edition of premium supplements that utilize clinically accredited ingredients backed by years of scientific research and systematic findings.
Revolutionary Thermogenic to Help Burn Fat and Support Heart Health*
The Elevate Series was developed by one of the premier research medical doctors in the country. Dr. Marvin A. Heuer, M.D. F.A.A.F.P., has practiced medicine for over 30 years with experience in international and domestic clinical research, as well as pharmaceutical and nutraceutical development. With over 300 domestic and international nutraceutical patents and patents-pending, Dr. Heuer has served as Worldwide R&D Director and Vice President for a number of companies in the health industry before partnering with Infinite Labs on the design, formulation and development of the Elevate Series.
Dr. Heuer wanted to develop a revolutionary new fat loss support that was not only thermogenic but was also heart healthy. Dr. Heuer formulated the ELEVATE SERIES: FINAL CUTZ® to be the first 5 in 1 thermogenic product clinically studied in amounts to support hardcore calorie burning, appetite suppression and high energy weight loss, while supporting overall heart health.*
UNIVERSITY RESEARCHED KEY INGREDIENTS MAY SUPPORT: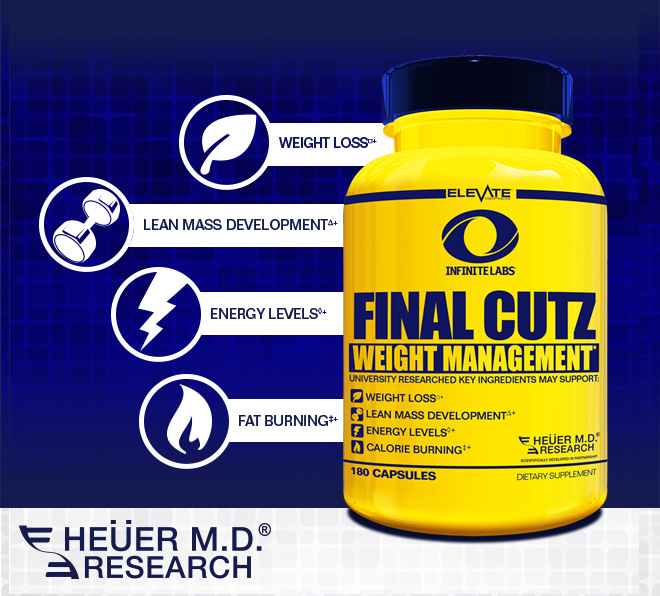 ADVANCED
METABOLIC

SUPPORT*
ELEVATE SERIES: FINAL CUTZ is different than any other thermogenic formula on the market because it acts on different pathways to support a cumulative effect of healthy weight loss, lean muscle preservation, energy facilitation and general calorie burning. ELEVATE SERIES: FINAL CUTZ has 32 active ingredients in addition to 15 heart healthy vitamins and minerals at 150% of RDA – combining Vitamin C, D, K, a full B complex and minerals including zinc, magnesium, selenium and potassium. The product also includes omega-3 fatty acids from deep sea fish, COQ10, betaine, ginseng, grapefruit extract, alpha lipoic acid, pine bark, corosolic acid, yohimbe, piperine and dandelion.*
The ELEVATE SERIES: FINAL CUTZ works through five different metabolic pathways:
1.) Metabolic Support: Key ingredients include: CQR300® Cissus Quadrangularis, Advantra Z® Bitter Orange Extract, Green Tea Leaf Extract (98% Polyphenols, 50% EGCG) and Caffeine all in clinical doses*
2.) Heart Health: Creatinol-o-phosphate, CoQ10 and Fish Oils in studied amounts to support heart health and lean muscle*
3.) Energy: High levels of EGCG, Caffeine, CoQ10, Ginseng, Bioperine® Piperine, Alpha Lipoic Acid, Betaine and Yohimbe*
4.) Calorie Burning: High level of EGCG, Caffeine, Advantra Z® Bitter Orange Extract, CQR300® Cissus Quadrangularis, Bioperine® Piperine, Yohimbe and Corosolic Acid*
5.) Lean Muscle Building: Creatinol-o-phosphate, CQR300® Cissus Quadrangularis (anabolic), Alpha Lipoic Acid, Omega 3, CoQ10 and Corosolic Acid*
Dosages Used in Clinical Weight Loss Studies
In an 8-week published study, subjects using diet and exercise along with only one key ingredient in ELEVATE SERIES: FINAL CUTZ lost an average of 14.52 pounds, compared to subjects using a placebo who lost an average of just 5.06 pounds.*
ELEVATE SERIES: FINAL CUTZ contains a full active amount of Advantra Z® Bitter Orange Extract (Citrus Aurantium). Citrus Aurantium contains synephrine. Advantra Z® has been studied in clinical trials and has suggested clinically significant weight loss.*
Heart Healthy Thermogenic*
One of the key ingredients that makes ELEVATE SERIES: FINAL CUTZ a product breakthrough is Creatinol-o-phosphate (COP). Creatinol-o-phosphate (COP) has been studied for years, and while COP is commonly confused with creatine, it is not creatine! It is molecularly and biologically different, and as such, serves different purposes. At the right dosage, COP is able to help stabilize the pH or acidity level in and out of the cells. It is an intracellular buffer and assists carnosine levels during training. By stabilizing the acidity level inside muscle cells and in the surrounding fluids, this compound allows muscle contractions and mitochondrial energy functions to continue for longer periods of time.*
Through these mechanisms, COP allows athletes to work harder and longer. It supports the endurance of athletes by allowing them to train beyond their usual limits. It assists the muscles by prolonging the anaerobic glycolysis even though the lactic acid level has risen due to intense activity. Thus, the increased performance in the gym will support increases in lean muscle mass, which also supports enhanced caloric burning.*
Additionally, COP has been suggested to serve as a cardiac protective agent in many studies. With over 30 studies on COP dating back to 1978, it has been suggested to be a very safe and effective supplement both inside and outside the gym.*
FORMULA HIGHLIGHTS
Caffeine Anhydrous- Caffeine supports alertness, overall wakefulness and cognitive performance. Additionally, caffeine supports performance in the gym and during athletic events. Caffeine also assists fat mobilization and metabolic processes1, 2 and can also act as a mild diuretic.*
Cissus Quadrangularis- Cissus quadrangularis is an Asian fruit similar to that of a 4. Cissus quadrangularis offers physiologically active ingredients – flavonoids, indanes, phytosterols and keto-sterols – that have antioxidant properties. Supplementation with Cissus quadrangularis may help support healthy body composition.*
Green Tea- Green tea, in combination with its natural caffeine content, has been suggested to support thermogenesis, as well as inhibit the effects of catechol-O-methyltransferase (COMT). COMT is an important enzyme that breaks down the excitatory neurotransmitters dopamine, epinephrine and norepinephrine. By inhibiting the breakdown of these neurotransmitters, this results in metabolic support. The most significant phytochemical in green tea is a polyphenol called epigallocatechin-3-gallate, or (EGCG). Green tea impacts thermogenesis via synergistically acting in concert with its caffeine content, and the addition of 300mg EGCG to 200mg caffeine can support the thermic response to food as compared to 200mg of caffeine alone. When looking at longer-term studies and fat loss overall, green tea catechins are associated with 1.2kg of weight loss in 90 days at 886mg daily5. When paired with exercise, green tea catechins are associated with a loss of 2.2kg of bodyweight in the obese on an exercise program over 12 weeks where the control group lost 1kg6. Moreover, green tea with EGCG is shown to support 24-hour energy expenditure and fat oxidation in humans.*
Bioperine®- This extract of piperine has been clinically tested in the United States and has been suggested to significantly assist the bioavailability of various supplemental nutrients via increased absorption rates7, 8.*
Bitter Orange Extract- (Also known as Synephrine; Citrus Aurantium) Bitter Orange exists in many citrus fruits but at levels that would not have a significant impact on humans. As a supplement, it is known to support the body's metabolic rate9, 10, 11. Several studies have confirmed the metabolic effects of synephrine that are useful for bodybuilders such as: supporting thermogenesis and fat burning, assisting energy metabolism and supporting overall athletic performance12, 13.*
Omega-3- While the American Heart Association and other experts recommend eating oily fish at least twice each week (mainly those low in mercury such as salmon, sardines, and herring), some people find this difficult, either because they don't cook fish regularly or because they don't like the taste. Purified fish oil supplements may provide a convenient and healthful alternative. Fish oil is recommended as a source of these omega-3 fatty acids. The active components of fish oil are generally considered to be the two omega-3 fatty acids— Eicosapentaenoic Acid (EPA) and Docosahexaenoic Acid (DHA).*
Fish oil supplementation has been noted to augment the anabolic effects through supporting muscle protein synthesis in both younger and older adults14, 15.Omega-3 fatty acid supplementation has been suggested to be effective for supporting not only weight loss but also fat loss in various trials; dosages have ranged from 300 mg to 1.8 grams daily of EPA+DHA16. In a short 3-week clinical trial, people who combined 2.8 grams daily of omega-3 fatty acid supplementation (2:1 ratio of EPA to DHA) with both calorie restriction and regular exercise experienced a 1.5 kg (3.3 lb.) greater weight loss compared to those consuming a placebo, following a calorie-restricted diet and exercising17.* Thus, supplementing with omega-3 fatty acids may support body composition, however combining supplementation with calorie restriction and/or exercise further assists the weight/fat loss effects.*
COP supplementation should be viewed as completely different from creatine monohydrate supplementation. During metabolism, COP loses its phosphorus group; it metabolizes into creatinol and not creatine. COP appears to be distributed in all tissues with most concentrated in the myocardium, liver, and kidneys18. It acts as an intracellular buffer, preventing a dramatic drop in pH and allowing muscle contractions to continue well beyond the point at which the body would normally decrease and/or shut down activity19, 20.*
References
Dulloo AG, Geissler CA, Horton T, Collins A, Miller DS. Normal caffeine consumption: influence on thermogenesis and daily energy expenditure. Am J ClinNutr. 1989 Jan;49(1):44-50.
Koot P, Deurenberg P. Comparison of changes in energy expenditure and body temperatures after caffeine consumption. Ann NutrMetab. 1995;39(3):135-42.
Oben J, Kuate D, Agbor G, Momo C, Talla X. The use of a Cissus quadrangularis formulation in the management of weight loss. LipidsHealth Dis. 2006 Sep 2;5:24.
Oben, J. E., Enyegue, D. M., Fomekong, G. I., Soukontoua, Y. B., &Agbor, G. A. (2007). The effect of Cissus quadrangularis (CQR-300) and a Cissus formulation (CORE). Lipids Health Dis., 6, 4.
Wang H, Wen Y, Du Y, Yan X, Guo H, Rycroft JA, Boon N, Kovacs EM, Mela DJ. Effects of catechin enriched green tea on body composition. Obesity (Silver Spring). 2010 Apr;18(4):773-9.
Maki KC, Reeves MS, Farmer M, Yasunaga K, Matsuo N, Katsuragi Y, Komikado M, Tokimitsu I, Wilder D, Jones F, Blumberg JB, Cartwright Y. Green tea catechin consumption enhances exercise-induced fat loss in overweight adults. J Nutr. 2009 Feb;139(2):264-70.
Bajad S, Bedi KL, Singla AK, Johri RK. Piperine inhibits gastric emptying and gastrointestinal transit in rats and mice. Planta Med. 2001 Mar;67(2):176-9.
Han HK. The effects of black pepper on the intestinal absorption and hepatic metabolism of drugs. Expert Opin Drug MetabToxicol. 2011 Jun;7(6):721-9.
Stohs SJ, Preuss HG, Shara M. A review of the human clinical studies involving Citrus aurantium (bitter orange) extract and its primary protoalkaloid p-synephrine. Int J Med Sci. 2012;9(7):527-38. Epub 2012 Aug 29. Review.
Kaats GR, Miller H, Preuss HG, Stohs SJ. A 60day double-blind, placebo-controlled safety study involving Citrus aurantium (bitter orange) extract. Food ChemToxicol. 2013 May;55:358-62.
Stohs SJ, Preuss HG, Keith SC, Keith PL, Miller H, Kaats GR. Effects of p-synephrine alone and in combination with selected bioflavonoids on resting metabolism. Int J Med Sci. 2011 Apr 28;8(4):295-301.
Jordan R, Midgley JM, Thonoor CM, Williams CM. Beta-adrenergic activities of octopamine and synephrine stereoisomers on guinea-pig atria and trachea. J Pharm Pharmacol. 1987 Sep;39(9):752-4.
Arch JR. beta(3)-Adrenoceptor agonists: potential, pitfalls and progress. Eur JPharmacol. 2002 Apr 12;440(2-3):99-107. Review.
Smith GI, Atherton P, Reeds DN, Mohammed BS, Rankin D, Rennie MJ, Mittendorfer B. Omega-3 polyunsaturated fatty acids augment the muscle protein anabolic response to hyperinsulinaemia-hyperaminoacidaemia in healthy young and middle-aged men and women. ClinSci (Lond). 2011 Sep;121(6):267-78.
Smith GI, Atherton P, Reeds DN, Mohammed BS, Rankin D, Rennie MJ, Mittendorfer B. Dietary omega-3 fatty acid supplementation increases the rate of muscle protein synthesis in older adults: a randomized controlled trial. Am J ClinNutr.2011 ;93(2):402-12.
Mori, T.A., et al., Dietary fish as a major component of a weight-loss diet: effect on serum lipids, glucose. Am J Clin Nutr, 1999. 70(5): p. 817-25.
Kunesova, M., et al., The influence of n-3 polyunsaturated fatty acids and very low calorie diet during a short-term weight reducing regimen on weight loss and serum fatty acid composition. Physiol Res, 2006. 55(1): p. 63-72.
Marzo A, Ghiradi P. Pharmacological and Toxicological Properties of Creatinol-O-Phosphate. Plasma turnover, fate and excretion rate, subcellular distribution in isolated. Drug Res. 1979a;29(II): 1452-1456.
Gaggino R, Delfino C, Menichetti G, Odaglia G, Metabolic aspects of anaerobic lactaid maximal sport performances. Medicinadello sport. 1984; 37: 85-92.
Godfraind T, Saleh MM. Action of creatinol-O-phosphate on the contractility changes. Arzneimittelforschung. 1984;34(9):968-72.
Ratings & Reviews
What's in Infinite Labs Elevate Final Cutz
180 Capsules

Serving Size 3 Capsules

Servings Per Container 60

Amount Per Serving

% DV

Vitamin C (as ascorbic acid)

45 mg

75%

Vitamin D (as cholecalciferol)

300 IU

75%

Vitamin K (as menaquinone-7)

20 mcg

25%

Thiamin (as thiamin mononitrate)

1.25 mg

83%

Riboflavin

1.28 mg

75%

Niacin

20 mg

100%

Vitamin B6 (as Pyridoxine HCl)

1.5 mg

75%

Folate (as folic acid)

120 mcg

30%

Vitamin B12 (as cyanocobalamin)

4.5 mcg

75%

Biotin

225 mcg

75%

Pantothenic Acid (as D-calcium pantothenate)

7.5 mg

75%

Magnesium (as magnesium oxide)

100 mg

25%

Zinc (as zinc oxide)

11.25 mg

75%

Selenium (as sodium selenite)

52.5 mcg

75%

Potassium (as potassium chloride)

32 mg

1%

LIPOSHRED SYNTHESIS™

809mg

Dandelion Root

200 mg

*

Caffeine

175 mg

*

Cissus Quadrangularis Extract (CQR-300®)

150 mg

*

Green tea leaf extract (98% polyphenols, 50% EGCG)

150 mg

*

Bitter Orange Extract (immature fruit) (Advantra Z®)

50 mg

*

Betaine

50 mg

*

Grapefruit Extract

30 mg

*

Yohimbine (as yohimbe bark extract)

2.5 mg

*

Black Pepper Fruit Extract (BioPerine®)

2 mg

*

METABOLIC SYNTHESIS

470mg

Creatinol-O-Phosphate

250 mg

*

Omega 3 Dried Fish Oil (herring, anchovy, sardines)

100 mg

*

Tienchi Ginseng (root)

50 mg

*

Coenzyme Q10

25 mg

*

Pine Bark Extract

15 mg

*

Alpha-Lipoic Acid

15 mg

*

Banaba Leaf Extract (1% corosolic acid)

15 mg

*

* Daily Value not established.

Other Ingredients:

Gelatin

, Rice Flour

, Stearic Acid

, Magnesium Stearate

, Silica

Contains Fish (Herring, Anchovy, Sardines)
Directions For Elevate Final Cutz: As a dietary supplement, adults take three (3) capsules, two times daily, once in the morning, once in the afternoon. On training days, take 30 minutes before workout. DO NOT EXCEED 6 CAPSULES IN A 24 HOUR PERIOD. Do not use for more than 8 weeks. Read entire label before use and follow directions.
Warnings: This product NOT for use by individuals under the age of 18. Do not use if pregnant, nursing or allergic or contraindicated to aspirin. Do not consume synepherine or caffeine from other sources, including but not limited to, coffee, tea, soda and other dietary supplements or medications. Consult your physician before use if you have, or have a family history of a medical condition, including, but not limited to, heart disease, diabetes, high blood pressure, depression or other psychiatric condition, glaucoma, or seizure disorder, cardiac arrhythmia, recurrent headaches, enlarged prostate or if using a monoamine oxidase inhibitor (MAOI), lithium, ANY prescription drug (such as anti-depressants, blood thinners, or nonsteroidal anti-inflammatory drugs) or over the counter drug including aspirin or products containing phenylephrine, ephedrine, pseudoephedrine, or other stimulants. Discontinue 2 weeks prior to surgery or if you experience rapid heartbeat, dizziness, severe headache, shortness of breath or upset stomach. KEEP OUT OF REACH OF CHILDREN AND PETS. Store in a cool dry place (60°F - 80°F). (State of California Prop 65) This product contains a chemical known to the State of California to cause birth defects or other reproductive harm. Consumer is responsible and assumes all risks, liabilities, and consequences related to the use of this product, including compliance with the rules and regulations of all governing bodies or other entities having jurisdiction over any sport or athletic activity in which he/she participates, as well as any career regulations.
* These statements have not been evaluated by the Food and Drug Administration. This product is not intended to diagnose, treat, cure, or prevent any disease.
---