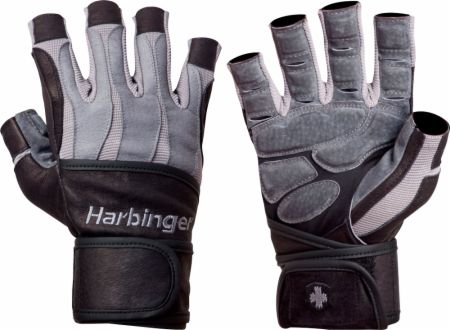 Harbinger
BioForm Gloves with Wrist Wraps
, Gray Medium
Extended Comfort!
Eliminates Bulk and Enhances Comfort!
Price:
$49.99
( / Serving)
Product Overview

Support. Stability. Power.
Peak Performance – BioFlex Patent-pending layered palm design eliminates bulk and enhances comfort, Acts like a second skin, moving with grip so you can lift stronger, better, longer.
Dual Glove Technology – Patent pending BioForm and BioFlex technologies in worlds premier weight training glove
Extended Comfort – Precurved extended length positions and protects fingers
Dynamic Comfort & Grip Strategically – placed BioForm pads soften with body head, molding to hand and bar
Fitlock WristWrap – fully adjustable wrist support and smooth palm system
Engineered Protection – prevents calluses and blisters for lifting heavier, harder and longer
Spidergrip control – exclusive tactified leather palm grabs bar for ultimate grip control and power
In 1999, Dave sketched a glove design with living hinges along the natural contours and creases in the palm and fingers. This reduces hand fatigue because the glove is moving with – and not against -- the hand. Dave realized the benefits of this "moving palm" design for pulling exercises like dead lifts and pull downs. Over the last decade, we've refined the BioFlex design to offer protection, flexibility and comfort.
For weightlifters who prefer padded gloves, Dave focused on developing a proprietary material that would conform to fingers, palm and the bar … working with the BioFlex moving palm… and came up with BioForm.
Featuring a technologically-advanced, clay-like substance, BioForm softens with body heat. During use, the material fills in gaps in the finger joints and palm creases, lifting the bar off the bone. Painful stress points are eliminated and hand fatigue is reduced. When the grip is changed for a different piece of equipment, the softened material re-conforms to the new hand position.
Exclusive dual technologies - patent-pending BioForm and BioFlex - in the world's premier weight training glove. Strategically placed new tech BioForm pads softens with body heat, molding to hand and bar, for a dynamic, comfortable grip. This engineered protection helps prevent calluses and blisters – so you can lift heavier, harder and longer. Proprietary BioFlex™ layered stretch design mimics the hand's natural motion, while exclusive SpiderGrip™ leather on palm maximizes grip. Precurved extended finger length reduces fatigue by maintaining proper hand position. Fully adjustable WristWrap with FitLock™ tension tab that pulls palm smooth, eliminating excess bulk.

Ratings & Reviews