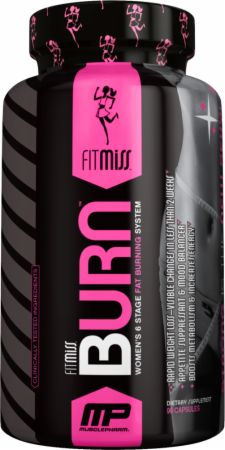 FitMiss
Burn
, 90 Capsules
Women's Weight Management!*
Supports Appetite Control, Enhanced Mood, Energy & Metabolism!*
Product Overview

Women's
6 STAGE

FAT BURNING SYSTEM
BOOST ENERGY & METABOLISM

*

SUPPORTS HEALTHY APPETITE CONTROL

*

PROMOTES VISIBLE CHANGES IN LESS THAN 2 WEEKS

*
Focus.
Burn.
Amaze!
At FitMiss™ we know that to burn the fat, you have to curb the cravings and increase energy levels. With FitMiss Burn™ on your side you can kick-start your metabolism and say "NO" to pesky cravings once and for all.* Help stay focused while working to make annoying fat vanish.*
IT'S TIME TO GET FIT AND SEXY!
REVOLUTIONARY 6 STAGE FAT LOSS SYSTEM
STAGES 1 & 2:
ENERGY AND FOCUS COMPLEX
All Day Energy-LESS CHANCE OF CRASH*
Supports focus with its key thermogenic drivers.*
KEY INGREDIENTS:
Green Tea Extract, Caffeine Anhydrous, Yohimbine HCL.
STAGES 3:
APPETITE REDUCTION & FAT METABOLIZER
Boost metabolism and help control appetite!*
Aids in the breakdown of fat molecules to be used for fat metabolism.*
KEY INGREDIENTS:
Raspberry Ketones, Glucomannan, Gymnema Sylvestre.
STAGES 4:
PROMOTE POSITIVE MOOD BALANCE*
Helps balance mood and enhance well being.*
Contains both nutrients and herbal extracts that aid in the support of a healthy nervous system and a positive, balanced mood state.*
KEY INGREDIENTS:
Uva Ursi, Dandelion containing Taraxol & Taraxerol.
STAGES 5:
WATER SHED DIURETIC COMPLEX
Helps eliminate "subcutaneous water" that contributes to a "soft and puffy" appearance—and that uncomfortable feeling which is keeping you from wearing those jeans you want to wear.
KEY INGREDIENTS:
5-HTP, Panax Ginseng.
STAGES 6:
ENZYMATIC MATRIX
Aids in break down with proteins, fats, carbohydrates and dairy products.
Enhances nutrient absorption.
KEY INGREDIENTS:
DigeSEB®, HemiSEB®, Peptizyme SP®.
Ratings & Reviews
What's in FitMiss Burn
90 Capsules

Serving Size: 2 Capsules

Servings Per Container

45

Amount Per Serving

% Daily Values

Niacin (As Niacinamide)

2 mg

10%

Biotin

100 mcg

33%

Pantothenic Acid (As D-Calcium Pantothenate)

2 mg

20%

Magnesium (Gluconate)

2.7 mg

1%

Zinc (Monomethionine)

.7 mg

5%

Chromium (Chelate)

66.7 mcg

59%

FIT MISS BURN™ WEIGHT LOSS BLEND

1,450 mg

*

STAGE 1 & 2: Energy & Focus Complex

*

Guarana Seed Extract (Paullinia Cupana), (22% Caffeine) Caffeine Anhydrous (100mg), Pyroglutamic Acid, Green Tea Extract (40% EGCG) (Camellia Sinensis)(Leaf), Papain, Yerba Mate (Llexparaguariensis)(Leaf), Yohimbine HCl

Stage 3: Appetite Reduction & Fat Metaboliser

*

Glucomannan (Amorphophallus Konjac)(Root), Raspberry Ketones, Guar Gum, Saw Palmetto (Serenoa Repens)(Berry), Alpha Lipoic Acid, Gymnema Sylvestre (Leaf), Eleuthero (Eleutherococcus Senticosus)(Root), Fo-Ti (Polygonum Multiforum)(Root), D-Biotin, Banaba Extract, (1% Corosolic Acid)(Lagerstroemia Speciosa)(Leaf), Cayenne 40,000 HU/g (Capsicum Annum)(Pepper), Calcium Malate, White Kidney Bean (Phaseolous Vulgaris)(Bean), Chromium (Chelate)

Stage 4: Stress Alleviating & Mood Balancer

*

Tumeric (Standardized For Curcuminoids) (Curcuma Longa)(Root/rhizome), Panax Ginseng Root, 5-HTP (Griffonia Simplicifolia)(Seed), Echinacea Angustifolia (Root), Garlic, Wood Betony (Betonica Officinalis)(Herb), Astragalus (Astragalus Membranaceus)(Root)

Stage 5: Water Shed Diuretic Complex

*

Uva Ursi (Arctostaphylos Uva-Ursi) (Leaf), (Contains Arbutin, Methyl-Arbutin), Dandelion (Taraxacum Officinale)(Root) Extract 20:1 (Contains Taraxol & Taraxerol), Potassium Aspartate

Stage 6: Enzymatic Matrix

*

DigeSEB® (Amylase, Protease Blend [I,II,III], Lipase, Lactase, Hemiseb® Cellulase, Maltase, Invertase, Bromelain, Peptizyme SP®, Papain And Alpha-Galactosidase), Ginger (Zingiber Officinale)(Root), Fennel (Foeniculum Vulgare)(Seed), Almond Oil Powder, Dulse (Palmaria Palmata)(Algae), Alfalfa (Medicago Sativa)(Leaf), Chlorella, Artichoke (Cynara Cardunculus)(Leaf), Irish Moss Red Algae (Chondrus Crispus)(Algae), Wild Mexican Yam (Dioscorea Villosa)(Root), Apple Pectin, Kelp, Bromelain, Rutin NF

* Percent Daily Values are based on a 2,000 calorie diet

† Daily Value not established

Other Ingredients:

Gelatin

, Magnesium Stearate

, Microcrystalline Cellulose.

ALLERGEN WARNING: This Product Was Produced In A Facility That May Also Process Ingredients Containing Milk, Egg, Soybeans, Shellfish, Fish, Tree Nuts, And Peanuts.
Directions For Burn: Take one serving (2 capsules) with an 8 oz glass of water 30-45 minutes before breakfast, and/or lunch. MORNING: Take two (1-2) capsules with 8 oz of water 30-45 minutes before breakfast. AFTERNOON: Take two (1-2) capsules with 8 oz of water 30-45 minutes before lunch. Drink a minimum of 1 gallon of water per day while using this product. This product should not be taken within 6 hours before bed.
Warnings: Taking this product without adequate uid may cause it to swell and block your throat or esophagus and may cause choking. Do not take this product if you have difculty in swallowing. If you experience chest pain, vomiting, difculty in swallowing or breathing after taking this product, seek immediate medical attention. This product is only intended for use by healthy adults over 18 years of age. Do not use for more than eight weeks. Do not take this product with alcohol. Do not take this product with any product containing caffeine or other ingredients that have a known stimulant effect. Consult your physician before using this product if you are taking any prescription or over the counter medications or supplements. Do not use this product if you are pregnant, expect to become pregnant or are nursing. Do not use this product if you are at risk or are being treated for any medical condition or if you are taking a MAO inhibitor. Do not exceed recommended serving size or suggested use. KEEP OUT OF REACH OF CHILDREN
* These statements have not been evaluated by the Food and Drug Administration. This product is not intended to diagnose, treat, cure, or prevent any disease.
---