FINAFLEX
100% Keto Food
, 14 Servings Vanilla Caramel
Ketogenic Meal Replacement Shake To Promote And Maintain Ketosis*
Made With Mct Powder And Whey Protein Isolate
Product Overview

100% Keto
Food
Ultimate Ketogenic Meal Replacement Shake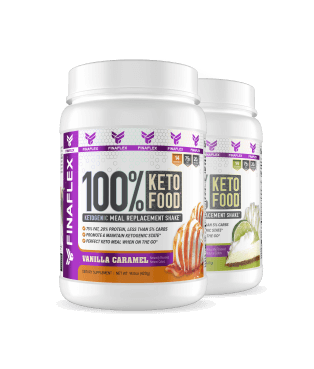 Promote & maintain ketogenic state*

Perfect keto meal when on the go*

MCT powder and whey protein isolate

Smooth, full-bodied & delicious

75% fat, 20% protein, and 5% carb
100% Keto Food
Introducing 100% Keto Food
Finaflex 100% Keto Food is a Ketogenic Meal Replacement Shake built on the commonly accepted Ketogenic ratio of 75% Fat, 20% Protein, and 5% Carbohydrates. Are you on Keto but struggle to find food options that fit your dieting needs? 100% Keto Food was built with the Ketogenic Dieter in mind, creating a perfect Keto meal that can be used anytime during the day to promote and maintain Ketosis. Featuring a formula packed with MCT Powder and Whey Protein Isolate creates a smooth, full-bodied and delicious Keto Milkshake every time!*
Ketogenic Meal Replacement Shake*
100% Keto Food can be enjoyed in a variety of ways due to the versatility of the powdered drink mix. If mixing with a spoon or in a shaker cup, mix vigorously for 30 seconds to ensure powder is fully dispersed. For a thicker, more flavorful shake, mix with 6 ounces of water. For a thinner, milder flavored shake mix with 10 ounces of water. If you prefer to blend your shakes it is advised to add the liquid first and then add in the scoop of powder to prevent powder sticking to the sides of the blender.
Suggested Use:
Mix 1 Serving with 6-10 oz of water and consume immediately. 100% Keto Food is a perfect ketogenic meal replacement shake built with 75% Fat, 20% Protein, and less than 5% Carbs.*
Ratings & Reviews
What's in FINAFLEX 100% Keto Food
Serving Size 1 scoop (30g)

Servings Per Container

14

Amount Per Serving

Calories

180

% Daily Value *

Total Fat

16 g

21%

Saturated Fat

15 g

75%

Cholesterol

5 mg

1%

Total Carbohydrate

1 g

<1%

Protein

10 g

20%

Calcium

18 mg

1%

Sodium

185 mg

8%

Potassium

20 mg

<1%

Medium Chain Triglycerides (MCTs)

15.4 g

**

Whey Protein Isolate

6 g

**

* Percent Daily Values are based on a 2,000 calorie diet

** Daily Value (DV) not Established

Other Ingredients:

Sodium Caseinate (Milk)

, Natural & Artificial Flavors

, Silica

, Sunflower Lecithin

, Purified Sea Salt

, Sucralose

, Acesulfame K

, Soy Lecithin

ALLERGEN INFORMATION: Contains Milk and Soy

ALLERGEN WARNING: Manufactured on equipment which processes products containing milk, eggs, soybeans, wheat, shellfish, fish oil, tree nuts, and peanut flavor.
Directions For 100% Keto Food: Mix 1 Serving with 6-10 fl oz of water and consume immediately.
Warnings: Use throughout the day as part of a balanced diet. Intended for use by healthy adults. Please do not use this product as your only source of daily nutrition. Do not use for weight reduction.
KEEP OUT OF REACH OF CHILDREN. DO NOT USE IF PREGNANT OR NURSING.Consult your doctor or other medical authority prior to using this product if you have any medical condition, have a family history of medical conditions, or if you are currently taking any other medicines or dietary supplements. This product is intended for use by healthy adults over 18 years old. Stop using immediately if you experience any adverse symptoms or reactions. Discontinue 2 weeks prior to surgery. Product is sold by weight, not volume, and the contents may settle in transit; shake container before using. Store in a cool dry place. See bottom of bottle for Lot Number & Expiration Date. Foods with high levels of MCT may cause initial gastrointesti-nal (GI) discomfort, therefore it is advised to start with 1/2 serving to determine tolerance.
* These statements have not been evaluated by the Food and Drug Administration. This product is not intended to diagnose, treat, cure, or prevent any disease.
---