Currently Unavailable
Evogen
EVP
Evopoietin One-Alpha!
Pre-Workout Solution For Size, Strength and Pump!*
Product Overview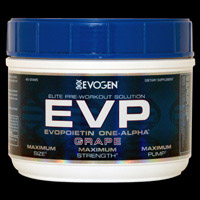 Evopoietin One-Alpha®
Elite Pre-Workout Solution
MAXIMUM SIZE • MAXIMUM STRENGTH • MAXIMUM PUMP
EVP Represents the future, the next step in physique- and performance-supporting technology. Proven by science, perfected by research and tested on elite, world-class athletes, there is no product like EVP.
EVP is the synthesis of biotechnology, nutraceutical ingenuity and the science of elite performance nutrition. Engineered to answer the needs of hard training and elite athletes, EVP is the world's true pre-workout solution.
"EVP IS NOT YOUR AVERAGE, ENTRY-LEVEL 'TWEAK' OR 'JITTER' PRE-WORKOUT PRODUCT."
EVP IS A SOPHISTICATED COMBINATION OF INGREDIENTS OF THE HIGHEST QUALITY AND PURITY, SELECTED SPECIFICALLY TO MAXIMIZE MUSCLE SIZE, STRENGTH AND PUMP WITHOUT THE USE OF STIMULANTS.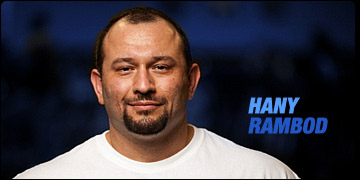 "When I originally formulated EVP, my intention was to create a complete pre-workout solution, using the most pure, most efficacious ingredients possible. EVP is made without the use of carbohydrates, fillers or stimulants. Carbohydrates can lead to insulin spikes that can effectively shut down the body's fat burning mechanisms. For this reason, EVP is 100% Carbohydrate-Free. The overuse of stimulants can lead to adrenal fatigue, and pump-choking vaso-constriction and may actually limit performance in certain situations. I wanted to be certain that EVP is the most effective product available. That's why EVP contains no caffeine or other stimulants."
- Hany Rambod, The Pro Creator®. Creator of FST-7 Training and CEO Evogen Nutrition.
Stimulate protein synthesis to ignite the body's muscle-building machinery*
Increase training performance by supporting cellular energy pathways*
Support increased muscle cell volume for massive muscle pumps*
Promote mental focus without the use of stimulants, for subtle but intense, improved concentration*
Athletes of all disciplines, bodybuilders, mixed martial artists, figure and fitness competitors, strength and endurance athletes may benefit from the incredibly advanced, muscle building and performance supporting components of EVP.*
"I work with some of the most elite athletes in the world, where meticulous, exacting and specific nutrition is critical. Slight variations in their plan can mean the difference between winning and losing. That is why EVP contains only the absolute highest quality, most powerful, and the purest ingredients available. I made no compromises in the formulation of EVP because I know the standard of quality that my clients have come to expect, and there is no substitute for quality. There may be other products available that claim to resemble EVP, but there is only ONE EVP. I'm very happy to be able to share my formulas with the public for the first time." - Hany Rambod
Anabolic Catalyst: (FUSIL®)
FUSIL* (Fermented, Ultra-Soluble L-Leucine), the driving force behind EVP's powerhouse formula, is high-grade, fermented L-Leucine of the highest quality then made ultra-soluble for maximum absorption.
L-Leucine is often called "the anabolic trigger" because it stimulates protein synthesis and ignites anabolic reactions within the body, accelerating the process of muscle growth and repair.* FUSIL is manufactured under a precise, strictly monitored fermentation process, to ensure that this ingredient is of the highest quality and purity.
*
is only available through EVOGEN Nutrition.
The Elite Pre-Workout Solution
Nutrient Injection/Volumizing Complex:
EVP contains a precise combination of specific compounds that contribute to intra-cellular fluid shift and cytoplasmic expansion. This specific quad-arginine blend combined with creatine gluconate dramatically increases cell volume and nutrient delivery into the muscle tissue.* Additionally, these substrates facilitate ATP production pathways within the muscle cells, to support and fuel ongoing, intense muscular contractions and delay the onset of muscular fatigue for measurable physical performance support.*
Anticatabolic/Recovery Complex:
EVP combines the high-grade L Glutamine with Carnosyn® (Beta Alanine), and L-Glutamine AKG to create a synergistic anticatabolic and recovery complex.* L-Glutamine contributes to muscle building and muscle protective processes in several critical ways.* EVP combines a dual-Glutamine blend with the other key components of this complex to yield powerful anticatabolic and immune supporting effects for muscle growth and recovery.*
ATP/Cognitive Support Complex:
EVP's ATP/Cognitive Support Complex was specifically formulated to support mental focus, alertness and mind-muscle connection.* EVP does not contain vaso-constrictive stimulants which could inhibit blood flow to muscles and stress the adrenal glands with daily use. This sophisticated neuro-support cocktail may support training performance, working in synergy with, rather than antagonistic to, the high-power volumizing, nutrient-driving agents of EVP.*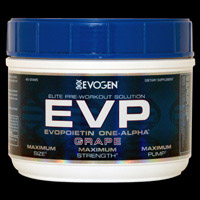 Indications and Usage:
Any athlete seeking increased muscle size and fullness, improved performance and strength, or should we mention leaner and more defined look can benefit from EVP.*
Dosage:
Consume 1 scoop 15-20 minutes prior to training on an empty stomach to facilitate maximum absorption. Mix with 4-6 oz cold water per scoop. Store in a cool, dry place. For best results, use within 60 days of breaking the seal. Never store on top of refrigerator.
FOR 100-150lb athletes: 1.0 scoop
FOR 150-200lb athletes: 1.5 scoops
FOR 200+ athletes: 2 scoops
Optional: For prolonged, high-intensity exercise, consume an additional ½ of recommended pre-workout serving mid-workout for maximum performance-boosting and recovery benefits.* For maximum muscle building and recovery, stack EVP with Cell K.E.M., Evogen's Elite Mass and Recovery Catalyst.*
Ratings & Reviews
What's in Evogen EVP
40 Servings

Grape

Serving Size 1 Scoop (approx. 11.25g)

Servings Per Container

40

Amount Per Serving

% DValue

Calories

15

Total Carbohydrate

1 g

<1%

Sugar

0 g

*

Vitamin B1 (as Thiamine Mononitrate)

1 mg

49%

Vitamin B2 (as Riboflavin)

2 mg

99%

Vitamin B3 (as Niacinamide)

5 mg

25%

Vitamin B6 (as Pyridoxine HCL)

7 mg

368%

Vitamin B12 (as Cyanocobalamin)

25 mcg

417%

Calcium (as Di-Calcium Phosphate)

52 mg

5%

Phosphorus (as di-potassium phosphate, di-calcium phosphate, and tri-magnesium phosphate)

71 mg

7%

Magnesium (as Tri-Magnesium Phosphate)

37 mg

9%

Sodium (as Sodium Chloride)

160 mg

7%

Potassium (as di-Potassium Phosphate)

90 mg

3%

Evopoietin 1-Alpha® Proprietary Blend

9.22 g

Anabolic Catalyst: FUSIL

L-Leucine (as fermented ultra-soluble FUSIL™)

Nutrient Injection/Volumizing Complex:

L-Arginine Alpha-Ketoglutarate, Creatine Gluconate, ††Citrulline Malate, L-Arginine, L-Malate, L-Arginine Pyroglutamate, L-Arginine HCL.

Anticatabolic/Recovery Complex:

L-Glutamine (from a Fermented source), Carnosyn® (Beta-Alanine), L-Glutamine Alpha-Ketoglutarate, Pyridoxine, Niacin, Riboflavin, Thiamin.

ATP/Cognitive Enhancing Complex:

L-Tyrosine, Di-Potassium Phosphate, Di-Calcium Phosphate, Tri-Magnesium Phosphate, N-Acetyl L-Tyrosine, Vinpocetine, Cyanocobalamin

** Percent Daily Values are based on a 2,000 calorie diet.

* Daily Value Not Established.

Other Ingredients:

Natural & Artificial Grape Flavor

, Malic Acid

, Sodium Citrate

, Silicon Dioxide

, Xanthan Gum

, Natural & Artificial Vanilla Creme Flavor

, Sodium Chloride, Natural & Artificial Prosweet Flavor

, Acesulfame-K

, Sucralose

, FD&C Red No. 40

, FD&C Blue No. 2

ALLERGENS: CONTAINS SOY. THIS PRODUCT WAS MANUFACTURED IN A PLANT THAT PROCESSES MILK, SOY, WHEAT, AND EGGS.
Directions For EVP:
Typical athlete: Consume 1 scoop 15-20 minutes prior to training on an empty stomach. Mix with 4-6oz of cold water per scoop. Do not exceed 3 scoops in a day. Store in cool, dry place away from moisture and sunlight.
Advanced athletes: 100-150lbs. - 1 scoop; 150-200lbs. - 1.5 scoops; 200lbs and over - 2 scoops.
Optional: For prolonged, high-intensity exercises, consume an additional 1/2 of the recommended pre-workout serving mid-workout for maximum performance boosting and recovery benefits.
Warnings: This product is only intended to be consumed by healthy adults, 18 years of age or older. Do not use this product if you are pregnant, expect to become pregnant, or are nursing. Consult with your physician before using this or any other dietary supplement product. Do not use this product without consulting your physician if you are using any prescription or over the counter medication or if you have any pre-existing medical condition. Immediately discontinue use and consult your physician if you experience any adverse reaction to this product. Store in cool, dry place away from moisture and sunlight. KEEP OUT OF REACH OF CHILDREN.
* These statements have not been evaluated by the Food and Drug Administration. This product is not intended to diagnose, treat, cure, or prevent any disease.
---