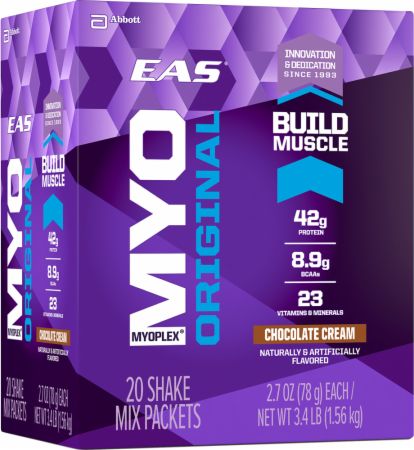 EAS
Myoplex Original
Great Tasting Protein Formula!
One Of The Most Popular Proteins Has Just Been Advanced!
Product Overview

MYOPLEX
ORIGINAL
Build muscle, recover faster, grow stronger*
POST-WORKOUT
/42g
PROTEIN
/8.9g
BCAAs
/23
VITAMINS &
MINERALS
Pure protein for
pure performance
Our high-quality protein gives you the nutrients you need to build big and recover easy, preparing you for the next step before you even start. The combination of protein, BCAAs, and vitamins & minerals in Myoplex Original is ideal for building lean muscle and reducing muscle breakdown caused by a tough workout. It can also be used as a nutritious meal replacement.*
Ratings & Reviews
By clicking the button above, you agree to entering the Bodybuilding.com Reviews section. Products in the Store are not intended to diagnose, treat, cure, or prevent any disease.

One of my favorite powders so far. Great taste, very smooth, and high protein content in one packet! 300 calories in 78 g vs 200 calories in a 30-40 g scoop.... I don't mind taking 100 more calories for double the protein with a great chocolate taste! It doesn't taste like any other protein powder I've tried (chemical after tastes or weird smells in other brands)! I look forward to each workout because I know this is waiting for me at the finish line!

Effective but the taste lacking. If you like the taste of cake batter or canned frosting you will like it but for me it's awful. I bought 6 boxes because I used to drink these years ago, but today, I can't believe I have to choke down 120 of these!

Awesome stuff. I like it because they come in individual packs, so you don't have to carry around tupperware full of protein.

This product has worked amazing for me! What I like about the product is that it has 42g of protein, 1.5g of Revigor HMB and 24 vitamins and minerals in it. This a great comb for a protein shake. Unlike some protein shakes this one isn't that thick making it so it easily goes down. One big plus to EAS Myoplex original is that it is banned substance tested and certified. I give this product a overall rating of 8, but only 6 for taste rating. I would recommended this product to anyone.
When it comes to building muscle, a hard-gainer needs to know the EAS reputation. My first fitness transformation packed 26 pounds on my 5'11" frame in 12 weeks. Myoplex "Mega Mass" was a Godsend. Now that I am nearly 40, I am back to basics: Myoplex Original 17oz. Shakes. With 42 grams of milk protein and 1.5 grams of REVIGOR HMB, I have a new favorite. I even add cane sugar to taste. If you are too thin... just try this!
I love that this supplement does NOT have a funny odor to it and the texture is smooth. Easy to drink!
5Vanilla Cream
8Strawberry Cream
9Chocolate Cream
† This price is the retail price for this product found at one or more retail websites in the last 30 days. The price may not include shipping cost, tax, sale or promotional prices, or discounts such as member pricing. Prices may change. Bodybuilding.com verifies this price every 30 days.
20 Packets
20 Servings | $1.94 Per Serving
42 Packets
42 Servings | $1.82 Per Serving
What's in EAS Myoplex Original
20 Packets

Chocolate Cream

Serving Size 1 Packet (78 g)

Servings Per Container

20

Amount Per Serving

% Daily Value *

Calories

300

Calories From Fat

50

Total Fat

6 g

9%

Saturated Fat

2 g

10%

Trans Fat

0 g

Cholesterol

50 mg

17%

Sodium

250 mg

10%

Potassium

875 mg

25%

Total Carbohydrate

21 g

7%

Dietary Fiber

3 g

12%

Sugars

1 g

Protein

42 g

84%

Vitamin A

50%

Vitamin E

100%

Vitamin B6

45%

Pantothenic Acid

50%

Zinc

50%

Chromium

80%

Vitamin C

40%

Thiamin

40%

Folate

50%

Phosphorus

45%

Selenium

50%

Molybdenum

90%

Calcium

60%

Riboflavin

50%

Vitamin B12

60%

Iodine

50%

Copper

50%

Chloride

10%

Iron

40%

Niacin

45%

Biotin

45%

Magnesium

50%

Manganese

80%

* Percent Daily Values (%DV) are based on a 2,000 calorie diet. Your Daily Values may be higher or lower depending on your calorie needs.

Ingredients:

Whey Protein Contentrate (Whey Protein Concentrate

, Soy Lecithin)

, Calcium Caseinate

, Corn Maltodextrin

, Milk Protein Isolate

, Cocoa Powder (Processed With Alkali)

, Dairy Creamer (Sunflower Oil

, Sodium Caseinate

, Mono- And Diglycerides

, Potassium Phosphate, Soy Lecithin

, Tocopherols)

, Natural And Artificial Flavors

, Oat Fiber

, Calcium Phosphate

, Medium Chain Triglycerides

, Vitamin And Mineral Blend (Magnesium Oxide

, dl-Alpha Tocopheryl Acetate

, Ascorbic Acid

, Niacinamide

, Ferrous Fumarate

, Zinc Oxide

, Calcium Pantothenate

, Manganese Gluconate

, Pyridoxine Hydrochloride

, Copper Sulfate

, Boron Proteinate

, Riboflavin

, Thiamine Hydrochloride

, Vitamin A Palmitate

, Folic Acid

, Biotin

, Chromium Citrate

, Potassium Iodide

, Molybdenum Amino Acid Chelate

, Selenium Amino Acid Chelate

, Cyanocobalamin)

, Potassium Phosphate

, Potassium Chloride

, Salt

, Xanthan Gum

, Carrageenan

, Acesulfame Potassium

, Whey Protein Isolate

, Sucralose

, Potassium Citrate

, Taurine

, L-Glutamine

, Egg Albumin

, Sodium Phosphate

, and Beta-Carotene

Contains Milk, Egg And Soy Ingredients; Manufactured in a facility that processes wheat and fish ingredients.
Directions For Myoplex Original:
Combine the contents of each packet with 15 fl oz of cold water, milk or your favorite beverage and mix for 20-30 seconds in a shaker or blender
Drink within 30 minutes after your workout. Also works as a snack or part of 5-6 smaller meals per day.
Use with a healthy diet and exercise program.
* These statements have not been evaluated by the Food and Drug Administration. This product is not intended to diagnose, treat, cure, or prevent any disease.
---