Product Overview
Creatine Supplement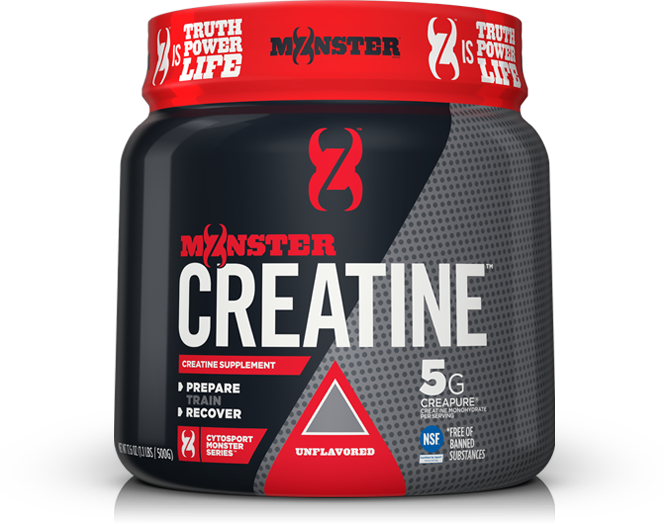 MONSTER CREATINE™ Supplement and Supplement Mix help fuel muscles to enhance your workout and to help build strength and lean muscle.*
Here is what is inside per serving:
5g CREAPURE CREATINE MONOHYDRATE
NSF® Certified for Sport®
Flavors: Unflavored, Grape, and Watermelon.
Helps fuel muscles to enhance your workout and to help build strength and lean muscle. Works at the cellular level to promote strength, power and endurance during your workout. Helps support ATP to help fuel muscular contractions.*
NSF screens supplements for more than 200 substances banned by most major athletic organizations. The main components of NSF's certification program are label claim review, a toxicology review to certify the formulation and contaminant review to ensure against contaminants. nsfsport.com
Ratings & Reviews
What's in CytoSport Monster Creatine
Serving Size 1 Scoop (5g)

Servings Per Container

100

Amount Per Serving

%DV

Creapure® Creatine Monohydrate

5 g

**

* Percent Daily Values (DV) are based on a 2,000 calorie diet.

** Percent Daily Value (DV) not established.

Creapure® is a licensed registered trademark of AlzChem Trostberg GmbH.

GLUTEN FREE
Directions For Monster Creatine:
Mix 1 scoop with 8 fl-oz of water or beverage of choice.
MONSTER CREATINE™ Supplement Mix can be used before or after workouts.
Recommended Creatine Loading Dose: For first 5-7 days of use take 1 serving with 8 -oz of water (or beverage of choice) four times daily.
Recommended Creatine Maintenance Dose: After loading phase consume 1 serving (10g) with 8 -oz of water (or beverage of choice) once daily for 5-8 weeks.
When taking any creatine supplement it is important to stay well hydrated.
* These statements have not been evaluated by the Food and Drug Administration. This product is not intended to diagnose, treat, cure, or prevent any disease.
---