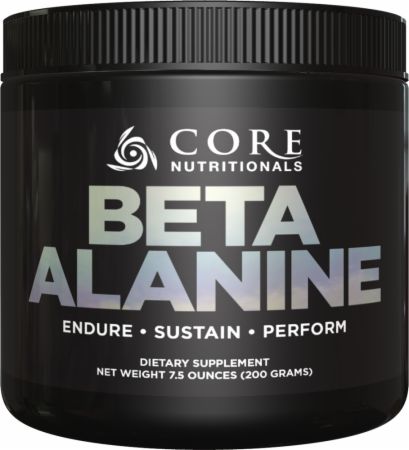 Core Nutritionals
Beta Alanine
, 200 Grams Unflavored
Carnosine Increasing Beta Alanine*
Supplement With Beta Alanine For Increased Muscluar Strength*
Product Overview
endure/sustain/perform
Increase muscle strength.*
Increase overall muscle performance.*
Increase aerobic and anaerobic endurance.*
Decrease muscular fatigue in response to high intensity exercise (weight training).*
You know the tingling sensation you get after taking beta-alanine? Well, we are here to reveal the long held secret behind that feeling, guarded for years by bodybuilding elitists: it's nothing less than the feeling of magic, and success.
Of course, we are kidding. Who do we look like, every other supplement manufacturer? That sensation is actually a phenomenon, induced when the nerves under the skin are bound to and activated. It is thought that beta-alanine causes a similar effect, and thus produces the same sensation.
With that said, beta-alanine's effectiveness and versatility have given it an almost magic-like status amongst fitness enthusiast. With evidence demonstrating reductions in fatigue in response to high intensity exercise, amongst other things, you might think it's magic, too!
Science:
Beta-alanine is the rate-limiting substrate in the production of intramuscular carnosine, and its supplementation is responsible for directly increasing levels of carnosine in skeletal muscle. As a dietary supplement, beta-alanine has a range of applications, including serving as a cellular buffer, and increasing the capacity of skeletal muscles for work.* Trials in humans suggest that beta-alanine supplementation is linked to an increase in muscular strength in acute challenges, increased muscular performance, and a decrease in muscular fatigue.*
Ratings & Reviews
What's in Core Nutritionals Beta Alanine
Serving Size: 1 scoop (3200 mg)

Servings Per Container:

62.5

Amount Per Serving

% Daily Value

Beta-Alanine (as CarnoSyn®)

3,200 mg

†

† Daily value not established.
Directions For Beta Alanine: Take 1 scoop (3200 mg) 30-60 minutes before your workout. For best results, take an additional serving after your workout. Take 1 scoop in the morning and an additional scoop 6-8 hours later on your non-training days. Any tingling (paresthesia) of the skin while using Carnosyn® Beta-Alanine is normal and may subside after continuous use.
Warnings: This product is only intended to be consumed by healthy individuals 18 years of age or older. This product is not recommended for pregnant or nursing women. Before using this product, consult with your physician, especially if you are using any prescription or over the counter medication or if you have any pre-existing medical condition including but not limited to: high or low blood pressure, cardiac arrhythmia, stroke, heart, liver, kidney or thyroid disease, seizure disorder, psychiatric disease, diabetes, difficulty urinating due to prostate enlargement or if you are taking a MAOI (Monoamine Oxidase Inhibitor) or any other medication. Discontinue use and consult your health care professional if you experience any adverse reaction to this product. Discontinue use 2 weeks prior to surgery. Do not exceed recommended serving. Do not use if safety seal is broken or missing. Keep out of the reach of children. Store in a cool, dry place.
* These statements have not been evaluated by the Food and Drug Administration. This product is not intended to diagnose, treat, cure, or prevent any disease.
---