Cellucor
Alpha Amino Ultimate
, 20 Servings Blueberry Lemonade
BCAA Powder for Recovery & Hydration*
5g BCAAs, 3g HMB, 750mg Creatine HCl and an Electrolyte Blend with Coconut Water Powder in Every Serving
Product Overview
The Ultimate Aminos
For Size & Strength*
Ultimate Growth & Recovery*
The king of muscle-building amino acid formulas, Alpha Amino™ Ultimate takes the legendary recovery and hydration properties of Alpha Amino™ and ratchets up the benefits with ingredients selected specifically to support strength, performance, and muscle growth.*
Every serving of Alpha Amino™ Ultimate contains 5 grams of branched-chain amino acids (BCAAs) at the clinically studied 2:1:1 ratio, plus additional essential amino acids (EAAs), to help support muscle recovery and repair. Each serving also contains 3 grams of MyoeDge™ HMB and 750 milligrams of Creatine HCL to create the ultimate strength and muscle-building blend.*
In addition to these mass-building benefits, Alpha Amino™ Ultimate also helps support hydration with ingredients like patented and clinically studied BetaPower® Betaine and coconut water powder.
Even with these ultimate additions, Alpha Amino™ Ultimate is completely stimulant-free, tastes incredible, and contains zero grams of sugar per serving!
Powerful Key Ingredients
Ultimate Recovery
BCAAs (5g)
Branched-chain amino acids have been clinically shown to support muscle recovery and repair. Alpha Amino™ Ultimate includes 5 grams of micronized leucine, isoleucine, and valine in the well-studied studied 2:1:1 ratio.*
Essential Performance Amino Acid Complex (3750mg)
Includes essential, non-essential, and conditionally essential amino acids involved in the growth and repair of muscle tissue. These aminos may also help prevent muscle from being broken down into amino acids for energy during and after exercise.*
Ultimate Growth
MyoeDge™ HMB (3g)
MyoeDge™ is the powerful combination of HMB and Vitamin D3. These nutrients have been shown to act together to promote muscle health, improve lean muscle mass gains, and increase muscle function.*
Creatine HCl (750mg)
Creatine HCl is a clinically studied, highly soluble, and highly absorbable form of creatine. Creatine helps support strength and performance.*
Ultimate Hydration
BetaPower® Betaine
This clinically studied, natural form of betaine is derived from beets, a powerful superfood that supports hydration and physical performance.*
Coconut Water Powder
Contains electrolytes such as potassium, sodium, magnesium, and phosphorous to support rehydration.*
Electrolyte Blend
Alpha Amino™ Ultimate includes electrolytes to support hydration.*
Ultimate Absorption
Bioperine®
An extract derived from black pepper, Bioperine® is a nutrient enhancer that improves nutrient absorption.*
The Ultimate Duo
If you want to supercharge your training and further support your muscle-building goals, stack Alpha Amino™ Ultimate alongside C4® Ultimate for the best in recovery, hydration, and pre-workout performance support. Simply consume C4® Ultimate 20-30 minutes before your workouts, and then consume Alpha Amino™ Ultimate during or after training, to harness the power of this ultimate duo.*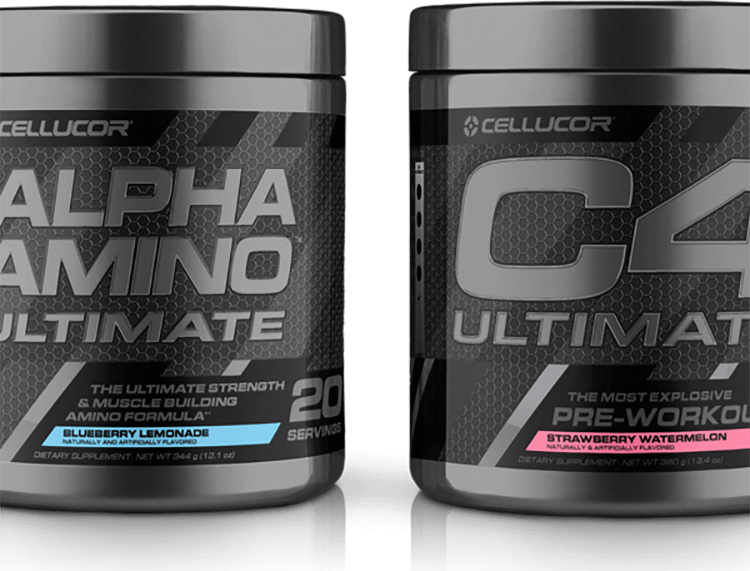 Ratings & Reviews
What's in Cellucor Alpha Amino Ultimate
Serving Size: 1 level scoop (17.2g)

Servings Per Container:

20

Amount Per Serving

% DV

Calories

5

Total Carbohydrate

1 g

<1%**

Sugars

0 g

†

Vitamin D (as Cholecalciferol)

500 IU

125%

Calcium (as Calcium β-Hydroxy β-Methylbutyrate Monohydrate (HMB) from myHMB®)

400 mg

40%

Phosphorus (as Dipotassium Phosphate, Disodium Phosphate, Dimagnesium Phosphate)

65 mg

7%

Magnesium (as Dimagnesium Phosphate)

13 mg

3%

Sodium (as Disodium Phosphate, Sodium Chloride)

50 mg

2%

Potassium (as Dipotassium Phosphate)

70 mg

2%

Instantized BCAA 2:1:1 Blend

5,000

mg

†

Instantized L-Leucine, Instantized L-Isoleucine, Instantized L-Valine

Essential Performance Amino Acid Complex

3,750

mg

†

L-Glutamine, Taurine, L-Alanine, L-Citrulline, L-Lysine Hcl, L-Phenylalanine, L-Threonine, L-Methionine, L-Tyrosine, Histidine

Calcium β-Hydroxy β-Methylbutyrate Monohydrate (HMB) (as myHMB®)

3,000

mg

†

Alpha Amino™ Ultimate Hydration Blend

1,750

mg

†

BetaPower® Betaine Anhydrous (1250mg), Coconut (Cocos nucifera) Water Powder, Dipotassium Phosphate, Disodium Phosphate, Dimagnesium Phosphate

Creatine HCl

750

mg

†

Bioperine® Black Pepper (Piper nigrum) fruit extract

5

mg

†

** Percent Daily Values (% DV) are based on a 2,000 calorie diet.

† Daily Value not established.

Other Ingredients:

Citric Acid

, Natural & Artificial Flavors

, Malic Acid

, Silicon Dioxide

, Sucralose

, Acesulfame Potassium

, Sodium Chloride

, Polydextrose

, FD&C Blue #1.

ALLERGEN WARNING: Contains Tree Nuts (Coconut)
Directions For Alpha Amino Ultimate: Mix one serving (1 level scoop) of Alpha Amino™ Ultimate in 8-12 fl. oz. of cold water and shake well. Consume 1 level scoop during or after exercise on training days. On non-training days, consume 1 level scoop throughout the day. For best results, consume daily.
Warnings: THIS PRODUCT IS ONLY INTENDED TO BE CONSUMED BY HEALTHY ADULTS, 18 YEARS OF AGE OR OLDER. Do not use this product if you are pregnant or nursing. Consult a licensed, qualified, health care professional before taking this or any dietary supplement. Discontinue use 2 weeks prior to surger y. Immediately discontinue use and contact your health care professional if you experience any adverse reaction to this product. USE ONLY AS DIRECTED. Do not use if the safety seal is broken or missing. Store in a cool, dry place. KEEP OUT OF REACH OF CHILDREN. This product is sold by weight, not volume. Some settling of powder may occur during shipping and handling, which may affect the density of powder. This product contains the servings indicated when measured exactly by weight.PHENYLKETONURICS: CONTAINS PHENYLALANINE.
Note: Alpha Amino™ Ultimate does not contain aspartame. The phenylketonurics notice is intended for people with the genetic disorder, phenylketonuria.
* These statements have not been evaluated by the Food and Drug Administration. This product is not intended to diagnose, treat, cure, or prevent any disease.
---