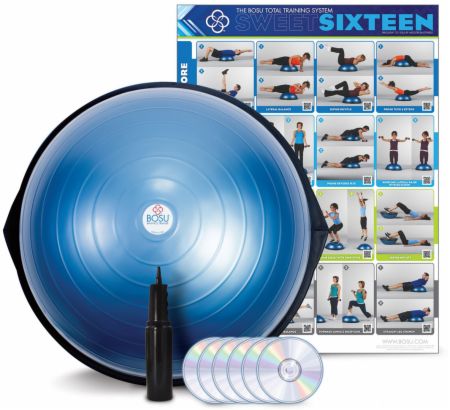 BOSU
Home Balance Trainer
,
Bosu® platform with pump for balance training
Tone and strengthen your core, add variety to your workouts & get fit, comes with workout DVDs and exercise chart
Price:
$140.00
( / Serving)
Product Overview
The BOSU® HOME Balance Trainer can maximize a person's workout whether he or she is looking to tone or strengthen, improve core strength, lose weight, or stay healthy and fit. Use either the flat side or the dome side to make exercise fun, challenging and effective. This balance trainer includes a dual action hand pump, owner's manual, wall chart, 4 workout DVDs (Total Body, Calorie Combustion, Long & Lean, and ABSolutely ABS), and 2 Xplode Cross-Training workout DVDs. The product measures 26" and has a maximum weight limit of 300 lbs.
Ratings & Reviews