Bodybuilding.com Foundation Series
Women's Multivitamin
, 120 Tablets
Women's Daily Multivitamin Capsule for Overall Health & Wellness*
With Antioxidants and Gender-Focused Components for Immune System Support*
Product Overview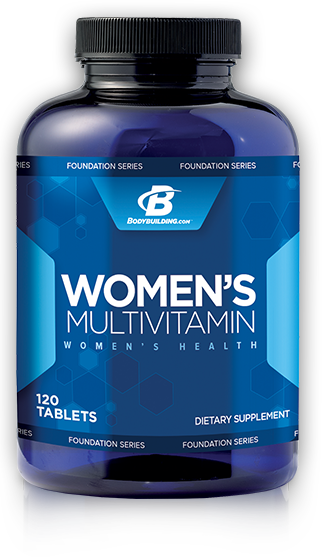 Women's
MultiVitamin
100
percent dv
vitamin & Minerals
Multi Micro: Cover your micronutrient bases and ensure you don't have any vitamin/mineral deficiencies with the Bodybuilding.com Foundation Series Women's Multivitamin!
Beyond the Basics: In addition to its micronutrient profile, the Bodybuilding.com Foundation Series Women's Multivitamin contains botanicals, antioxidants, and other gender-focused components.*
Product Details:
A multivitamin is one of the best supplement investments you can make to support diet, overall health, and even your exercise or athletic performance.* The Bodybuilding.com Foundation Series Women's Multivitamin encourages body-function efficiency and fills micronutrient gaps left by your diet.* Deficiency in any one vitamin can affect a number of body functions, making a multivitamin important to covering your micronutrient bases.*
In addition to its stellar micronutrient profile, the Bodybuilding.com Foundation Series Women's Multivitamin has been designed as a comprehensive multi-nutrient complete with botanicals, antioxidants, and other gender-focused components.*
Bodybuilding.com Foundation Series Women's Multivitamin: multiple micronutrients, multiple benefits.*
BODYBUILDING.COM SPORTS NUTRITION
Here at Bodybuilding.com, our goal is to help people like you meet your health, fitness and appearance goals through information, motivation and supplementation. We want you to have every possible tool at your disposal, so we constantly add more articles, videos, workouts, diet plans and transformation stories to our website. We've also developed a full line of our own nutritional supplements that—when combined with the right workout and nutrition program—will help you reach your goals. All Bodybuilding.com products have been formulated to the highest standards with high-quality, effective ingredients that produce real results. If you aren't completely satisfied with any product, return it any time for a full refund.
Ratings & Reviews
By clicking the button above, you agree to entering the Bodybuilding.com Reviews section. Products in the Store are not intended to diagnose, treat, cure, or prevent any disease.
So far so good! No complaints. Easy on the stomach and gets the job done.
This is an excellent value for the money. I take it every day on an empty stomach and I am good to go.

I good all-around multi for women. No issues with taking it on an empty stomach, though I dousually take it with food.

This is a great multivitamin! I have a sensitive stomach and these don't bother me at all. I feel that it provides me with what I need without having to think about what should I be taking and how much. It's simple. It does have a slight taste, but it tastes like "vitamin". And it goes away with a drink of water. Would recommend!
I think the vitamin works good. I used opti women prior to this and thought I'd give it a shot ..the only thing I wish bodybuildings brand would do is put it in a capsule form...it's very large and hard to swallow being a tablet and leaves an after taste when it dissolves. I'll probably go back to my ON opti women until they make capsules for this vitamin.
I prefer capsules to pills since they are absorbed faster and there's less waste, also multivitamins that are directed to take twice a day so there's continuous absorption. This product also has folic acid, which many people actually cannot process, so I prefer products with straight folate. This was on a BOGO 50% sale so I figured why not. It's not the worst, but not the best. The smell is also awful.


So far so good! No complaints. Easy on the stomach and gets the job done.
Buy 1 Get 1 50% Off
120 Tablets
60 Servings | $0.29 Per Serving
What's in Bodybuilding.com Foundation Series Women's Multivitamin
120 Tablets

Supplement Facts

Serving Size:

2

Tablets

Servings Per Container:

60

Amount Per Serving

% Daily Value

Vitamin A (As Retinyl Palmitate & 50% As Natural Beta-Carotene)

5,000

IU

100%

Vitamin C (As Ascorbic Acid)

250

mg

417%

Vitamin D (As Cholecalciferol)

1000

IU

250%

Vitamin E (As D-Alpha-Tocopheryl Succinate And Natural Mixed Tocopherols)

100

IU

333%

Vitamin K (As Phytonadione)

80

mcg

100%

Thiamin (As Thiamin Mononitrate)

20

mg

1,333%

Riboflavin

20

mg

1,176%

Niacin (As Niacinamide)

20

mg

100%

Vitamin B6 (As Pyridoxine HCL)

20

mg

1,000%

Folate (As Folic Acid)

600

mcg

150%

Vitamin B12 (As Cyanocobalamin)

100

mcg

1,667%

Biotin

300

mcg

100%

Pantothenic Acid (As D-Calcium Pantothenate)

20

mg

200%

Calcium (As Calcium Carbonate And Calcium Citrate)

350

mg

35%

Iron (Carbonyl)(Ferronyl®)

18

mg

100%

Iodine (From Kelp)

150

mcg

100%

Magnesium (As Magnesium Oxide And Magnesium Citrate)

175

mg

44%

Zinc (As Zinc Citrate)

15

mg

100%

Selenium (As Selenium Selenomethionine)

70

mcg

100%

Copper (As Copper Gluconate)

2

mg

100%

Manganese (As Manganese Gluconate)

2

mg

100%

Chromium (As Chromium Nicotinate Glycinate Chelate)

120

mcg

100%

Molybdenum (As Molybdenum Chelate)

75

mcg

100%

Dong Quai Root 10:1 Extract

80

mg

*

Chaste Berry Fruit 12:1 Extract

50

mg

*

Garcinia Cambogia Dried Fruit Extract (Min. 50% HCA)

50

mg

*

Uva Ursi Leaf 4:1 Extract

50

mg

*

Horse Chestnut Bark

25

mg

*

Alpha-Lipoic Acid

20

mg

*

Butcher's Broom Root

15

mg

*

Ipriflavone

10

mg

*

Grape Seed Extract (Min. 95% Polyphenols)

10

mg

*

High-Allicin Garlic (Bulb) Extract

10

mg

*

CitruShield ORAC Citrus Flavonoid Formula

10

mg

*

[A Proprietary Blend Of Whole Powder And Extracts Of Lemon, Sweet Orange, Lime And Tangerine (Min. 50,000 Total ORAC Per Gram)]

Soy Isoflavone Concentrate (Providing 2 Mg Isoflavones)

5

mg

*

Lycopene

250

mcg

*

Lutein

250

mcg

*

Zeaxanthin

50

mcg

*

* Daily Values not established.
Other Ingredients:

Microcrystalline Cellulose

, Stearic Acid

, Croscarmellose Sodium

, Film Coat (Hypermellose

, Silica And Coating (Hypromellose

, Hydroxypropyl Cellulose

, Macrogol).

Contains SOY.

This Product Was Produced In A GMP Compliant Facility. Good Manufacturing Practices Or GMPs, Are A Set Of Standards Which Ensure The Purity And Proper Labeling Of Dietary Supplements.
Directions For Women's Multivitamin: As a dietary supplement for women, consume 2 tablets daily with food.
Warnings: Concerning California Residents: This product contains chemicals known to the State of California to cause cancer and birth defects or reproductive harm. Do not use if pregnant, contemplating pregnancy or nursing. This product is only intended to be consumed by healthy adults 18 years of age or older. Before using this product, consult with your physician. Discontinue use and consult a health care professional if you experience any adverse reaction to this product. Do not use if the seal is broken or missing. Accidental overdose of iron-containing products is a leading cause of fatal poisoning in children under 6. Keep this product out of reach of children. In case of accidental overdose call a doctor or poison control center.
* These statements have not been evaluated by the Food and Drug Administration. This product is not intended to diagnose, treat, cure, or prevent any disease.
---