Bodybuilding.com Signature
Signature Weight Loss Stack
,
All-Day System for Fat Loss*
Featuring Bodybuilding.com Signature Products
Product Overview
Turn your body into a lean machine!* When combined with proper diet and exercise, this targeted regimen can help boost your metabolism, support your overall health, recover from your workouts, and give you an extra boost of energy.* Not only that, but it saves you cash!
SIGNATURE
AMINO PLUS ENERGY
Enjoy this refreshing beverage pre-workout to fuel your training, post-workout to speed muscle repair and recovery, or anytime your day could use some energy.* You'll get BCAAs, caffeine, and electrolytes in every sip. A signature is a promise. A symbol of your identity. Your mark on the world. In 1999, Bodybuilding.com was founded on a single promise: Trust. It's who we are and it's in our blood. Our Signature line is built on the same promise. Every product is no-BS, transparent, filler-free, and formulated with effective doses of research-backed ingredients you can trust. We create the highest quality supplements, so you can focus on leaving a mark of your own.
TOTAL TRANSPARENCY
Signature products are formulated with high quality ingredients at effective doses that we're proud to share with you. We don't hide anything in a "proprietary blend", so you always know exactly what you're putting into your body.
EFFECTIVE DOSES
An effective dose is the amount of an ingredient that has been shown to deliver results. Some supplement brands add a sprinkle of an ingredient just so they can say it's in the product. Signature supplements always include enough to get the job done.
RESEARCHED-BACKED INGREDIENTS
Trendy, flash-in-the-pan ingredients come and go. But time-tested, gym-proven ingredients are what you need to help you achieve your fitness goals. That's what you'll find in Signature products because that's what works.
SHOP ALL SIGNATURE PRODUCTS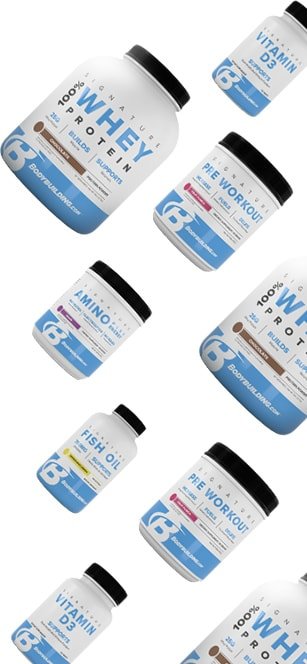 Ratings & Reviews
Directions for Signature Weight Loss Stack:
Follow the directions on the products' label.
Warnings: Read the warnings on the products' label.
* These statements have not been evaluated by the Food and Drug Administration. This product is not intended to diagnose, treat, cure, or prevent any disease.