Bodybuilding.com Signature
Signature Citrulline
, 100 Servings Unflavored
Supports Increased Blood Flow*
Promotes Muscle Pumps and Exercise Performance*
Product Overview
Proudly supports first responders & nurses with Bodybuilding.com and ID.me. Verify Here

Citrulline is a naturally occurring amino acid that supports the production of the amino acid arginine. Increased arginine leads to increased nitric oxide (NO), a vasodilator that opens up blood vessels and increases oxygen and blood flow throughout your body. That's what fans refer to as pumps!*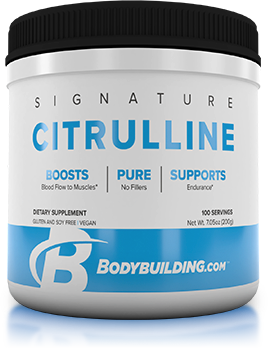 CITRULLINE
L-Citrulline is the natural form of citrulline. Your body produces it, but supplementing can help you have a killer workout.* As detailed above, citrulline aids in blood vessel dilation. This lets more oxygen and nutrients hit your hard-working muscles. Citrulline also keeps you going strong by helping your body eliminate ammonia. Ammonia, a byproduct of protein synthesis, causes exercise-related fatigue.*
Studies have shown improved power output, oxygen consumption, and exercise performance with just 2.4 grams per day over an eight-day period.[1,2]* Feel good about the fact that Signature Citrulline contains no filler and no other ingredients – just 100% pure Citrulline. It's also vegan and sourced in the U.S.A.
WHY NOT SKIP A STEP
AND JUST TAKE ARGININE?
Citrulline goes straight to your bloodstream, while arginine must go through a less efficient digestion process.
HOW TO USE CITRULLINE
Signature Citrulline is nearly flavorless and can be mixed with water, juice, or any other beverage. You can also add it to your favorite pre-workout product.
1. Suzuki, T., Morita, M., Kobayashi, Y., & Kamimura, A. (2016). Oral L-citrulline supplementation enhances cycling time trial performance in healthy trained men: Double-blind randomized placebo-controlled 2-way crossover study. Journal of the International Society of Sports Nutrition, 13(1), 1.
2. Bailey, S. J., Blackwell, J. R., Lord, T., Vanhatalo, A., Winyard, P. G., & Jones, A. M. (2015). L-citrulline supplementation improves O2 uptake kinetics and high-intensity exercise performance in humans. Journal of Applied Physiology, 119(4), 385-395. A signature is a promise. A symbol of your identity. Your mark on the world. In 1999, Bodybuilding.com was founded on a single promise: Trust. It's who we are and it's in our blood. Our Signature line is built on the same promise. Every product is no-BS, transparent, filler-free, and formulated with effective doses of research-backed ingredients you can trust. We create the highest quality supplements, so you can focus on leaving a mark of your own.
TOTAL TRANSPARENCY
Signature products are formulated with high quality ingredients at effective doses that we're proud to share with you. We don't hide anything in a "proprietary blend", so you always know exactly what you're putting into your body.
EFFECTIVE DOSES
An effective dose is the amount of an ingredient that has been shown to deliver results. Some supplement brands add a sprinkle of an ingredient just so they can say it's in the product. Signature supplements always include enough to get the job done.
RESEARCH-BACKED INGREDIENTS
Trendy, flash-in-the-pan ingredients come and go. But time-tested, gym-proven ingredients are what you need to help you achieve your fitness goals. That's what you'll find in Signature products because that's what works.
SHOP ALL SIGNATURE PRODUCTS
Ratings & Reviews
What's in Bodybuilding.com Signature Signature Citrulline
Serving Size: 1 Scoop (2g)

Servings Per Container: 100

Amount Per Serving

% Daily Value

L-Citrulline

2 g

†

† Daily Value not established.

Other Ingredients:

None.

NO WHEAT, DAIRY, SOYBEANS, TREE NUTS, PEANUTS. CONTAINS NO ADDED SUGAR.
Directions For Signature Citrulline: As a dietary supplement, add 1 scoop (2 grams) to your favorite beverage 1-2 times daily. To boost your workout, combine with Signature Pre Workout or, for maximum post-workout benefits, combine with Signature Creatine and BCAA.*
Warnings: Consult your physician before using this product. Not for use by those under the age of 18 or by women who are pregnant, trying to become pregnant, or are nursing.
* These statements have not been evaluated by the Food and Drug Administration. This product is not intended to diagnose, treat, cure, or prevent any disease.
---