Bodybuilding.com Advanced
Scream Pre-Workout - NEW
, 20 Servings Strawberry Burst
Improved energy, focus, strength, power, and pumps.* The best pre-workout for your strongest workout.
Acute & saturated ingredients, natural caffeine, CarnoSyn® Beta-Alanine, citrulline, Peak ATP®, BCAAs & more.
Product Overview
The original Scream Pre-Workout set a new standard as one of the first fully transparent, all-in-one pre-workouts. This new version combines the core elements of the original with a new, great flavor and modern, innovative ingredients for unmatched taste and performance.
Product Benefits
A Truly Complete Pre-Workout with Everything You Need to Maximize Your Training
6g L-Citrulline
1.5g Nitrosigine®
300mg Natural Caffeine
400mg PeakATP®
3.2g CarnoSyn® Beta-Alanine
3g Creapure® Creatine Monohydrate
5g BCAAs 2:1:1
Dual Efficacy in Every Aspect Ensures Maximum Results
Energy & Focus*: Natural Caffeine + Tyrosine & Taurine
Muscle Pumps*: Citrulline + Nitrosigine®
Power & Endurance*: PeakATP® + Creatine
Muscle Sparing & Recovery*: BCAAs + Beta-Alanine
Key Ingredients
Scream is an advanced pre-workout with clinically dosed ingredients to support energy, focus, blood flow, performance, and recovery.* Prioritizing patented ingredients ensures you get the highest quality formula from trusted suppliers. Nitrosigine® paired with citrulline guarantees an amazing pump each time you use Scream.* CarnoSyn® Beta-Alanine paired with BCAAs helps blunt fatigue, helping you work out longer and recover faster.* PEAK ATP® paired with Creapure® Creatine Monohydrate will boost performance and help you hit new personal bests.*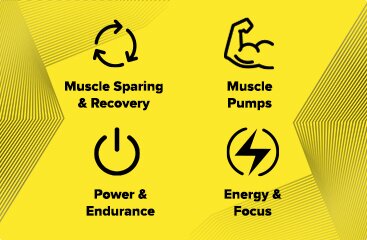 Supports Your Goals
We all take pre-workouts for one reason—an acute and immediate surge to kick-start your workout—and that's exactly what Scream does. Scream prioritizes clinically-researched and patented ingredients that work from the first rep, and complements them with support ingredients that benefit your performance in the long term.*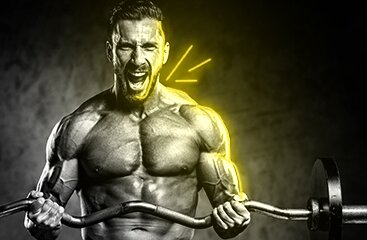 Good To Know
Scream is over 20 years in the making, utilizing all of Bodybuilding.com's experience and understanding of what ingredients get our customers the best results. To help you perform at your peak, nothing is under-dosed or included without a specific training function in mind. No concentrated doses of fluff ingredients, only what you need to fuel an incredible workout and maximize your training.*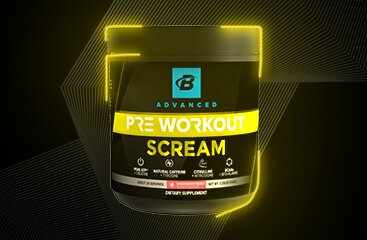 About The Brand
Bodybuilding.com Advanced is designed for the elite. We are always learning, always integrating, and always striving to give you the edge. We know that for you to perform at your best, achieve the results you seek, and endure the limits you push, you require ingredients that ignite your inner spark.
Ratings & Reviews
What's in Bodybuilding.com Advanced Scream Pre-Workout - NEW
Serving Size: 1 Scoop (28 grams)

Servings Per Container: About

20

Calories

10

Total Carbohydrate

3 g

1%*

Vitamin B6 (As pyridoxide hydrochloride)

3 mg

176%

Vitamin B12 (as cyanocobalamin)

5 mcg

208%

Calcium (as calcium phosphate)

65 mg

5%

Magnesium (as magnesium oxide)

40 mg

10%

Sodium (as sodium chloride and sodium citrate)

230 mg

10%

Potassium

100 mg

2%

L-Citrulline

6 g

†

BCAA 2:1:1

5 g

†

L-Leucine (2.5g)

†

L-Isoleucine (1.25g)

†

L-Valine (1.25g)

†

CarnoSyn® Beta-Alanine

3.2 g

†

Creapure® Creatine Monohydrate

3 g

†

Nitrosigine® (Arginine Silicate Inositol)

1.5 g

†

Taurine

1.5 g

†

L-Tyrosine

1.5 g

†

PeakATP® (Adenosine 5'-Triphosphate)

400 mg

†

Natural Caffeine (from Green Coffee Bean Extract (Coffea robusta))

300 mg

†

* Percent Daily Values are based on a 2000 calorie diet.

† Daily Value not established.

Other Ingredients :

Citric Acid

, Natural & Artificial Flavor

, Potassium Citrate

, Sucralose

, Acesulfame Potassium

, Calcium Silicate

, Sunflower Lecithin

, Fd&C Red #40
Directions For Scream Pre-Workout - NEW: Mix one level scoop (28g) of Scream Pre-Workout with 8-10 ounces of cold water and consume 15-30 minutes before training. Vary the amount of water to achieve your desired level of flavor and sweetness. Continually mix the solution to avoid any settling of ingredients
Warnings: Warnings: Some individuals may experience a harmless tingling sensation which is caused by beta-alanine. Do not exceed recommended dose. Consult your physician before use if you are taking any medications or are under a physician's care for a medical condition. Not for use by those under the age of 18 or women who are pregnant, trying to get pregnant, or nursing. Do not combine with alcohol. Use caution consuming caffeine from other sources while taking this product as too much caffeine may cause nervousness, irritability, sleeplessness, and occasionally rapid heartbeat. To avoid sleeplessness, do not consume within 6 hours of bedtime. Keep out of reach of children.
* These statements have not been evaluated by the Food and Drug Administration. This product is not intended to diagnose, treat, cure, or prevent any disease.
---