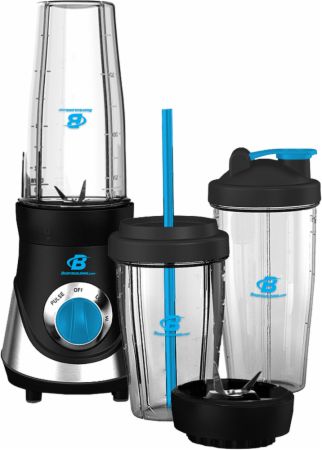 Price:
$29.99
( / Serving)
Product Overview
Bodybuilding.com Accessories
Personal Beverage Blender
Product Details
BPA Free cups and lids
750ml large cup with 1 on-the-go lid
500ml short cup with straw lid
Half SS wrap blender body
Stainless steel blades assembly
Blender with Pulse-Off-Lo-Hi Rotary Switch, Silver Painting Switch board for best outlook
300W motor
Dishwasher safe for cups and lids
Ratings & Reviews
Overall Rating
7.8
23 Ratings
Verified Buyer Rating
7.8
22 Ratings
By clicking the button above, you agree to entering the Bodybuilding.com Reviews section. Products in the Store are not intended to diagnose, treat, cure, or prevent any disease.
I have good and bad things to say about this. First, the lock on the cup is an awesome feature once you can get it. I am strong and it's a bit of a task, or maybe I got a weird one. I am also impressed by the cup size, shaker lid, adding a reusable straw, & the second full size cup. The things I didn't like were my gasket seal on one come did come intact, & when I tried to put it in, and had a friend help it wouldn't. I think I got a faulty one. The other major disappointment is the blades arnt strong at all. I read several great reviews and it took forever to blend. I didn't even have ice in it. It was frozen fruit, & lots of almond milk. I don't care for my ninja but this once work at about half that. I'm not sure if I am going to keep the cups and just give it away. That's why I give it a 6. I do however LOVE bodybuilding.com but maybe I just got a bad set?
Was this review helpful?
Report

Works great until the rubber o-ring falls off and gets eaten by the blender :(
Was this review helpful?
Report
No written review.
Was this review helpful?
Report

Overall this blender is very convenient. I've had it for a couple of years. I didn't touch it for a year or so. Now that I am hitting the gym everyday again I've been using it quite often. I've noticed that when I use the blender on high it leaks. The lid shakes off and some of the shake sprays if I'm not watching. I'm sure this is just from deterioration on the o-ring inside the blender lid. Would be nice to be able to buy replacements.
Was this review helpful?
Report

Blender works great...cup sucks though. It dropped about 3 feet and the bottom broke off since they're a hard plastic. Wish I could just buy replacement cups....
Was this review helpful?
Report
Gets the job done and is convenient.
Was this review helpful?
Report

Great concept. Gasket sucked into blender and is pretty much ruined. Bodybuilding.com took care of me though!
Was this review helpful?
Report
Great Product, Easy to grab and go just change blender piece to a lid and you're good to go. Only down side is it's a little loud for my personal liking.
Was this review helpful?
Report

Great product and transit time.....
Was this review helpful?
Report
This is the same blender marketed m GNC and also NOW Foods. It's a great little blender and works really well but be careful, There seems to be no replacement for the gasket in the blade assembly so if it gets sucked up into the blades, you are out of luck to use any further!! I've tried to look for a replacement gasket to no luck!! So inspect it each time you use the blender to make sure it is seated properly.
Was this review helpful?
Report
Super easy to use and very convenient. Works great just be sure you have everything lined up correctly.
Was this review helpful?
Report
liked it while it worked, broke around 6 months - gasket got sucked up into the blades causing plastic base of the mixer with the blades to crack - now usless - sent an emai asking for possible replacement parts: email was ignored with no response
Was this review helpful?
Report
I love this blender! I put the ninja away, and use this one instead. It blends so well, it's pretty quiet, and the price is very affordable. Its a little hard to click into place at first, but it gets easier. When this one stops working... I'll be getting another.
Was this review helpful?
Report

I bought our first blender thinking I would use it regularly. That was about two years ago. I never used it once. But my weightlifting son and wife used it so much they wore out it out. I am back to order our second blender. To the reviews below, you really have to make sure the cup and lid are twisted onto the housing enough to make the motor run. My only beef is that I wish we could order additional cups. But the blender has been great.
Was this review helpful?
Report

This product is too bad. I received this item a week ago after I had waited it which was shipped from US to Vietnam. And when I were making smoothie last night, its motor didn't run anymore. I tried to unplug and plug in the plug again but nothing happened. I'm really really so disappointed about this item. I don't think electric motor is overloaded because it is run for 5 seconds and stopped for a few seconds then repeat 2-3 times. Your reviews about this product is fake, right? Because I see it is rated so high with 9.4 marks. And everybody also comment good things about it. Bodybuilding.com is a big website and I really trust about quality of items on it. So I accept a large payment for international shipping to buy it. But from now on, I will THINK CAREFULLY that should or shouldn't buy something from this website AGAIN.
Was this review helpful?
Report