Blue Star Nutraceuticals
Iso-Smooth
, 5 Lbs. Vanilla Dream
Protein Shake for Lean Muscle*
Supports Muscle Recovery From Exercise*
Product Overview
---
Iso-Smooth™
Not Cheap. Never will be.™
The past, present
and future of protein
Protein – a word synonymous with strength, power, and physique. We look for it on labels. We worry when it's missing. These days, food manufacturers are adding it to everything they produce and slapping giant stickers on the front of their packages, "Now With Protein!" And yet somehow it seems, as its popularity is soaring, its quality is not. Quite the opposite in fact. Indeed, protein is everywhere – and so much of it is absolutely awful.
So what are we to do in a time when the performance athlete's most coveted supplement has become nothing more than marketing ploy...
This is Iso-Smooth™. The past, present, and future of protein.
It's all about the isolate.
Protein is almost everywhere. But performance-level whey protein isolate for performance-level athletes is only in Iso-Smooth™.* Whey protein is created when the components of milk are mechanically separated.
This whey protein can be further processed to yield three forms: whey protein isolate, whey protein concentrate, and whey protein hydrolysate. The difference between these three forms is their percentage of pure protein.
After one serving of Iso-Smooth™ you'll understand why not all protein is created equal.
Pure protein, to the power of four.
Iso-Smooth™ forever changed the way we use protein. Its four-stage sustained-release blend of whey protein isolate, milk protein isolate, egg protein isolate, and micellar casein steadily delivers protein to your muscles as you need it, not all at once.* The result? A single-serving protein that provides up to eight full hours of muscle fuel, regardless of how or when you take it.*
Absorption and the PDCAAS.
Protein digestibility-corrected amino acid score (PDCAAS) is a method of evaluating protein quality that measures the amino acid requirements of humans and their digestion abilities.
Proteins are rated from 0 to 1.00, where 0 represents the lowest rating and 1.00 represents the highest rating.
All four proteins in Iso-Smooth™ have a PDCAAS value of 1.00.
Whey protein isolate.
Absorbed for up to 2 hours
PDCAAS Score: 1.00
Egg protein isolate.
Absorbed for up to 4 hour
PDCAAS Score: 1.00
Milk protein isolate.
Absorbed for up to 5 hours
PDCAAS Score: 1.00
Micellar casein.
Absorbed for up to 8 hours
PDCAAS Score: 1.00
It has no business tasting this good.
"Remarkable." "Incomparable." "Luxurious." These words, more often associated with German sedans than protein flavors, are just a few of the accolades awarded to Iso-Smooth™. Quality over quantity. Fundamentals over fads. These are the guiding principles of the Iso-Smooth™ flavor team. After 25 years of combined experience, it's safe to say you know a thing or two about flavor-making. The result? Iso-Smooth™ flavors aren't just good – they're award-winning.
Regardless of your go-to recipe, Iso-Smooth™ is the only protein you need.* So whether you're a yogurt, peanut butter, banana, or kale kinda guy, you won't find a cleaner, better tasting protein out there. Thick, creamy, and ice cold, Iso-Smooth™ is the only way to reward yourself at the end of every workout.*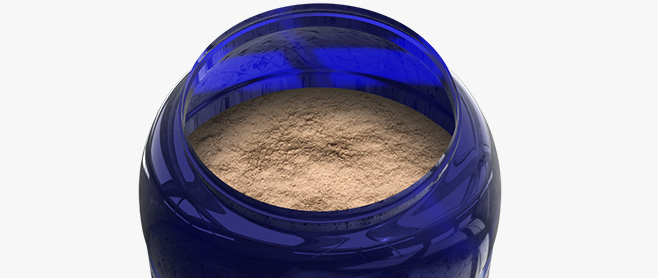 Ratings & Reviews
What's in Blue Star Nutraceuticals Iso-Smooth
5 Lbs.

Vanilla Dream

serving size: 1 Scoop (approx. 36 g)

Servings Per Container: Approx 62

Amount Per Serving

Calories

135

Calories from Fat

10

% Daily Value

Total Fat

1 g

1%*

Saturated

0 g

0%

+ Trans

0 g

†

Cholesterol

2 mg

1%

Total Carbohydrate

1 g

1%*

Dietary Fiber

.6 g

1%*

Sugars

0 g

†

Protein

30 g

60%*

Calcium

170 mg

16%

Iron

1 mg

4%

Phosphorus

100 mg

10%

Magnesium

28 mg

9%

Zinc

.3 mg

2%

Copper

80 mcg

4%

Chloride

68 mg

2%

Sodium

70 mg

3%

Potassium

160 mg

7%

* Percent Daily Values are based on a 2,000 calorie diet

† Daily Value Not Established

Ingredients:

Cold Processed Time Released Protein Matrix (Whey Protein Isolate

, Milk Protein Isolate

, Egg Isolate

, Micellar Casein)

, Suspension Matrix (Xanthan Gum

, Cellulose Gum

, Carrageenan)

, Natural And Artificial Flavor

, Sucralose

, Acesulfame Potassium

, Flaxseed

, CLA

, Enzyme Blend (Lactase

, Bromelain

, Amylase

, Protease

, Hemicellulase

, Cellulase).

Allergen Warning: Contains ingredients from milk and egg. Made in a facility that also processes soy, peanut, tree nuts, fish, crustaceans and shellfish, and wheat products.
Directions For Iso-Smooth: As a dietary supplement, mix 1 scoop of ISO-SMOOTH with 8oz of water, milk, juice or your favorite beverage.
Warnings: KEEP OUT OF REACH OF CHILDREN. Not intended for use by persons under 18 years of age. Contains ingredients from milk and egg. Made in a facility that also processes soy, peanut, tree nuts, fish, crustaceans and shellfish, and wheat products. Consult a physician before taking this product if you are lactose intolerant or have any allergic reactions to dairy products. Use this product as a dietary supplement only. This product is not intended to replace food. Store in a cool dry place (60° F to 80° F). DO NOT USE IF SAFETY SEAL ON THIS PACKAGE HAS BEEN BROKEN.
* These statements have not been evaluated by the Food and Drug Administration. This product is not intended to diagnose, treat, cure, or prevent any disease.
---