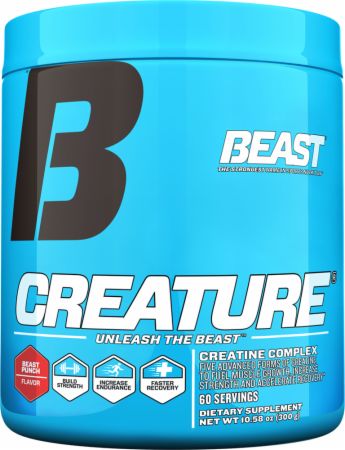 Beast Sports Nutrition
Creature Powder
Professional Strength Creatine Powder For Building Muscle*
Optimizes Strength, Enhances Endurance, & Accelerates Recovery*
Product Overview
a new look. a new formula. creatine complex with five advanced forms of creatine to fuel muscle growth, increase strength and accelerate recovery*. It's a new age...for a whole new beast.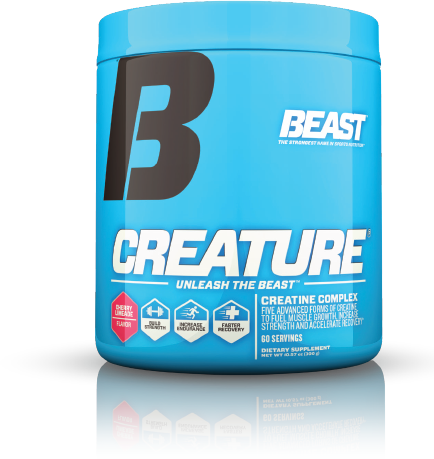 Creature®
demand the professional-strength creatine complex that uses five of the most advanced forms available to fuel muscle growth, increase strength, and accelerate recovery.* Check out the all-new creature® —now with crea-trona®.
FUELS MUSCLE GROWTH*
OPTIMIZES MUSCLE STRENGTH*
STIMULATES LEAN MUSCLE*
ENHANCES ENDURANCE*
ACCELERATES RECOVERY*
The creatine behind creature®
Unleash the Beast
Creatine fuels intense weight training and endurance activities to push harder, go faster, and recover quicker.* In the process, it stimulates lean muscle mass, acts as a support system to prevent against muscle breakdown, and aids in muscle recovery. Creature® is a blend of five top quality types of creatine.
Creapure® brand Creatine is imported from Germany utilizing a patented manufacturing process, Creatine MagnaPower® is made up of Creatine and Magnesium-bound to form Magnesium Creatine Chelate, Creatine AKG is Creatine-bound to Alpha-Ketoglutaric Acid, and Creatine Anhydrous is Creatine with the water molecule removed.*
The fifth ingredient is our newest addition—Crea-Trona®. This buffered form of creatine delivers a results-inducing ratio of 94% creatine to 6% buffering agent. Alzchem, the German company which also manufactures Creapure®, produces this true molecularly-bonded compound. Combined with the other four complexes, Crea-Trona® helps Creature® truly outperform our competitors.*
Specifically-chosen, our ingredients' purity levels are higher so they absorb into the body quicker. This reduces bloating and intestinal discomfort. As part of the reformulation, Creature® also includes Astragin® and Cinullin® to assure maximum uptake directly to the muscle cells.*
Creature® is a core part of any training program. It keeps athletes of all types fit and strong.
---
creature® is designed to work with the entire beast supplement lineup. this team of products is ready to help anybody who is serious about getting big, being strong, keeping fit and staying healthy.*
---
Ratings & Reviews
By clicking the button above, you agree to entering the Bodybuilding.com Reviews section. Products in the Store are not intended to diagnose, treat, cure, or prevent any disease.
Best creatine I have tried. I stack it with punch flavored pre-workout, which I prefer than to take it alone. It mixes well. The taste will take some getting used to but I don't mind it at all, maybe I'll go for a different flavor and try that out. It's a supplement that's helped me increase in strength and grow in muscle size. I'd recommend this to anyone wanting a creatine. I'll continue to use their brand.

Have used creature for a long time now and is easily the top creatine product I have tried. I've seen lots of gains since using it. To top it off it tastes amazing!
This creatine is my favorite and only creatine I use and have only ever used! The flavor is so good and the results I can see! I've used this creatine for about 3 years I cycle off and on it. I was able to gain mass and I've definitely seen a progression in my strength ! If your looking for strength and some mass try this out! The best creatine built for BEASTS!!!!
This is the best creatine product on the market. Grape is my favorite flavor I will continue to buy this creatine.
I love Creature! I always get flavorless so I can mix it with my BCAAs to drink while I'm working out. I can tell my recovery is quicker and helps me with my endurance. Best on the market and mixes well with anything!!
10Unflavored
8Blue Raspberry
This is the creatine you should be taking !!! I tried many different types and brands in search of a creatine that I could see results from. This is it. I will train without it, but I had rather not. I do not personally experience any weight fluctuation from this product, or water retention. My endurance level with creature is amazing. I take one scoop with a pre-workout 30 minutes prior to my workout, and I usually have to make myself leave because I am wanting to add extra sets or exercises to my routine, and a second scoop with my post workout meal. I use one scoop on cardio days, after exercise with a meal. Regardless of gender, I would highly recommend giving this product a try !!!

Excellent product will increase your strength in just 5 serving. I tried only 1 serving per day rather than 2 per day (pre and post as recommended) and increased my power by 30% and reps in each exercise. No water retention too. This is the best creatine I have tried. Worth the cost so I gave a 10.

Excellent creatine. I gained a lot of mass on this.
Great flavour, great mix ability, great focus.
This product is my favorite creatine ever! I've tried many brands that claim to be the best but I've always came back to Creature by Beast for the best results! Creature helps me get the most out of my workouts with the energy, stamina and recovery I need! I recommend this product to anyone doubting the positive effects Beast Creature will have on your physique and performance!
† This price is the retail price for this product found at one or more retail websites in the last 30 days. The price may not include shipping cost, tax, sale or promotional prices, or discounts such as member pricing. Prices may change. Bodybuilding.com verifies this price every 30 days.
What's in Beast Sports Nutrition Creature Powder
60 Servings

Beast Punch

Serving Size: 5 g (1 Scoop)

Servings Per Container:

60

Amount Per Serving

% DV

Calories

0

Biotin (as D-Biotin)

200 mcg

67%

Chromium (as Chromium Picolinate)

50 mcg

42%

Creature® Advanced Creatine Blend

4,000

mg

**

Creapure® Brand Creatine Monohydrate, Di-Creatine Malate, Creatine Anhydrous, Crea-Trona® (Buffered Creatine), Creatine Gluconate

Insulinogenic Co-Factors Blend

90

mg

**

Banaba Leaf Extract, Cinnamon Bark PE 4:1, Biotin (as d-Biotin), Chromium Picolinate

* Percent Daily Value (DV) based on a 2,000 calorie diet

** Daily Value Not Established

Other Ingredients:

Citric Acid

, Natural and Artificial Flavors

, Waxy Maize Starch

, Silica (anti caking)

, Sucralose

, FD&C Red #40

ALLERGEN WARNING: This product was produced in a facility that may also process ingredients containing milk, eggs, soybeans, shellfish, fish, tree nuts, and peanuts.
Directions For Creature Powder: As a dietary supplement, use one (1) level scoop with 6-8 oz. of water 30 minutes prior to workout and again 30 minutes after workout. On non-workout days use one (1) level scoop with 6-8 oz of with water in the morning and again in the evening. Always take with plenty of water.
Warnings: Check with a qualified healthcare professional before using this product, or any dietary supplement, if you are under the age of 18 or if you have any known or suspected medical condition(s) and/or are taking any prescription or OTC medication(s). Do not use if seal is broken or missing. KEEP OUT OF REACH OF CHILDREN.
* These statements have not been evaluated by the Food and Drug Administration. This product is not intended to diagnose, treat, cure, or prevent any disease.
---