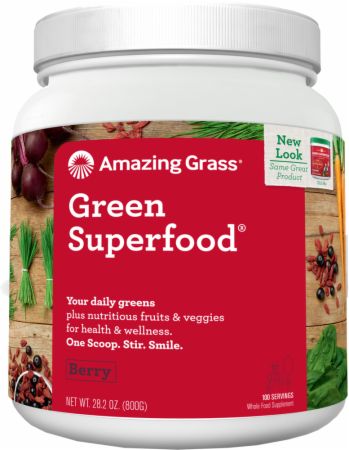 Amazing Grass
Green Superfood
All Natural, Antioxidant Support Drink Powder*
Provides a Powerful Dose of Whole Food Nutrition*
Product Overview
Green SuperFood Powder
Green SuperFood Powder
is a powerful blend of nutritious greens, phytonutrient-packed fruits, veggies and cereal grasses, digestive enzymes and probiotics which increase energy, promotes detoxification and boosts your immune system.*
Health & Wellness
---
Support overall health and immunity*
Digestion
---
Aids natural digestive function*
Alkalinity
---
Naturally balances and increases alkalinity*
A premium blend of organic superfoods to promote amazing energy*
Formulation Highlights
Featuring Sambazon Organic pure Acai Powder, for antioxidant support.*
FOS a prebiotic from chicory root.
New enhanced digestive enzymes and pre and probiotic active culture blend.*
100% Vegan.
No Soy Lecithin fillers.
Benefits of Green SuperFood Powder
Supports normal healthy cleansing.*
Alkaline green plant foods to help support normal pH levels.*
Organic Maca, revered for normal mental clarity, vitality and stamina support.*
More organic whole leaf greens per gram than any of the leading 'green drinks' – not from juice.
What do I mix Green SuperFood Powder with?
Customers prefer it with cold water while others put in in their morning smoothie or mix it with their favorite fruit juice. It also tastes surprisingly good with dairy or soy milk. We have several bakeries that make SuperFood cookies with Amazing Grass Green SuperFood...and sell out daily!
View Amazing Grass Green Food Blend
Organic Wheat Grass – One of the most potent green vegetables available. Wheat grass contains; natural vitamins, minerals, amino acids, and enzymes. When grown properly and harvested at the ideal time, wheat grass is highly alkalizing and may help to cleanse the body in normal range.*
Organic Barley Grass - Green barley leaves contain a multitude of the body's spark plugs, enzymes. Enzymes are the catalysts for the body's essential chemical reactions and are responsible for our digestive processes, for providing cellular energy, and for antioxidant effects.* Considered one of the world's experts on green barely, Dr. Hagiwara, believes that there may be thousands of active enzymes in green barley, especially superoxide dismutase (SOD).*
Organic Alfalfa – Roots grow very deep to absorb many minerals and nutrients from the soil. Contains eight essential amino acids, vitamin B12, natural fluoride and chlorophyll.
Organic Spirulina - Like all edible dark green plants, is also suggested to be highly alkalizing, meaning that it may help support the acid-base balance.*
Organic Cracked Cell Chlorella - Chlorella is the number one selling health food supplement sold in Japan. Chlorella, a unique single-celled fresh water green algae, contains concentrations of chlorophyll, nucleic acids, amino acids, enzymes, antioxidant carotenes, and vitamins and minerals, especially zinc.*
Organic Spinach – Contains folate (folic acid) and antioxidants for normal support.*
Organic Broccoli – Contains iron and folic acid. Broccoli also contains antioxidants and sulforaphane, which is believed to help support optimal health.*
View Antioxidant Blend*
Organic Acai – We feature Sambazon Organic Pure Acai. (Ah-sigh-ee) is a purple berry from the Amazon Rainforest. It contains more antioxidants than pomegranates and has omega fats, proteins and dietary fiber.* It has a rich berry-cocoa flavor that unites perfectly with our Green SuperFood. Our friends at Sambazon created a supply chain that benefits thousands of local families while protecting the Amazon rainforest through sustainable agriculture. Also contains vitamin A from Beta Carotene.
Organic Maca – Organic Maca (Lepidium meyenii) is a perennial that grows between 13,000 and 14,500 feet above sea level high in the Andian plateaus of Peru. It has tuberous roots that resemble it's relative the radish. Contains calcium, magnesium, phosphorous and iron, and contains trace minerals, including zinc, iodine, copper, selenium, bismuth, manganese and silica, as well as B vitamins.
Organic Carrot – Good source of vitamin A from Beta Carotene.
Organic Beet – Has carotenoids such as lycopene and lutein that supports optimum health.*
Raspberry –Contains photochemicals and antioxidants (Vitamin C).*
Rose Hips - Natural source of Vitamin C. Supports good health with bioflavonoids and antioxidant support.*
Pineapple – Digestive enzymes, vitamin C and natural source for flavoring.
Acerola Cherry - Nature's richest source of vitamin C. Vitamin C is a premier antioxidant and important for normal health of the immune system.*
Ratings & Reviews
† This price is the retail price for this product found at one or more retail websites in the last 30 days. The price may not include shipping cost, tax, sale or promotional prices, or discounts such as member pricing. Prices may change. Bodybuilding.com verifies this price every 30 days.
What's in Amazing Grass Green Superfood
100 Servings

Goji & Acai

Serving Size One Scoop (8 grams)

Servings Per Container - About

100

Amount Per Serving

% Daily Value *

Calories

30

Calories From Fat

0

Total Carbohydrate

4 g

1%

Dietary Fiber

2 g

8%

Sugars

1 g

†

Protein

2 g

Vitamin A (as beta carotene)

1,189 IU

24%

Vitamin C

32 mg

54%

Vitamin K

67 mcg

83%

Calcium

49 mg

5%

Iron

1.4 mg

8%

Sodium

30 mg

1%

Potassium

165 mg

5%

Amazing Grass Green Food Blend:

5.5

g

†

Organic Wheat Grass, Organic Barley Grass, Organic Alfalfa, Organic Spinach, Organic Spirulina, Organic Chlorella (cracked cell-wall), Organic Broccoli

Amazing Grass Antioxidant Blend:

994

mg

†

Organic Rose Hips, Organic Pineapple, Organic Carrot, Acerola Cherry Extract, Green Tea Extract, Organic Acai, Organic Beet, Raspberry, Organic Maca

EFA Fiber Blend:

636

mg

†

Organic Flax Seed, Apple Pectin

Digestive Enzyme & Active Culture Pre/Probiotic Blend:

407

mg

†

F.O.S. (Fructooligosaccharide from Chicory Root), and Probiotic Enzyme Blend (Lactobacillus Acidophilus, Protease (Aspergillus oryzae), Amylase (Aspergillus oryzae), Lipase (Aspergillus niger), Lactase (Aspergillus oryzae), Cellulase (Trichoderma reesei))

* Percent Daily Values are based on a 2,000 calorie diet

† Daily Value not established

Other Ingredients:

Natural Flavors

, Peppermint

, and Silica.

All flavors used by Amazing Grass® are Organic Compliant, GMO Free, All Natural, Kosher Pareve and Vegan.
Directions For Green Superfood: Add one scoop with 8 oz. or more of water, juice or smoothie.
* These statements have not been evaluated by the Food and Drug Administration. This product is not intended to diagnose, treat, cure, or prevent any disease.
---