Alpha Lion
SUPERHUMAN Pre-Workout V2
Max Dosed, Intense Pre-Workout Powder for Pumps, Energy & Focus*
3200mg of Beta-Alanine, 7,000mg of L-Citrulline Malate, 1,000mg of L-Taurine per 2 Scoop Serving
Product Overview
SPECIALLY FORMULATED for Bodybuilding.com!
High Octane
Pre Workout Formula
Increases Strength & Endurance*
Primes Muscles for Intense Growth*
Harnesses Laser-Like Focus*
Powerful, Clean Dual-Source Energy*
Dual Patented Absorption Matrix*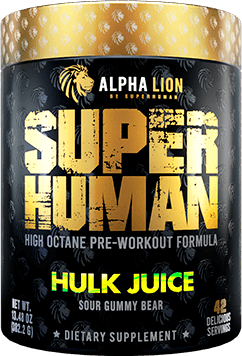 Max-Dosed

& Clinically Studied Ingredients
If your ingredients aren't max-dosed, then they might as well not even be in your pre-workout. That's why we made sure to load SuperHuman Pre-Workout with maximum doses so you get maximum results.* Per the recommended 2 scoop dose you are getting: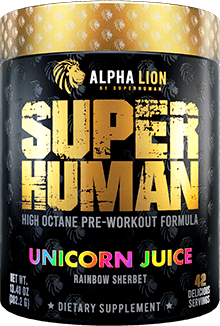 100mg
Infinergy™ Di-Caffeine Malate
SuperHuman is the first pre workout max-dosed in the 5 Pillars of a Perfect Pre Workout. This means you can expect powerful, clean energy, intense focus, skin-tearing pumps, maximum muscle strength & endurance, and the ability to reach new levels in the gym—even on days when you feel tired and unmotivated.*
Pillar 1:
Powerful Energy & Focus*

One of the biggest problems with pre workouts and energy drinks is that after the initial energy surge, you are left feeling like a lifeless zombie.
SuperHuman Pre Workout was strategically formulated by combining two powerful sources of caffeine + L-Theanine to provide long lasting, clean energy and focus.*
When these three ingredients work together, you'll feel the dynamic effect immediately—resulting in a SuperHuman workout experience and clean energy all day long.*
Pillar 2:
SuperHuman Strength & Endurance*

SuperHuman features ingredients which support muscle building, spearheaded by an intense 2500 mg dose of Betaine Anhydrous to enhance the muscle and strength building process by supporting intra-set muscle recovery and workout performance.*
Pillar 3:
Long Lasting, Skin-Tearing Pumps*

While most brands sell you a separate pump formula to take more of your money, SuperHuman is formulated with a world class pump formula featuring two patented ingredients to increase nitric oxide production, leading to greater vasodilation and bigger muscle pumps.* S7® has been shown to increase nitric oxide levels by 230% at a 50mg dose, what's precisely included in every scoop of SuperHuman.*
Nitrosigine® is a new patented complex of inositol-stabilized arginine silicate that is backed by clinical science and designed to increase nitric oxide levels resulting in wonderfully juicy muscle pumps.*
When these two patented ingredients are combined with a beyond clinical dose of L-Citruline, you are left with unparalleled vasodilation.* This vasodilation helps increase the delivery of nutrients and oxygen to working muscles during exercise, enhancing your performance and priming your muscles for growth.*
Pillar 4:
Performance Optimization*

Showing up to the gym is not good enough. For every workout, you need to perform at optimal level to ensure every second is being spent working towards achieving your physique goals. Whether it's getting shredded or building muscle, you need to perform at optimal levels.
SuperHuman Pre Workout will transform your boring, average workouts into SuperHuman workouts. Guaranteed.*
Pillar 5:
Enhanced Nutrient Absorption*

SuperHuman features a dual-patented nutrient absorption matrix to ensure all the greatness inside every scoop of SuperHuman is being delivered into your cells.*
BioPerine® and AstraGin® are two extensively researched and patented ingredients that enhance nutrient absorption and support gut health.* More on the science of these two below.*
Together, they help you unlock your true potential for every workout.*
Ultra-Premium
Ingredients
Most supplement companies cut corners to save money by using bottom shelf ingredients. This is not okay.
SuperHuman is packed with FIVE ultra-premium patented ingredients at clinical doses to ensure that you're receiving the highest quality and quantity possible. Infinergy™ DiCaffeine Malate

- when paired with caffeine anhydrous and l-theanine results in strong, long lasting energy that lasts all day long.*

S7®

- has been shown to increase nitric oxide levels by 230% at a single 50mg dose.*

Nitrosigine®

- a patented complex of inositol-stabilized arginine silicate that is backed by clinical science and designed to increase nitric oxide levels resulting in pumptastic muscle vascularity.*
Unlocking Your Full Potential
With SuperHuman's

Dual-Patented

Absorption Matrix
SuperHuman is the first pre workout using a dual-patented nutrient absorption matrix. When you combine clinically dosed ingredients with optimal nutrient absorption, you are unlocking your untapped potential every time you step foot in the gym.
AstraGin®

- patented, 100% natural compound that increases bioavailability and absorption of many vital nutrients, specifically key amino acids L-Citrulline, Arginine, and Leucine.* It also helps promote a healthy gut environment!*

BioPerine®

- has been shown in clinical trials to increase absorption of several nutrients.* In addition, it has also been shown to help with thermogenesis, which is the metabolic process that generates energy in the human body, a key factor in accelerating weight loss.*
While other brands are underdosing, SuperHuman is clinically dosing premium ingredients + allowing you to absorb more of what's inside each serving. So it's like having your anabolic cake and eating it too.*
How Fast Do You Want To
Get Stronger, Build More Muscle, and Burn More Fat?
We can't all be Mr. Olympia out of the womb. When it comes to fitness goals, we're all on our own personal journeys.
So whether you're a beginner, intermediate, or advanced athlete, SuperHuman's tiered serving size will allow you to get EXACTLY what you need without going over or underboard.
For beginners, we recommend one scoop to assess tolerance. For advanced athletes, we recommend the full two-scoop serving.
World Class Formula Meets
World Class Taste
We were sick and tired of forcing ourselves to stomach those disgusting pre-workouts that made us actually want to puke. We test with our in-house Flavor Specialists to create dynamic, delicious flavors you won't find anywhere else. You'll probably forget you're drinking pre-workout.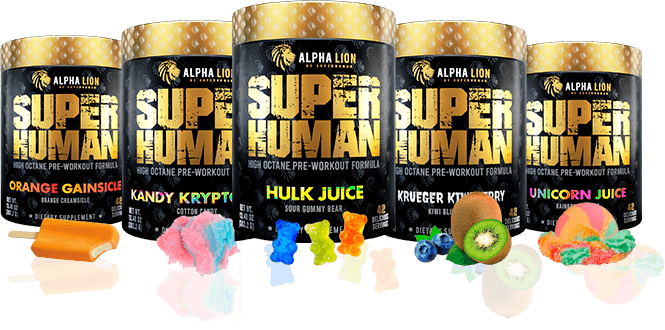 100% Label
Transparency
Only cowards hide behind magical "blends" in their formulas that are simply marketing excuses for underdosed ingredients and ineffective products. We take pride in our Full Label Disclosure, so you see EVERY ingredient inside, which means:
No Hidden Proprietary Blends
No Fillers
No B.S.
And most importantly... No Excuses!
Ratings & Reviews
What's in Alpha Lion SUPERHUMAN Pre-Workout V2
Serving Size 2 Scoops (18.2g)

Servings Per Container

21

Amount Per Serving

%DV

Sodium

100 mg

4%*

Vitamin B12 (as Methylcobalamin)

500 mcg

8,334%*

Niacin

25 mg

156%*

SUPERHUMAN ENERGY & FOCUS MATRIX

Caffeine Anhydrous

300 mg

**

Infinergy™ DiCaffeine Malate (75% Caffeine)

100 mg

**

N-Methyl Tyramine HCI

75 mg

**

Theobromine

100 mg

**

SUPERHUMAN PUMP & PERFORMANCE MATRIX

L-Citruline Malate (2:1)

7,000 mg

**

L-Taurine

1,000 mg

**

Nitrosigine® (Inositol Arginine Silicate)

750 mg

**

S7™ (Green Coffee Bean Extract, Green Tea Extract, Turmeric Extract, Tart Cherry, Blueberry, Broccoli, Kale)

100 mg

**

SUPERHUMAN STRENGTH MATRIX

Beta Alanine

3,200 mg

**

Betaine Anhydrous

2,500 mg

**

SUPERHUMAN ANTI CRASH MATRIX

L-Theanine

350 mg

**

SUPERHUMAN ABSORPTION MATRIX

Astragin™ (Astragalus membranaceus (root) Panax notoginseng (root)

50 mg

**

Bioperine® Black Pepper (Piper Nigrum) Extract

5 mg

**

* Percent daily values are based on a 2,000 calorie diet

** Daily percent value not established

Other Ingredients:

Natural and Artificial Flavors

, Silicon Dioxide

, Calcium Silicate

, Sucralose

, Acesulfame Potassium

, FD&C Yellow 5

, FD&C Blue 1
Directions For SUPERHUMAN Pre-Workout V2: For beginners, mix one scoop with 6-8 ounces of water 15-30 minutes before heading to the North Swole. For advanced athletes, mix two scoops with 8-10 ounces of water. And keep the gains ya filthy animal!
Warnings: Not for use by individuals under the age of 18 years. Do not use if you are pregnant or nursing. Do not exceed recommended serving. Exceeding recommended serving may cause serious adverse health effects. Discontinue use or call a physician or licensed qualified health care professional immediately if you experience any adverse symptoms. KEEP OUT OF REACH OF CHILDREN.
* These statements have not been evaluated by the Food and Drug Administration. This product is not intended to diagnose, treat, cure, or prevent any disease.
---