AllMax Nutrition
Aminocore
Post-Workout Recovery Powder For Muscle Growth*
Packed With BCAAs To Promote Strength And Fight Fatigue*
Product Overview

SUPPORTS INCREASES IN LEAN MUSCLE*
8,180mg [45:35:20] Pure BCAAs
100% SOLUBLE - NO FOAM - NO FILM
BCAAs
- BACKED BY SCIENCE,
HIGHLY EFFECTIVE
DELICIOUS!
THE EMERGENCE OF A DOMINANT MUSCLE BUILDER
No fillers, Zero Non-BCAA Aminos, Sugar-Free
THE SCIENCE
Cutting-edge research out of the Nobel prize-winning Karolinska Institute has now confirmed what bodybuilders have known for years – high dosage BCAAs delivered in a specific 45:30:25 ratio signals your muscles to grow. And not just grow, but support pure protein synthesis (anabolism) on a scale that must be experienced to be believed!*
BCAAs (Branched Chain Amino Acids – Leucine, Valine and Isoleucine) are one of the most effective supplements you can buy. BCAAs support and maintain your muscle tone like nothing else.* Having more muscle than fat creates the most ideal physical shape. A greater degree of lean muscle mass elevates your metabolism and in doing so can increase the rate at which you burn through calories.
...lean muscle mass elevates your metabolism...
AMINOCORE has a whopping 8,180 mg of BCAAs! That's right, over 8 grams of BCAAs in a single serving. Perfect for consumption during your workout to drive up anabolic impact, or away from the gym when you can't get your protein in and you need to prevent the catabolic breakdown of muscle tissue and increase protein synthesis.
THE BEST MIXABILITY, DELIVERY & ABSORPTION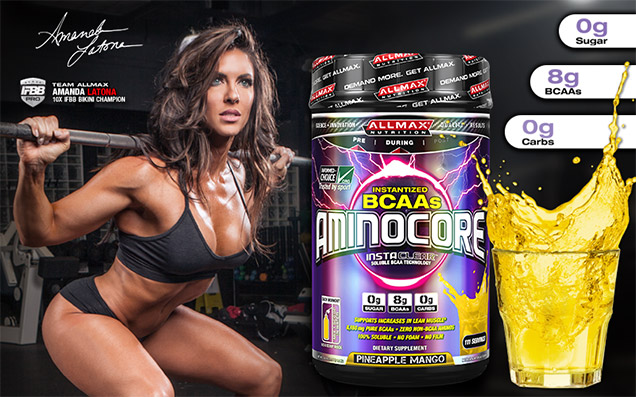 AMINOCORE has INSTACLEAR; a cutting-edge solubility technology to BCAA dosage administration. Until now, delivery of a 100% pure 45:30:25 ratio BCAA powder in a potent research directed level (8,180 mg), ideal for anabolic activity, was next to impossible. Aside from being the purest Pharmaceutical Grade BCAAs, our INSTACLEAR™ process FLASH-FREEZE-DRIES our BCAA powder to create a truly soluble and easily-mixed BCAA drink that absorbs in a truly liquid form.
BCAAs HAVE NEVER TASTED THIS GOOD!
AMINOCORE has a taste that is truly exceptional. With absolutely no bitterness or aftertaste commonly found in BCAA drinks, you will love your workout even more with ALLMAX AMINOCORE in your shaker cup! Available in 4 delicious flavors and Unflavored including Fruit Punch Blast, Pineapple Mango, Blue Raspberry and Key Lime Cherry. You won't be disappointed no matter which flavor you choose, they all taste great!
INTELLIGENT DIETING SUPPORT
Caloric restriction, limiting carbs, increased cardio intensity; all essential for effective dieting, and all rapid ways to breakdown and flush away muscle. The muscle tissue breakdown that takes place when you're dieting reduces your metabolism and your ability to burn calories. Taking AMINOCORE feeds your muscles directly even when dieting and dramatically limits muscle deterioration. The net effect; you retain muscle, melt fat and maintain a higher metabolism. AMINOCORE is the dieting secret you've been looking for.
...AMINOCORE feeds your muscles directly...
ALL BCAAs ARE NOT CREATED EQUAL!
When you're comparing one BCAA to the other, look closely at the formula – does it include Glutamine passed off as real BCAAs? In contrast, the AMINOCORE label shows you precise BCAA amounts. Glutamine has its place, but not a Branched Chain Amino Acid. AMINOCORE includes 8,180 mg of real BCAAs, not glutamine. AMINOCORE is 100% pure, 45:30:25 ratio BCAAs. With added Ketoisocaproic acid (KIC) to further enhance the buffering of lactic acid (muscle toxin) and increase the levels of L-Leucine at the site of the muscle. AMINOCORE contains additional highly bioavailable B-vitamins not only enhance the anabolic environment, they help to release additional metabolic energy.*
Most people who train hard don't understand why they can't grow like they should. Every serious bodybuilder knows the tried-and-tested impact of large dose BCAAs. Packing on serious lean muscle is a matter of reversing the body's natural tendency to break down muscle (catabolism). BCAAs signal the body to build muscle and when taken at the right time, can increase the anabolic effect.
Instaclear is a truly innovative advancement that AMINOCORE has brought to the market. Mixes easily into solution with just a simple fork. No shaking, blending required. Wait a bit and AMINOCORE becomes clear. No film on top and no foam like old school BCAA formulas. AMINOCORE is clearly better.
MORE ANABOLIC ACTIVITY*
It's simple math – add more muscle than you subtract!
It's one thing to talk about getting more BCAAs, it's another thing to actually do it – with CONSISTENCY! To get serious, you must commit to taking the right amount BCAAs every time you train (or more).
So, why is this so difficult? Getting these notoriously difficult to mix (and to drink) BCAAs into your system effectively and efficiently has always been a massive barrier. Old-school non-instantized BCAAs without the INSTACLEAR process are messy, clump up, don't mix and worst of all, leave a hideous oil-like film on the surface. And they taste bad. Taste, convenience and mixability issues turned all but the most determined and tastebud challenged bodybuilders off BCAAs completely. Most supplement companies answered this by simply supplying less BCAAs in a cheaper 2:1:1 ratio.
But with AMINOCORE and INSTACLEAR these issues are down the drain. So if you want REAL BCAAs, with out the nasty after taste and texture, reach for AMINOCORE every. single. time.
Ratings & Reviews
By clicking the button above, you agree to entering the Bodybuilding.com Reviews section. Products in the Store are not intended to diagnose, treat, cure, or prevent any disease.

This is my favorite aminos. I can drink this all the time and not get sick of it. I have only tried the Pineapple/mango. The smell of the powder is gross but it doesn't taste like that at all. Will continue to buy.

I love these bcaa's. I have used other bcaa's on the market but these bcaa's are my new favorite. Love the flavor of the pineapple mango. Haven't tried any other flavors yet as I bought the big 111 serving tub. When I take these bcaa's I feel like I can go for days at the gym. They've helped reduce soreness after more than other bcaa's I've tried. It's my new go to for bcaa's. I usually don't store reviews but I had to for this brand. My only complaint is that the scoop God's hated me and put the scoop near the dang bottom of the 111 serving tub. I had to dump the tub into a massive bowl to find the freaking scoop.
Holy crap, this stuff is fantastic! I tried the small tub in Key Lime Cherry first, to see if the product was something that worked for me and I totally loved it, so I committed to a bigger purchase with the Pineapple Mango flavor, which rocks my world. The product smells god-awful, but then you add water and it's like this magical transformation happens and it is super delicious to drink. So don't be fooled by the smell. Also, for those of you who are familiar with O.N. products and really want a kick-@$$ BCAA intra-workout drink to keep you pumped through an intense workout, mix Aminocore with O.N.'s Amino Energy. I mix the pineapple mango flavor with Amino Energy in pineapple and throw a scoop of creatine in there. Amazing! Taste is awesome and what a great pump! Happy lifting!
9Key Lime Cherry
10Pineapple Mango

The taste is amazing, dissolves great and the amino ratios are amazing. Ive tried different BCAAS and this one takes the trophy by far.
10Pineapple Mango
10Key Lime Cherry
10Blue Raspberry
So Pineapple Mango Aminocore was recently crowned the best tasting BCAA product in BCAA war competition on the forum. I was fortunate enough to win a trial size ten serving tub through ALLMAX Nutrition for review. I have some high expectations for this flavor of Aminocore. I know flavor is subjective, but this one won through multiple folks judging. Here are my thoughts. The label is nothing fancy. It's the three BCAAs in an interesting 45:30:25 ratio. The total serving of the BCAA is a whopping 8,180 mg. ALLMAX throws 100 mg of KIC on top, which rounds out the formula. I like the no-nonesense simple formula. There is nothing to complain about here. This is what a BCAA product is designed for and no one can claim this BCAA product underdoses the BCAAs. You can find products with more L-leucine, but at the end of the day it isn't really a big deal. If you want a good dose of BCAAs this gets it done. In terms of flavor, the pineapple mango was great. It was tangy and sweet. It is a very strong flavor and a little bit artificially sweet, which isn't uncommon for BCAA products. The flavor does entirely mask the bitter free form BCAAs, which is a strong plus. I wasn't blown away by the flavor, and I have had a few other BCAAs taste better; however, I would say this flavor is a high 9, which I will round up to a 10. 10/10 for ALLMAX Aminocore. It does not disappoint.

Excellent product as expected from Allmax. On my second round (as I always give the products 2 tries before commenting). smells a slight bit, but not as much as some of the dramatics may say. Does it mix well (10) taste (10) price per amino complex/portion (10+) read the labels and compare. more than ample BACC in each portion. found the recovery amazing. took a week or so to really notice the true effects. will continue to buy
Flavor-10/10. Freakin loved this stuff. I went through it super fast because I just drank it all the time. It's great. Super easy to drink 1/2 gallon of this during your workout Formula-10/10. Massive 8g of aminos in each scoop. Love that. 2 scoops isn't necessary. Mixability-10/10 no issues here at all I just put it in my half gallon milk jug and shook it. Price- 10/10 I think you'll be hard pressed to find a large amino scoop like this, that taste this good, at this price of $0.63 Final Rating: 10/10
Love this product. Consistent with the other reviews, the smell is awful. However, once mixed it is a delicious treat. I find it energizes my workouts and I am significantly less sore and recovering faster from intense workouts.

This is my favorite aminos. I can drink this all the time and not get sick of it. I have only tried the Pineapple/mango. The smell of the powder is gross but it doesn't taste like that at all. Will continue to buy.
† This price is the retail price for this product found at one or more retail websites in the last 30 days. The price may not include shipping cost, tax, sale or promotional prices, or discounts such as member pricing. Prices may change. Bodybuilding.com verifies this price every 30 days.
What's in AllMax Nutrition Aminocore
44 Servings

Blue Raspberry

Serving Size 1 Scoop (10.5 g)

Servings Per Container

44

Amount Per Serving

% Daily Value

Calories

5

Sugars

0 g

Total Carbohydrates

0 g

0%

Vitamin B3 (As Niacin)

20 mg

100%

Vitamin B6 (As Pyridoxine Hcl & Pyridoxal-5'-Phosphate [P5P]

2 mg

100%

Vitamin B9 BioB9™ (As Folic Acid & 5-Methyltetrahydrofolate)

400 mcg

100%

Vitamin B12 (As Methylcobalamin)

6 mcg

100%

AMINOCORE [45:30:25] Pure 100% Instantized BCAAs

8,180 mg

†

L-Leucine [45%]

3,681 mg

L-Valine [30%]

2,454 mg

L-Isoleucine [25%]

2,045 mg

a-KIC (Alpha Ketoisocaproic Acid)

50 mg

†

** Percent Daily Value (DV) based on a 2,000 calorie diet.

† Daily Value not established

Other Ingredients:

Citric Acid

, Natural & Artificial Flavors (Blue Raspberry, Black Raspberry)

, Malic Acid

, Sucralose

, Acesulfame Potassium

, FD&C Blue #1

, Sunflower Lecithin

ALLERGEN WARNING: Produced in a facility that also handles Milk, Soy, Egg, Peanut, Tree Nut, Fish, and Shellfish products.
Directions For Aminocore:
To activate protein synthesis & increase muscle recovery*, take 1 scoop of AMINOCORE during weight training or any athletic event. On non-training days, AMINOCORE can be taken anytime on an empty stomach. Mix one scoop into approx. 17 oz. (500ml) bottle of water (2 cups). Shake or stir well. Take during workouts.
Tablets: Consume 1 serving (7 tablets) 30-45 minutes prior to weight traning or athletic event. On non-traninig days, AMINOCORE™ can be taken anytime on an empty stomach to activate protein synthesis and increase muscle recovery.
Warnings: Use only as directed. Not recommended for persons under 18 years of age unless prescribed by a healthcare professional. People sensitive to Vitamin B3 (Niacin) may experience flushing of the skin that is generally mild and transient. Do not use if you have any pre-existing medical conditions; if you are chronically ill; if you are pregnant or breastfeeding; taking prescription medication or over-the-counter drugs. Discontinue use if you experience any adverse reaction. Keep out of reach of children and pets.
* These statements have not been evaluated by the Food and Drug Administration. This product is not intended to diagnose, treat, cure, or prevent any disease.
---