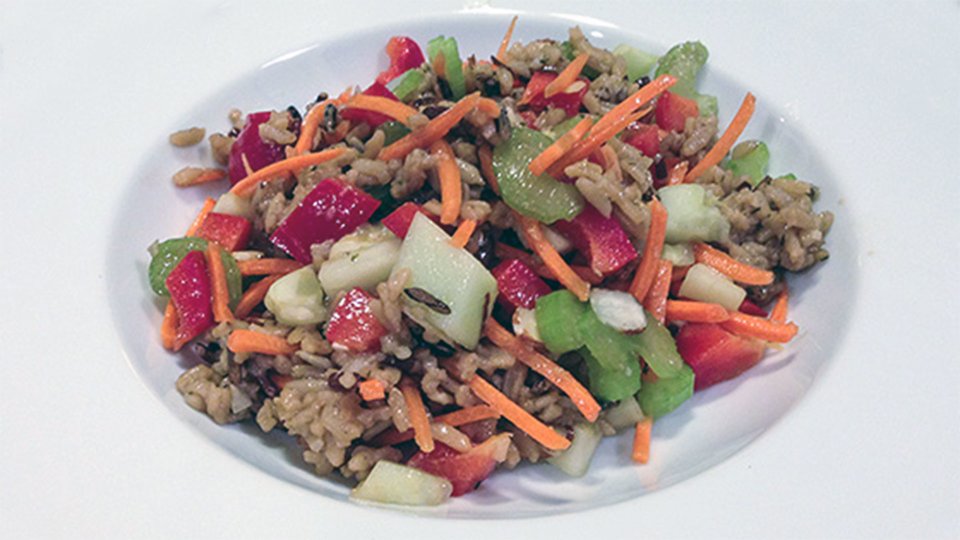 Brown rice wins big in the great battle for health in the modern world. In a pick-up lunch game, it should never be picked last! But the salad game is a team effort. Peppers, celery, seeds, and oils add flavor to this easy-to-create dish. This salad can be served warm or cold, creating plenty of convenient options to satisfy your taste buds.
Ingredients
1 tbsp olive oil
1½ tbsp balsamic vinegar
1 tsp lemon juice
1 tsp dijon mustard
1½ cup wild rice, cooked
3 cup cooked brown rice
1 whole diced red bell pepper
1 whole stalk celery, finely diced
½ cup cucumber, thinly sliced
1 carrot, shredded
2 tbsp sunflower seeds
2 tbsp almonds, slivered
Directions
Combine olive oil, balsamic vinegar, lemon juice, and mustard together in a small bowl to form dressing.
Place rice, vegetables, seeds, and nuts together in a bowl; stir until mixed.
Drizzle with dressing, toss to coat, and then serve immediately.