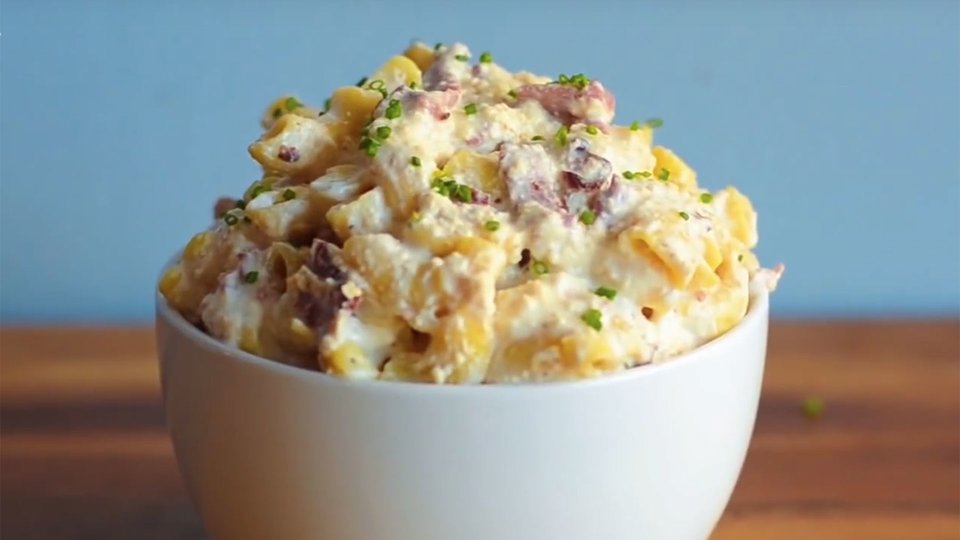 Take your love of mac and cheese to the next level with this variation that can be incorporated into even the cleanest of meal plans. A dose of Greek yogurt helps bring the calorie count down and protein levels up, while favorite additions like goat cheese, mozzarella, and turkey help give the dish a hearty feel. Yum!
Ingredients
4 strip low-sodium turkey bacon
4½ oz gluten-free quinoa macaroni
1¾ cup nonfat plain Greek yogurt
2 oz goat cheese
½ cup fat-free mozzarella cheese
1 tbsp garlic, pureed
1 tsp chopped chives
salt and pepper to taste
Directions
Boil quinoa pasta and set aside.
Slice bacon into pieces and cook in a nonstick skillet with garlic paste on medium-high heat.
Reduce heat to medium and add one cup of Greek yogurt along with the goat cheese, chives, and mozzarella.
Cook until the sauce is an even consistency.
Let the sauce thicken, then remove from heat.
Add macaroni and the rest of the Greek yogurt. Mix.