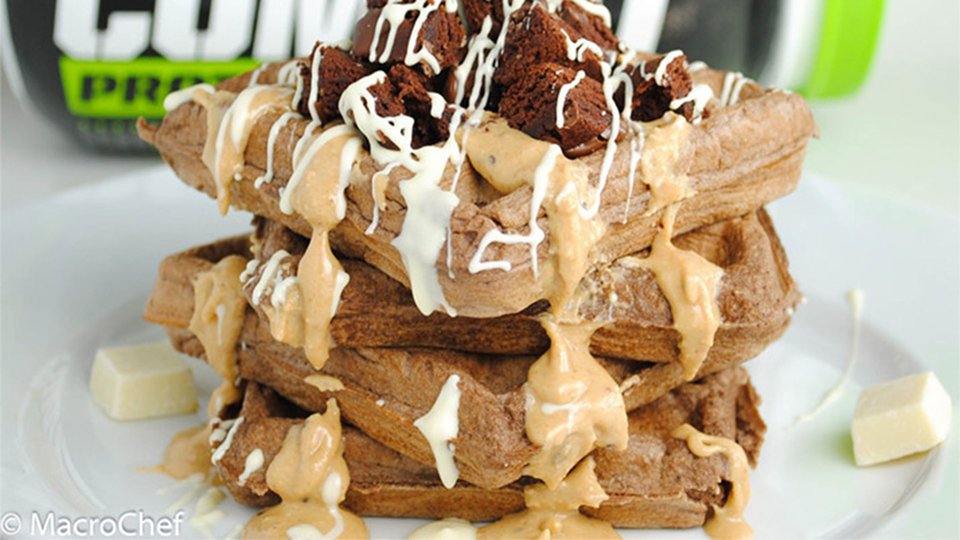 Chocolate Combat powder gives this dish a great brownie-like taste for the low, low cost of just one gram of sugar per waffle. This baked good is high in protein though. With a whopping 11 grams of the muscle-building macro per waffle, feel free to stack these pancakes with abs sky high! Minimal prep and cook time make this the perfect meal to keep temptation at bay.
Waffles Ingredients
¾ cup whole-wheat flour
1 tbsp whole-wheat flour
1⅓ scoop musclePharm Combat Powder (Chocolate)
2 tbsp powdered Stevia
1 tbsp cocoa powder, unsweetened
1 tbsp baking powder
¾ cup milk (1%)
2 liquid egg whites
¼ cup nonfat plain Greek yogurt
Toppings Ingredients
1 fiber One, chocolate brownie
1 tbsp white chocolate chips
2 tbsp buff Bake White Chocolate Protein Peanut Spread
Directions
Preheat waffle iron to medium heat.
Mix flour, protein powder, cocoa powder, Stevia, and baking powder in a bowl. In a separate bowl Combine egg whites, milk, and Greek yogurt, and whisk together.
Add wet ingredients to dry and gently mix together.
Pour batter into Belgian waffle maker. Mine makes four waffles at a time. There is enough batter to make 5 waffles, so just cook one more after the first batch. Cool for 4-6 minutes.
Top waffles with white chocolate protein peanut butter, chopped-up Fiber One brownie, and melted white chocolate. Enjoy!