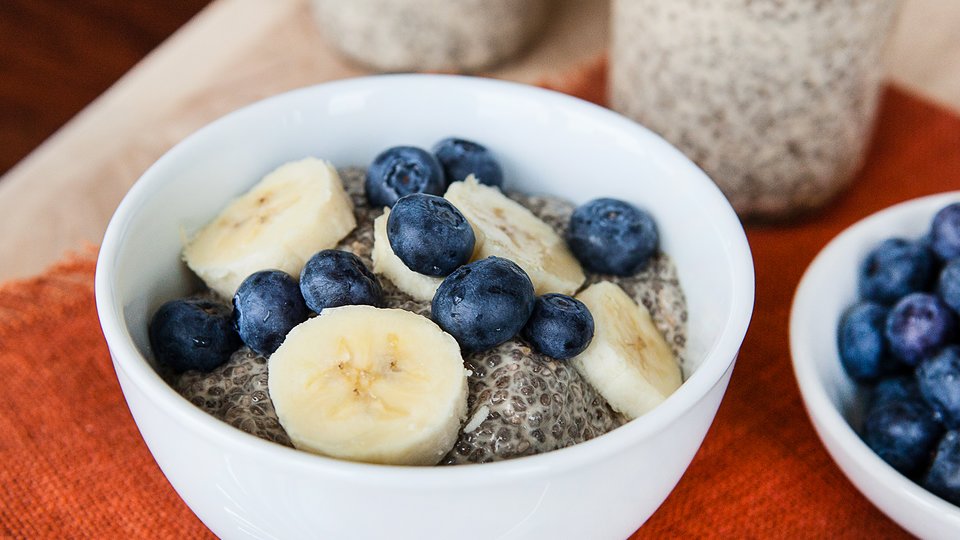 Don't fear the chia seed. Use it for what it's best at: Making nutrient-rich, delicious puddings like this one for any time of day!
Ingredients
4 cup unsweetened coconut milk
4 tbsp smooth peanut butter
¼ cup honey
2 tsp vanilla extract
12 tbsp black chia seeds
⅛ small (6" to 6-7/8" long) banana
⅛ cup mixed berries
Directions
Add coconut milk, Whole Food Shake, honey, peanut butter, and vanilla extract to a blender. Blend on high until smooth.
Divide mixture into eight mason jars, (or whatever container you'd like), and add 2 tablespoons of chia seeds to each jar. Use a spoon to incorporate the chia seeds into the mixture. Seal jars and shake each one well before placing them in the refrigerator.
Refrigerate overnight. Give mason jars a nice shake 45 minutes after refrigeration to make sure chia seeds don't sink to the bottom. Do this a few times to ensure proper blending. If chia seeds are being stubborn, open jar and use a spoon to mix.
When mixture is ready, layer with your topping of choice, such as banana slices or fresh berries.