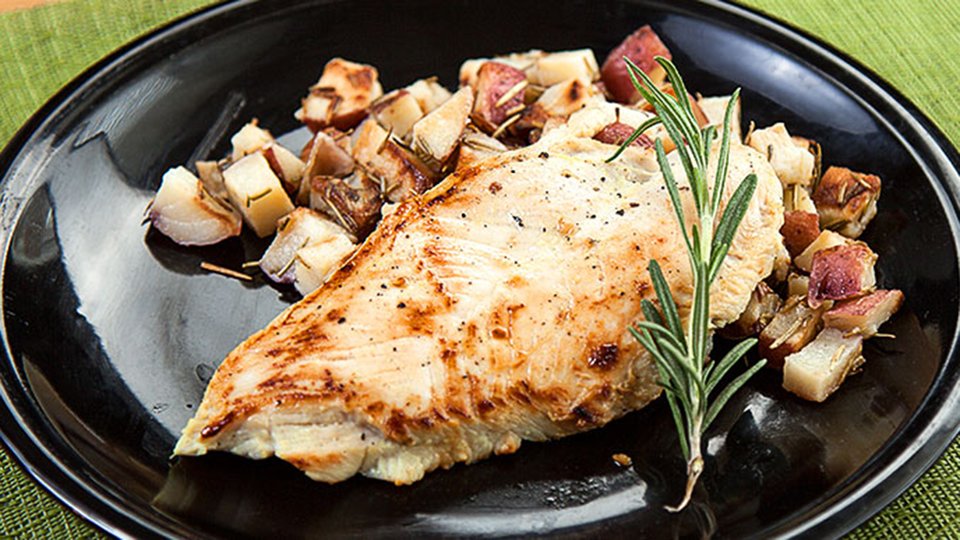 Sticking to your Lean Body Meal Plan is easy with this turkey tenderloins and rosemary potatoes recipe.
Ingredients
¼ cup low-sodium chicken broth
3 breast turkey Breast
1 cup milk (2% fat)
1 tsp garlic, minced
1 salt and pepper to taste
4 tbsp olive oil
3 cup, diced red Potatoes
½ tsp rosemary
1 pinch garlic salt
Directions
Dissolve the Bouillon Cube in 1/4 cup boiling water; set aside to cool.
Slice the turkey crosswise into 1/2-inch medallions. Place the turkey in the plastic bag with bouillon, milk, garlic, and salt and pepper. Zip shut and refridgerate. Marinate for at least 8 hours, up to a full day.
Drain the turkey and and discard the marinade. Pour 2 tbsp olive oil into a large skillet over medium-high heat; when hot, add the turkey. Cook until the turkey is no longer pink; you want to sear but not burn it.
Meanwhile in another large skillet, heat 2 tbsp olive oil. Add the potatoes, rosemary, and garlic salt to taste. Saute on medium-high heat, stirring frequently until soft.