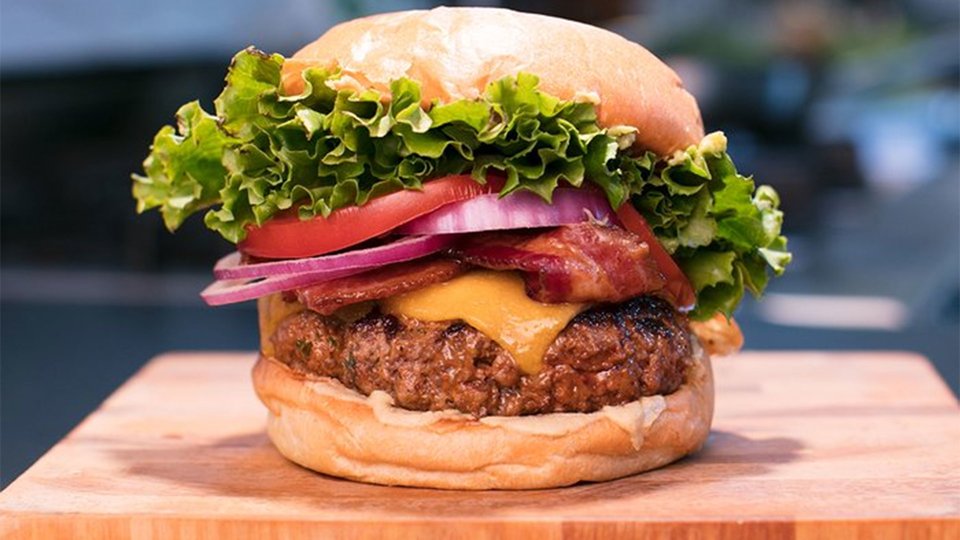 An herb-filled burger topped with sugar-coated bacon. Sounds like gains to me!
Ingredients
1 lb lean ground beef
1½ tbsp fresh thyme
1 tbsp paprika
1 tbsp garlic powder
1 roll challah bread
salt and pepper to taste
Garnish Ingredients
1 slice reduced-fat cheddar cheese
1 tbsp avocado
4 slice bacon
1 tbsp coconut sugar
2 leaf lettuce
2 slice, medium (1/4" thick) tomatoes
Directions
Place bacon on parchment paper and sprinkle with coconut sugar. Bake for 10 min. at 350 degrees F.
Add thyme, smoked paprika, garlic, sea salt, and pepper to ground beef. Mix.
Mold into patties.
Spray skillet with non-stick olive oil, then cook patties.
Add cheese and cover with lid until melted.
Toast buns in pan. Then, build burgers by adding toppings. Serve.