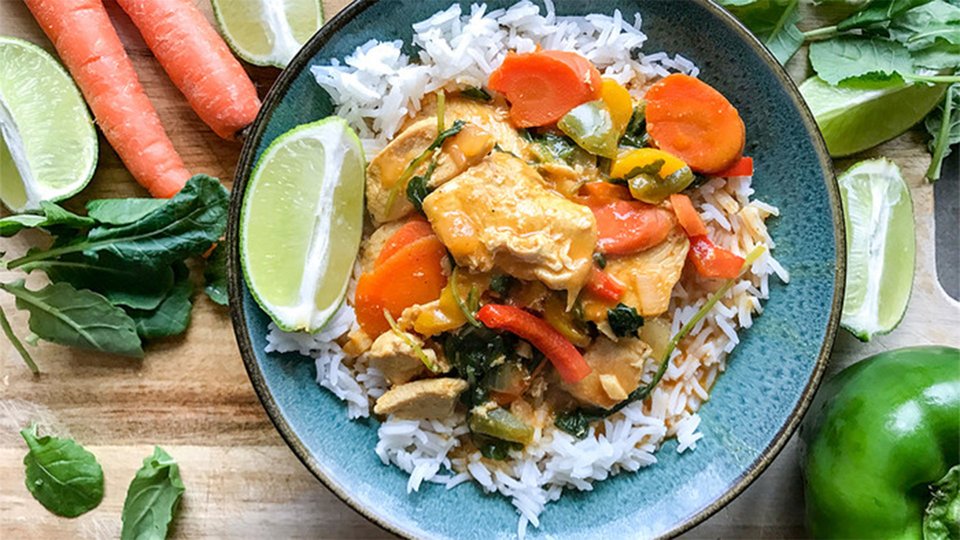 Here's a meal prep idea for all you Thai fans! Thai cuisine happens to be one of my favorites, so I was quite happy with how authentic this simplified version of Thai chicken coconut curry came out.
Ingredients
24 oz chicken breast
2 tbsp canola oil
½ cup onion, finely diced
1 tbsp ginger, minced
2 clove garlic, minced
1 red bell pepper, sliced
1 yellow pepper, sliced
1 cup 1" pieces, loosely packed kale
1½ cup light coconut milk
½ cup water
2 tbsp thai red curry paste
1 tbsp light soy sauce
2 tsp lime juice
1½ tsp curry powder
1 tsp splenda, brown sugar blend
1 tsp fish sauce
Directions
Slice chicken breasts into 1/4-inch strips (very thin).
Heat oil in a large saucepan over medium-high heat and add chicken. Cook until meat is white or lightly browned and just barely cooked through.
Set chicken aside on a plate.
In the same skillet, add diced onion, ginger, and garlic. Cook and stir until fragrant and onion is translucent.
Add carrots and bell peppers, cooking about 3 minutes until tender.
Add back chicken, plus kale, coconut milk, and remaining ingredients.
Simmer over medium heat for 5-10 minutes to allow flavors to blend. Adjust seasoning to taste.
For meal prep, weigh out the entire batch and divide by six to find the exact weight per serving. Serve over cooked basmati rice or riced cauliflower and enjoy!