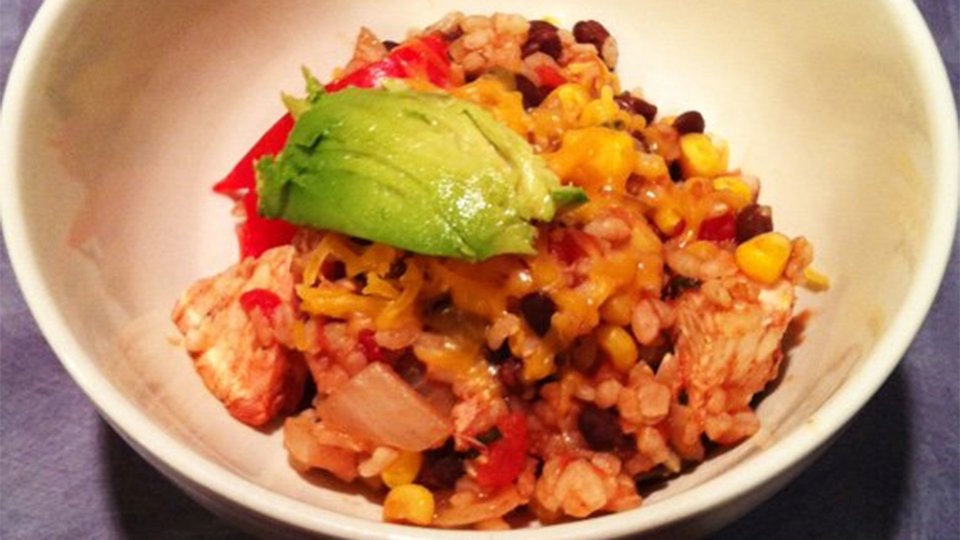 This complete meal is great for a busy weekday night. It also looks great on the plate, so you can make it for guests. They'll love the flavor; you'll love that you're helping friends hit their fitness goals. Think of it as a brown rice love-fest.
Ingredients
1 cup brown rice
1 piece chicken breast, shredded
¼ cup water
1 tbsp (1 serving) taco seasoning
½ cup corn
1 red bell pepper, sliced
½ onion, diced
1 cup low-sodium black beans
½ cup salsa
¼ cup reduced fat cheddar cheese, shredded
¼ avocado
Directions
Cook rice according to package directions.
Add water to a skillet and bring to a boil.
Add diced vegetables and taco seasoning and simmer for 5 minutes.
During last minute, add chicken, black beans, corn and rice.
Add salsa and heat for another 1-2 minutes.
Top with shredded cheese and a slice of avocado before serving.