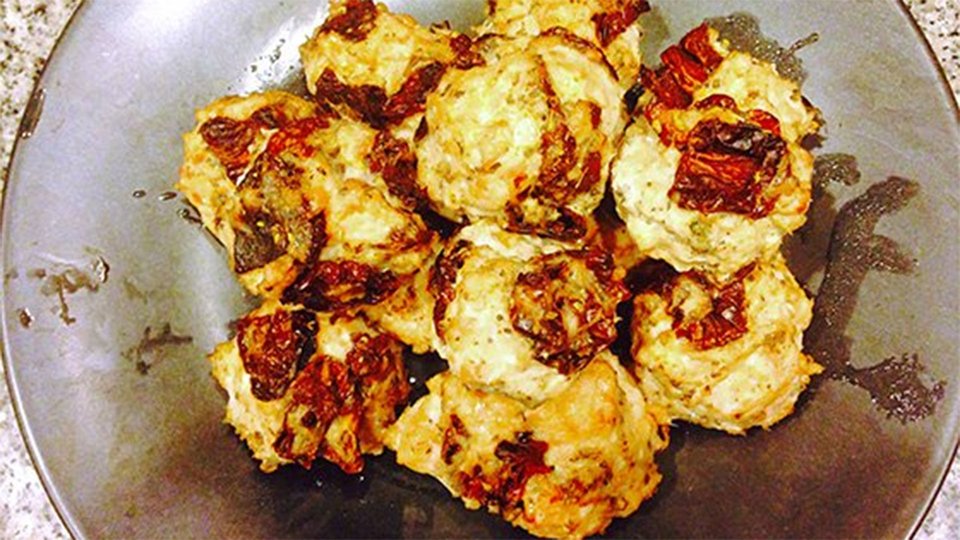 This recipe is phenomenal! It's clean, rich, and delicious. Make the meatballs from quality chicken and you can't fail. The squash can be a bit of a challenge if you've never dealt with this particular gourd, but even new cooks can quickly get the hang of it.
Meatball Ingredients
1½ lb ground chicken
3 oz sun-dried tomatoes
1 tbsp sea salt
2 tbsp, ground oregano
1 tbsp, leaves basil, dried
Spaghetti squash Ingredients
1 whole spaghetti squash
1 pinch sea salt
1 tsp chopped chives
1 tsp, leaves basil, dried
1 tbsp extra virgin coconut oil
Directions
Meatball directions: In a bowl mix chicken, tomatoes, salt, oregano, and basil.
Add paper baking cups to a 12-cup muffin tin.
Roll mixture into meatballs with your hands and place into baking cups.
Bake at 350 F for 23-25 minutes.
Spaghetti squash directions: Microwave for about a minute at 50 percent power.
Cut the squash lengthwise down the middle.
You can remove the seeds prior to baking or after.
Place both halves of squash face down in a casserole dish with about an inch of water and cover with foil.
Bake at 375 F for about 40 minutes.
Remove from oven and flip halves face-up.
Bake another 5 minutes with foil on, then remove from oven and let cool for about 5-8 minutes.
Remove any remaining seeds, then brush a fork over the squash to make thin strands that look like spaghetti. Add sea salt to taste, chives, basil, and 1-2 tbsp of coconut oil.
Use the squash as a bed for your meatballs and serve!