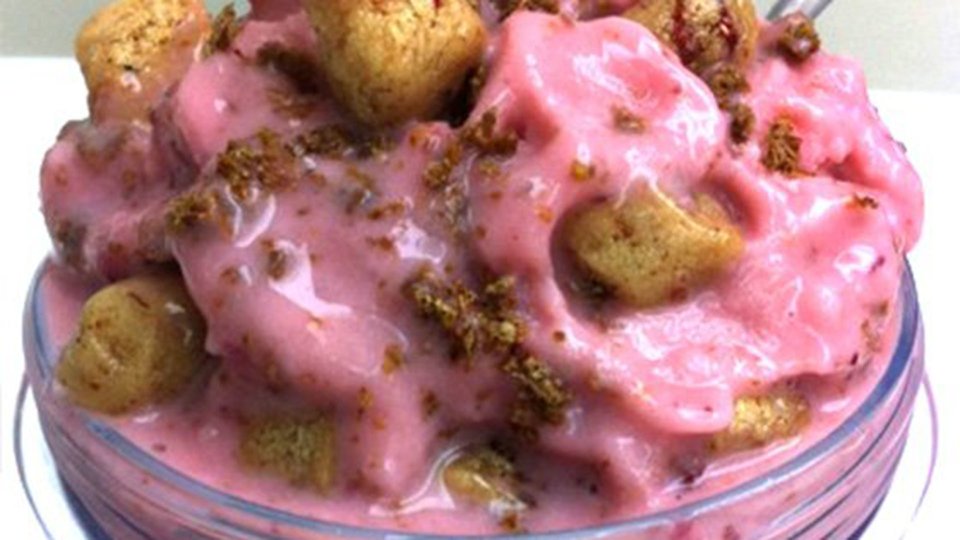 This shake takes Dairy Queen's Strawberry CheeseQuake Blizzard as its flavor inspiration, but strips away the sugar and calories. Quest Nutrition's Strawberry Cheesecake Quest Bar gives you that crucial crust texture, along with GG Bran Sprinkles, which are a flaked form of GG Bran crispbread. Both are low in net carbs and diabetic-friendly.
Ingredients
¼ cup strawberries, frozen
1¼ cup unsweetened almond milk (vanilla)
2 tbsp walden Farms Syrup
½ bar quest Nutrition Chocolate Chip Cookie Dough Bar
1 scoop optimum Nutrition Gold Standard 100% Whey, Strawberry Banana
2 tbsp fiber scandinavian sprinkle
Directions
Blend all of the ingredients except the Quest bar in a blender, Magic Bullet, or other mixer.
Pour this mixture into your ice cream machine for 10-15 minutes.
While you are waiting, cut 1/3 of a Strawberry Cheesecake Quest Bar into small pieces using scissors.
Once the soft serve is ready, serve in a cup and add your Quest Bar pieces to the top.