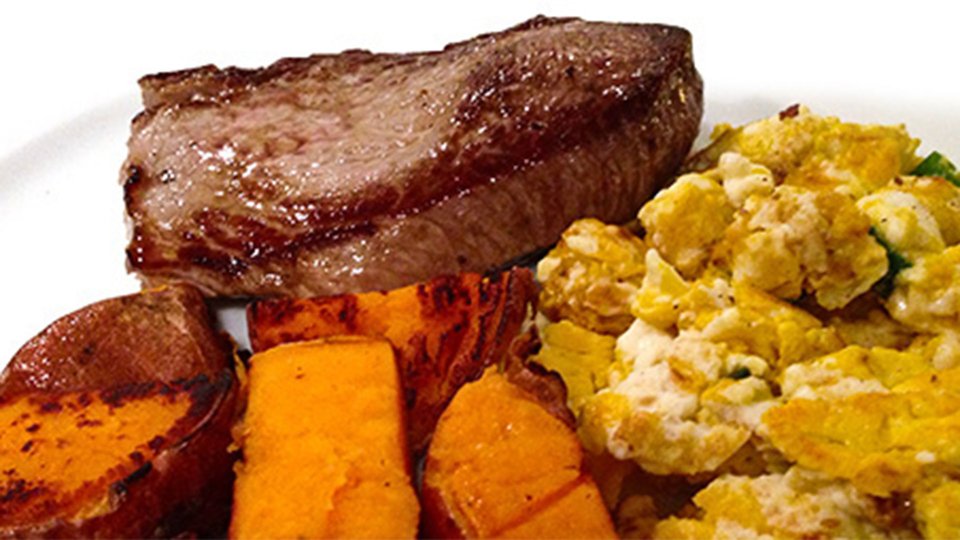 It's called the "breakfast of champions" for a reason. (If it's not called that, it should be.) Chomping some steak and eggs for your morning meal is a sure-fire way to increase your protein intake. The sweet potatoes will offer some complex carbs so you have the energy to start your day strong.
Ingredients
2 tbsp olive oil
4 oz sirloin steak, about 1 inch thick
salt and pepper to taste
2 whole egg
⅛ tsp garlic, pureed
1 tbsp green onion, sliced
1 whole sweet potato
Directions
Preheat oven to 350 degrees F.
Heat 1 tbsp olive oil over medium heat.
While oil is heating, gently tenderize the steak, adding salt and pepper to taste.
Place the steak in the skillet and cook for about 5 minutes before turning over.
Cook for another five minutes, or slightly longer depending your preference.
Transfer the steak to a plate and cover with foil to keep it warm.
Pour 1/2 tbsp. of olive oil to the same skillet and then add both eggs.
Add garlic and green onion and scramble for 3-4 minutes, or until eggs are cooked.
While eggs are cooking, place sweet potatoes in a bowl with a small amount of water and cover.
Microwave potatoes for 3 minutes.
When eggs are done, remove from pan and place on plate with the steak, and cover.
Finally, add the remaining 1/2 tbsp. of olive oil to the skillet and cook sweet potatoes until they're crispy.
Serve potatoes alongside steak and eggs.