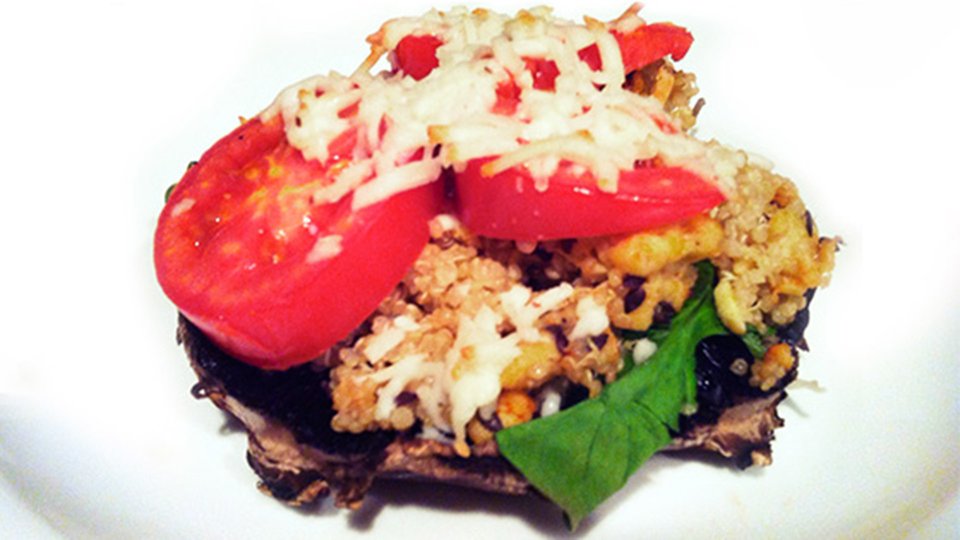 This is a filling, hearty veggie dish! Even though there's no meat, you'll still need a knife and fork to dig into this meal.
Ingredients
2 piece whole portabella mushroom caps
1 cup quinoa, cooked
½ cup tempeh
½ cup onion, finely chopped
1 cup spinach
1 medium whole (2-3/5" dia) tomato, diced
2 oz fat-free mozzarella cheese
1 tbsp olive oil
½ tbsp paprika
½ tbsp cumin
½ tbsp garlic powder
½ tbsp onion powder
Directions
Turn on oven to high broil. Heat olive oil in a large saute pan over medium heat.
Add onion and tempeh to pan and saute for 2-3 minutes, or until onion begins to soften.
Add quinoa, spices, salt and pepper and saute a few more minutes.
On a baking sheet, place portabello mushrooms brushed lightly with olive oil.
Stack mushroom caps with spinach, quinoa mixture, sliced tomatoes, and shredded cheese.
Broil for 5 minutes.