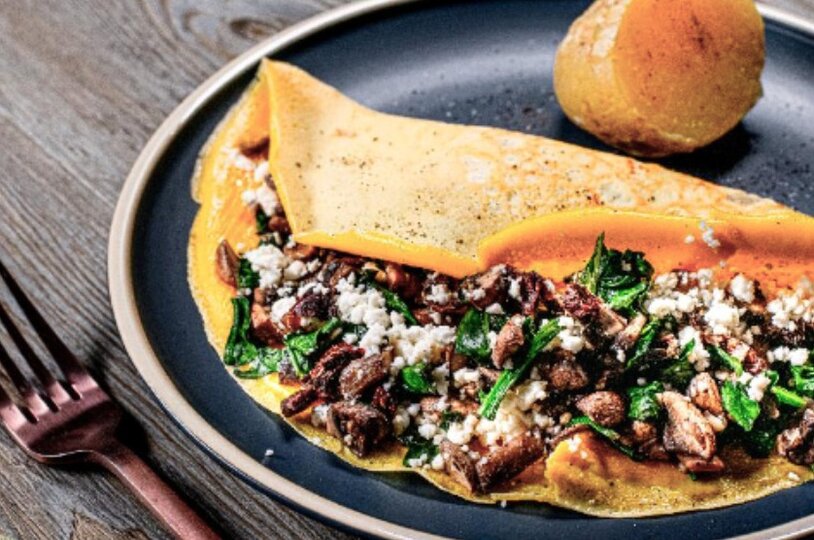 Time to up your omelet game! This recipe marries spinach, sun-dried tomatoes, mushrooms and spinach for a delicious breakfast you don't want to miss.
Ingredients
⅓ cup egg whites
1 clove garlic, chopped
3 tbsp sun-dried tomatoes
1 cup, diced potatoes
3 whole egg
½ cup, diced cheese, swiss, low fat
2½ cup baby spinach
1½ cup mushrooms, sliced
Directions
Preheat a pan over medium heat. Spray with non-stick cooking spray.
Rinse, then deeply gouge a small potato with a fork, and microwave for 4 minutes.
Finely dice the garlic, and add to the pan with spinach, and diced mushrooms. Cook for about 4 minutes, or until the spinach is wilted, and the mushrooms softened. Remove and set aside.
Next, combine the egg whites with the eggs, pour them into the pan, and cook in a flat round shape for about 30 seconds, pulling away the edges and allowing the egg to flow to the sides of the pan.
Top with spinach mixture and some swiss cheese. Season with salt and pepper, add chopped sun-dried tomatoes, fold in half, and serve.
Potatoes can be seasoned with salt and pepper, or cayenne if desired. Place the remaining cheese on top.