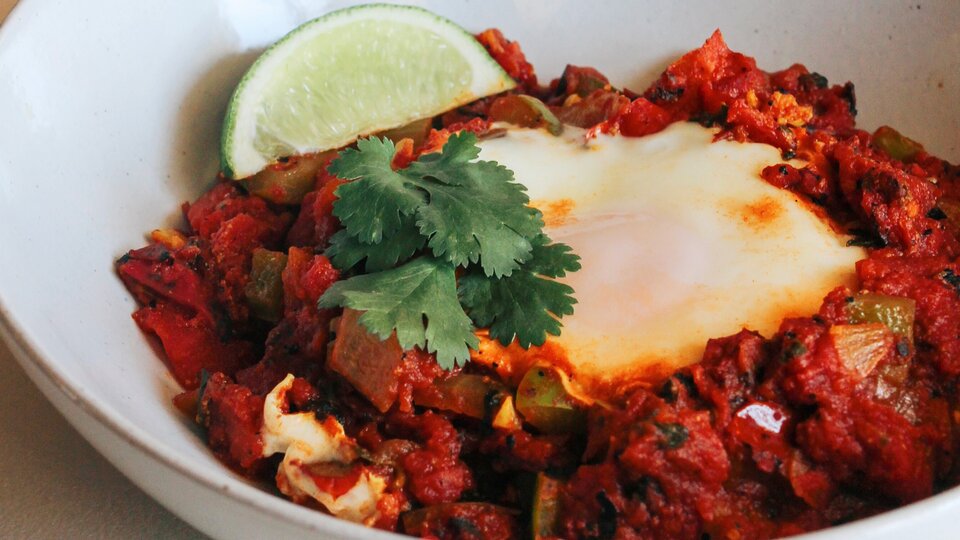 Scrambled eggs and omelets are delicious, but you might be ready for a change of pace. This recipe combines turmeric with a short list of tasty spices, then adds the strong antioxidant content of tomatoes for an incredibly healthy egg dish that works any time of day or night.
Ingredients
3 tbsp extra virgin olive oil
½ large onion, diced
2 clove garlic, minced
½ green bell pepper, chopped
1 tbsp, ground oregano
½ tsp turmeric
¼ tsp cumin
¼ tsp paprika
salt and pepper to taste
14½ oz fire-roasted diced tomatoes, drained
4 egg
1 tbsp cilantro
Directions
Heat oil over medium heat in a large skillet.
Add the onion and green pepper and cook, stirring occasionally, until the onions are golden.
Add garlic and cook for 1-2 minutes to blend flavors.
Lower heat to medium-low and add the oregano, turmeric, cumin, paprika, salt, and pepper. Cook for about 1 minute to toast spices.
Add tomatoes, bring mixture to a boil, then reduce to a simmer and continue to cook for a few minutes, stirring occasionally, until thickened.
Using a potato masher or the back of a large spoon, crush the tomatoes in the skillet to desired consistency.
Crack the eggs into the sauce and then cover skillet to cook the eggs. Simmer until the whites are set but the yolks are still runny.
Spoon the sauce and eggs into shallow bowls and top with cilantro before serving.