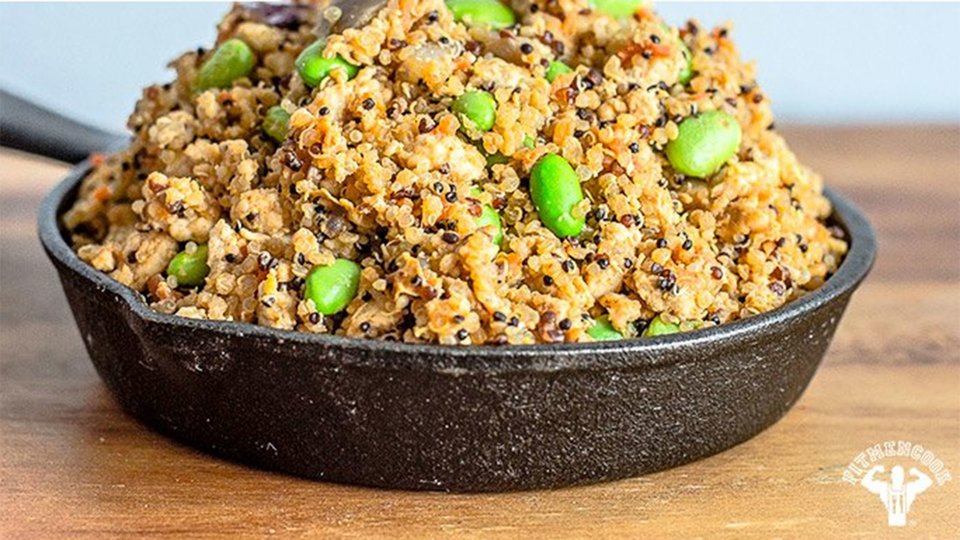 If you're in the market for a comfort-food overhaul, you've found the right dish. Kiss the temptation of that sauce-covered, fried favorite goodbye with this healthy modification. With quinoa and chicken—hello, protein overload!—this comfort food recipe will leave you feeling full and satisfied. Throw in some edamame for added color and that extra boost of protein.
Ingredients
1 lb ground chicken
3 whole egg
2 cup low-sodium chicken broth
1 cup raw quinoa
1 cup carrot, shredded
1 cup red onion, diced
1 tbsp garlic, minced
1 g coconut oil spray
Sauce Ingredients
2 tbsp liquid aminos
2 tbsp sriracha
1 tbsp ginger, pureed
1 tbsp teriyaki, sauce, reduced sodium
Directions
Cook quinoa according to the instructions on the package, but use low-sodium chicken broth instead of water, or 1 cup chicken broth and 1 cup water. Set the quinoa aside and allow it to cool to room temperature.
In a small bowl, mix together the ingredients for the sauce.
Set a nonstick skillet on medium heat and spray with coconut oil. Add garlic, carrots, and red onions. Cook until the red onions become clear.
Toss in ground chicken breast and completely cook the meat. Use a wooden spoon or spatula to chop up the chicken.
Increase the heat to medium-high and add the cooked quinoa. Before adding, make sure the quinoa has cooled and is "dry" (or not carrying a lot of moisture). Stir.
Pour in the sauce and stir quickly so that it does not burn.
Add eggs to the skillet and stir and chop so that the egg spreads evenly throughout the mixture.
Finally, reduce heat to medium and add frozen edamame beans. Stir until the beans are completely thawed.
Note: If you cannot find ground chicken breast in your local grocery store, you can put chicken breast cutlets into a high-powered blender or food processor and pulse blend to create minced meat.