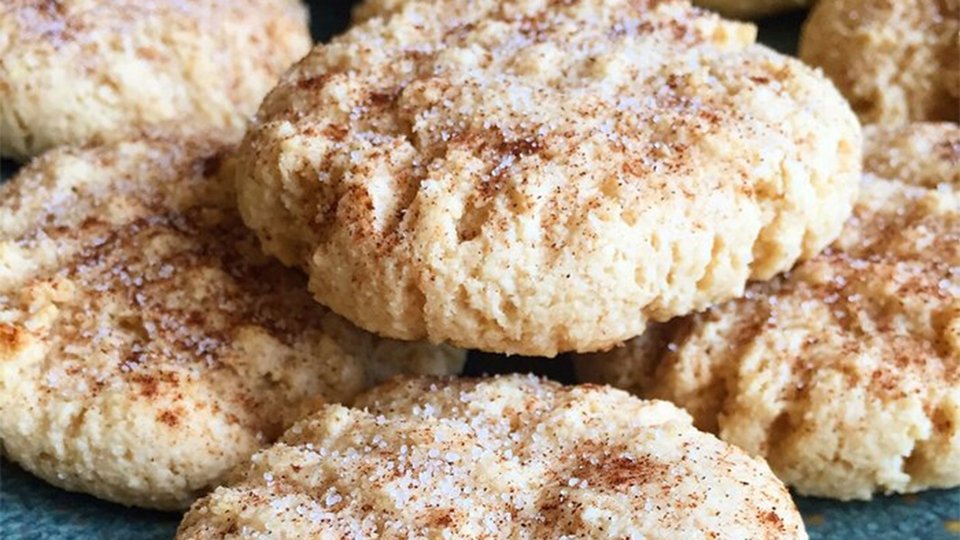 When you accidentally create the perfect soft-baked snickerdoodle protein cookie, you can't wait until Christmas. These cookies are chewy, with an almost-gooey middle and crisp edges—they're the perfect consistency, if you ask me. I am in love with that cinnamon-sugar flavor, too. Did I mention each cookie is only 76 calories with 7 grams of protein?
Ingredients
80 g vanilla whey protein powder
6 tbsp coconut flour
¼ cup Pyure organic stevia blend
¼ tsp baking soda
4 tbsp cashew butter
⅛ cup egg whites
1 tbsp sugar-free maple syrup
¼ tsp vanilla extract
2 tbsp water
¼ tsp butter extract
¼ tsp table salt
¼ tsp Pyure organic stevia blend
¼ tsp cinnamon
Directions
Preheat the oven to 350 degrees F.
Whisk together the dry ingredients in a small mixing bowl.
Mix in the wet ingredients and water until a thick dough is formed. You may need more or less water depending on protein powder used.
Lightly coat a baking sheet with cooking spray.
Roll the dough into balls of a rounded tablespoon each, and place them on a baking sheet 2 inches apart.
Use a fork to flatten the cookies in a crisscross pattern, then sprinkle them with sweetener and cinnamon.
Bake for 6-8 minutes until the edges are firm but the center is still quite soft. Cookies will set as they cool.
Enjoy your cookies immediately, or store them at room temperature in an airtight container for up to one week.