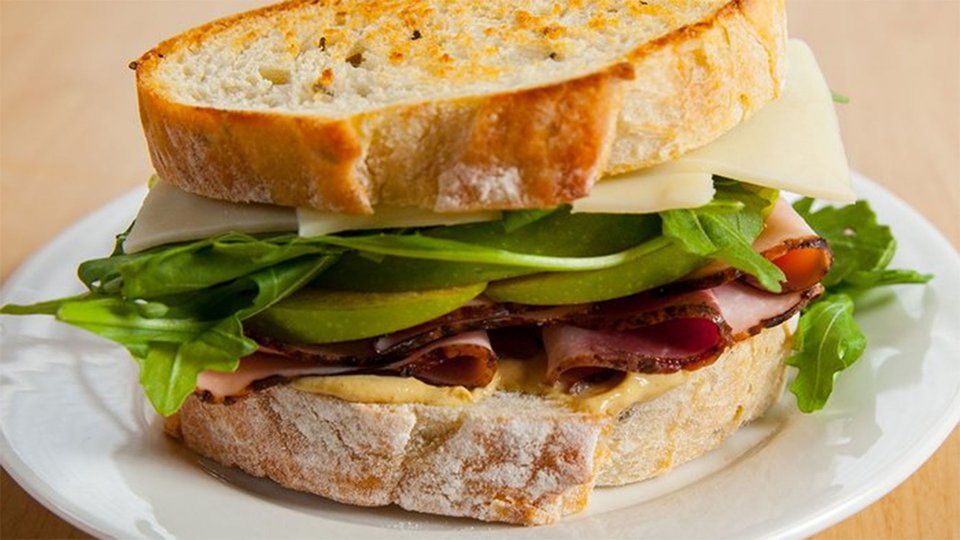 This classic lunchtime staple is even better when you throw on a bit of color and crunch. If you build a sandwich correctly (skip the white bread and mayonnaise), the taste of nutty whole grains, meaty protein, and savory cheese can make you forget there's anything vegetable-like inside. In between those slices of tremendous turkey or rock-star roast beef, add some dark leafy greens, maybe some peppers, onions, and freshly sliced tomatoes. The added crunch and burst of vitamins and minerals they provide will further elevate your sandwich game.
Sandwich Ingredients
2 slice regular whole-grain bread
8 slice turkey breast, honey-roasted
1 slice (1 oz) reduced fat, provolone cheese
1 cup shredded romaine lettuce
¼ cup spinach
2 slice, thin/small tomatoes
6 strips green bell pepper
Greek Yogurt Spicy Honey Mustard Spread Ingredients
3 tbsp nonfat plain Greek yogurt
1 tbsp honey
1 tbsp brown mustard
2 tsp lemon juice
⅛ tbsp crushed red pepper flakes
Directions
Mix all of the spread ingredients in a bowl.
Spread the mixture on each slice of bread (toasted or fresh).
Layer the greens, cheese, and turkey on top.
Serve the sandwich with a piece of fruit.