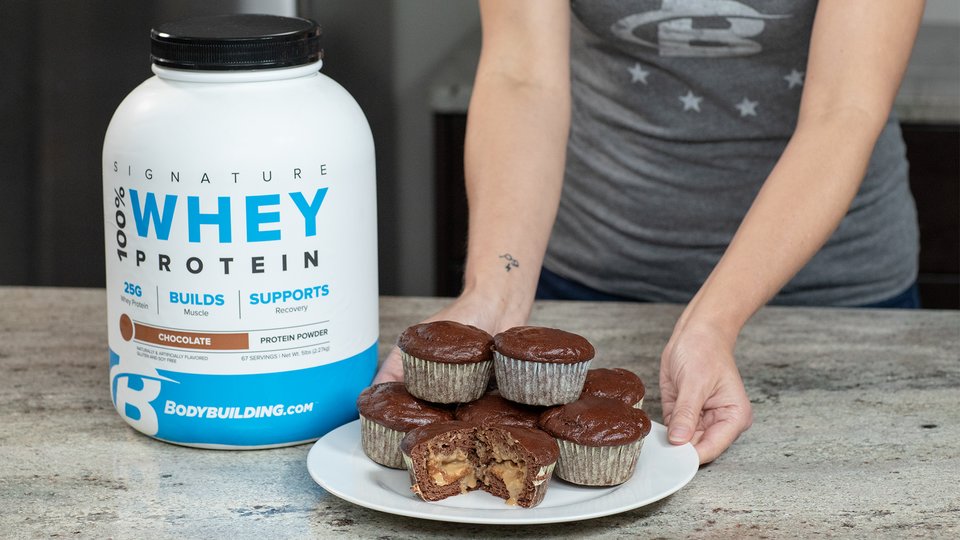 What could be better than delicious chocolate cupcakes with a gooey peanut butter center? A healthy protein version you can enjoy without sabotaging your goals!
Ingredients
2 scoop Signature Chocolate Whey Protein Powder
½ cup oat flour
¼ cup cocoa powder, unsweetened
1 tsp baking powder
¾ cup plain Greek yogurt
1 large egg whites
1 whole egg
¼ cup unsweetened almond milk
¼ cup powdered Stevia
⅓ cup natural creamy peanut butter
Directions
Preheat the oven to 350 degrees F (180 C).
Combine all the ingredients except the peanut butter in a food processor. Process into a smooth batter.
Divide the cupcake mixture between nine cups in a cupcake tin. Then, pop a teaspoon of peanut butter in each and push it down so it is submerged.
Bake the cupcakes for 10-15 minutes until they're cooked through. They're best eaten fresh from the oven. If you have any leftovers, microwave them to re-melt the peanut butter center.