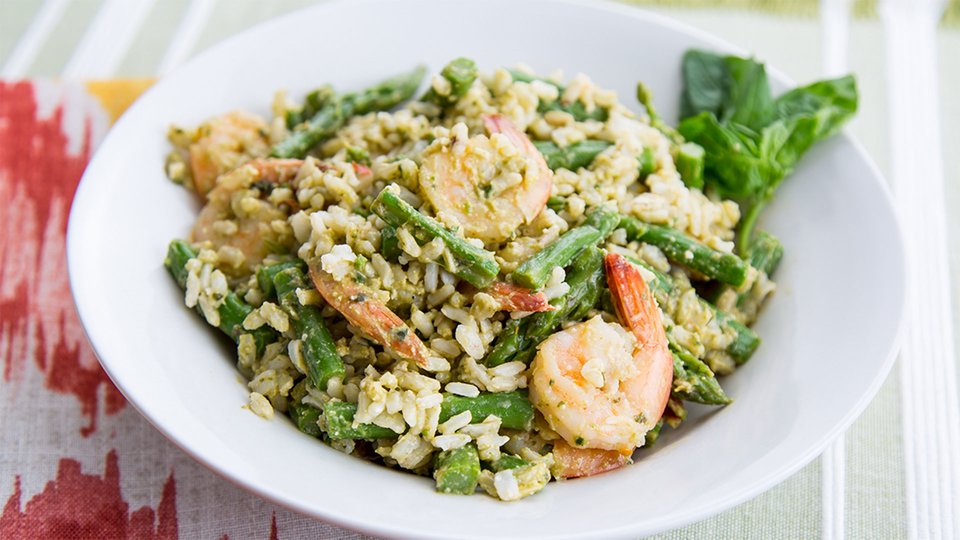 Shrimp is an excellent and often overlooked protein source. It's low in fat, rich in quality protein, provides a small dose of zinc, and helps regulate your testosterone levels. This pesto recipe is relatively easy to cook and contains a nice balance of the three main macronutrients.
Ingredients
1 cup baby spinach
1 cup fresh basil leaves
¼ cup flat-leaf parsley
½ tomato, finely diced
¼ cup cashews, chopped
1 tbsp lime juice
⅛ cup low-fat Parmesan cheese
2 clove garlic, minced
1 tbsp olive oil
1 cup brown rice
15 asparagus spears
1 lb small shrimp, peeled and deveined
1 tbsp sesame seed oil
1 salt and pepper to taste
Directions
Place a pot with 3 cups of water on high heat to boil. Once water boils, add rice, cover and simmer for 10 minutes or according to package directions.
Heat a skillet over medium heat. Add enough water to cover the bottom of the skillet 1/2-inch deep. Add spinach and parsley leaves. Cook for about 2 minutes.
Drain and transfer leaves along with the basil, tomato, cashews, lime juice, salt and pepper, Parmesan cheese, one clove of garlic, and olive oil to a food processor.
Blend until well mixed. Set aside.
Slice asparagus spears into bite-sized pieces. Place them in skillet filled with 1/2 inch of boiling water. Cook for 4-5 minutes or until tender.
Next, heat sesame oil in a skillet over medium heat. Add second clove of garlic and shrimp, adding salt and pepper to taste.
Cook for 3-4 minutes or until shrimp is no longer pink. Remove from stove and mix in a bowl with the cooked rice.
Drain the asparagus and add to the bowl, topping with pesto. Stir gently and serve.