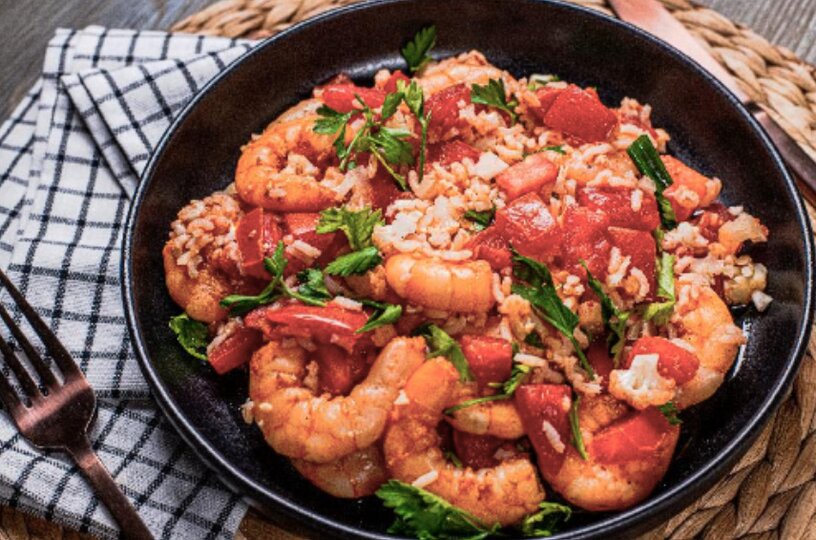 Move over chicken and rice, we got a new sheriff in town - Shrimp & rice! With the combo of tomatoes. Scallions, and parsley, you won't want to miss out on this!
Ingredients
1 tbsp butter, salted
3 tsp cajun seasoning
1½ cup white Rice
4 tbsp parsley leaves, loosely packed
2 cup cauliflower rice
3 tbsp green onion, chopped
5 small whole (2-2/5" dia) tomatoes
2½ tbsp extra virgin olive oil
23 oz shrimp
3 clove garlic, chopped
Directions
Heat butter, olive oil and crushed garlic in a large skillet over medium-high heat until fragrant, about 1 minute.
Add cajun seasoning and shrimp. Cook, stirring until the shrimp begin to curl, about 1 minute. Season with salt and pepper.
Add diced tomatoes and roughly chopped scallions to the skillet and cook, stirring, for about 1 minute.
Add the cooked rice and cauliflower rice, next add 1/4 to 1/2 cup of water. Continue to cook until the rice is hot throughout and the shrimp are cooked about 3 more minutes.
Stir in the parsley and serve.