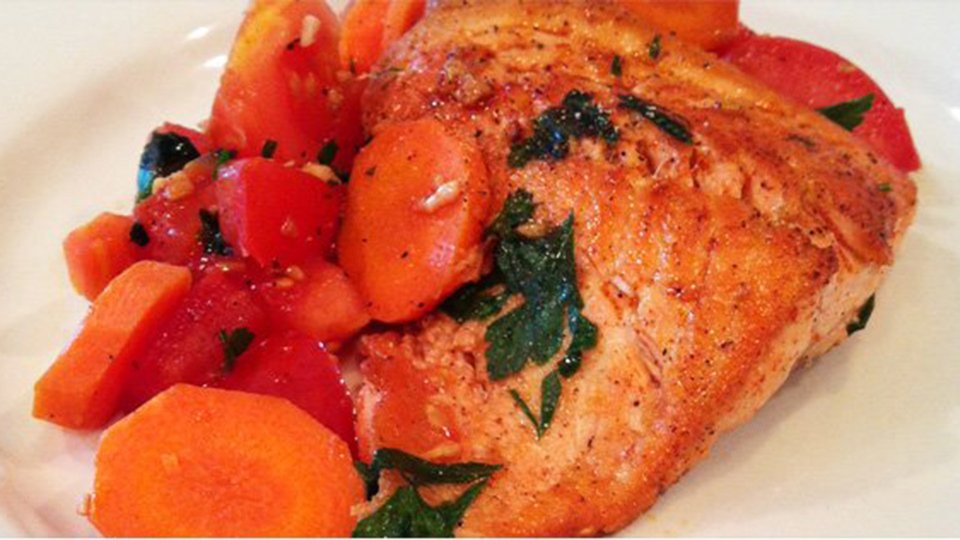 Mixing tomatoes with salmon is something most people don't ever consider. You'll be glad you did! The lycopene in this recipe offers additional antioxidant benefits.
Ingredients
2 fillet salmon fillet
2 tbsp olive oil
1 clove garlic, minced
¼ tsp paprika
⅛ tsp cayenne pepper
2 slice, medium (1/4" thick) tomatoes, sliced
1 small (5-1/2" long) carrots, sliced
1 bunch flat-leaf parsley
⅛ cup low-fat parmesan cheese
Directions
Heat olive oil.
Add salmon and sprinkle with cayenne pepper and paprika
Cook for two minutes each side; add seasoning to the second side.
Add tomatoes, chopped carrot, garlic, and parsley, and continue to cook for another 2-4 minutes to allow the flavors to blend.
Sprinkle with Parmesan cheese and then serve alongside side of your choice.