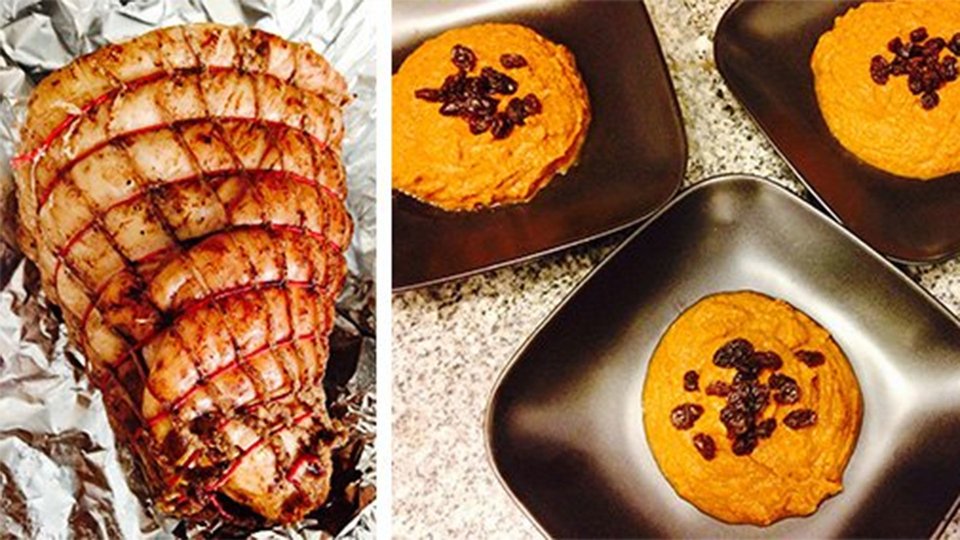 When I prepare a bird, I want it to be super tender and juicy. They say you should roast a turkey 10-12 minutes for every pound, but that wasn't long enough in my case, so be sure to check your turkey with an internal thermometer. The sweet potato puree also stands alone as a great post-workout meal!
Roasted turkey Ingredients
4 lb turkey breast, boneless and skinless
Balsamic mustard vinaigrette marinade Ingredients
¼ cup balsamic vinegar
2 tbsp extra virgin coconut oil
3 tsp dijon mustard
salt and pepper to taste
Sweet potato puree Ingredients
1 can (404 x 307) sweet potato puree
⅓ cup unsweetened applesauce
1¼ tbsp cinnamon
½ tbsp powdered Stevia
¼ tsp ground cloves
½ cup (not packed) raisins, seedless
Directions
Directions for roasted turkey: Combine marinade ingredients in a bowl; whisk together.
Roll and rub turkey breast in vinaigrette.
Place in a Ziploc bag; pour in remaining marinade.
Let turkey marinade in a refrigerator for a few hours.
Preheat oven to 350 F.
Bake turkey for 1 hour, then reduce the temperature to 275 F and bake 2 more hours, or until it reaches proper internal temperature (160 F).
Directions for sweet potato puree: Put all ingredients in a bowl and stir well.
Place in refrigerator to chill for 3-4 hours.