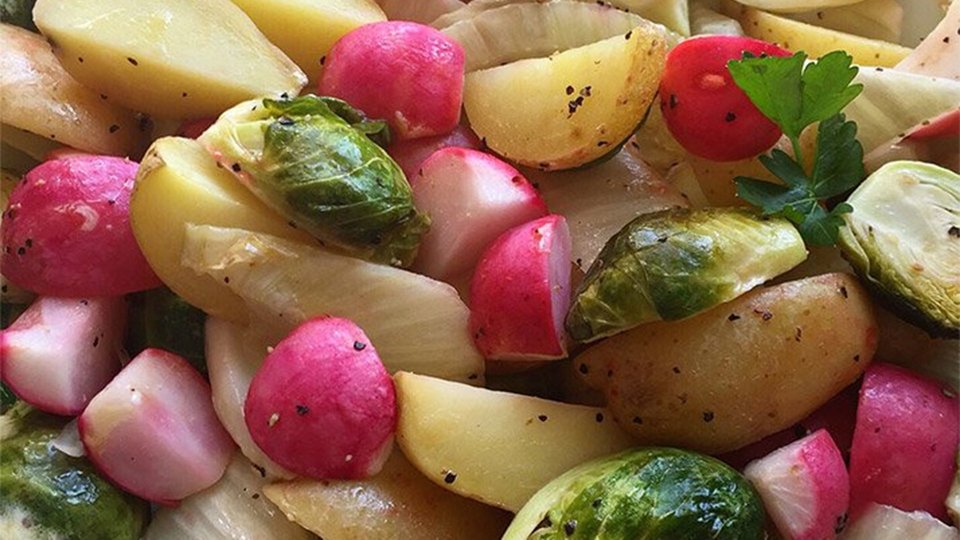 Some things are just better roasted. For example, brussels sprouts, yellow baby potatoes, fennel, and radishes. If you've never tried roasted radish—I hadn't until recently—you're in for a treat. This tart root takes on a much milder, sweeter profile when cooked and pairs delightfully with the Dijon maple glaze.
Spring Vegetable Ingredients
1½ lb potatoes
2 bulb fennel bulb, stalks removed
1 lb radishes, greens removed
1 lb brussels sprouts
2 tbsp olive oil
½ tsp, ground black pepper
½ tsp kosher salt
Glaze Ingredients
3 tbsp lemon juice
1 tbsp maple syrup
1 tbsp dijon mustard
Directions
Preheat oven to 450° F.
Wash vegetables thoroughly, and prepare as follows: quarter potatoes lengthwise; remove fennel stalks and core, then cut into 1" pieces; trim both ends of radish, quarter lengthwise; trim bottoms of Brussels sprouts, and cut in half.
Toss prepared vegetables in olive oil, salt, and pepper.
Arrange vegetables in one or two baking dishes in a single layer, not heaped on top of each other.
Roast vegetables in oven for 30-40 minutes until easily pierced with a fork.
Whisk together lemon juice, maple syrup, and Dijon to make a glaze.
As a final step, toss vegetables in lemon glaze. Serve warm.