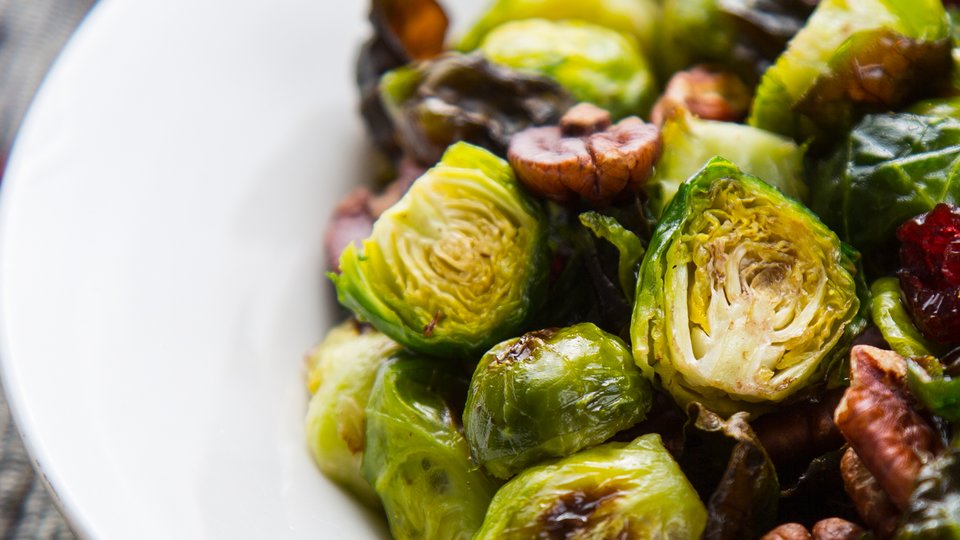 If you have a sweet tooth, you're sure to love this recipe. It has fiber from the Brussels sprouts, healthy fats from pecans, and a hint of sweetness from the cranberries. This is the perfect way to get your vegetables, increase your calorie intake, and give your body what it needs to build muscle.
Ingredients
1½ lb brussels sprouts
2 tbsp olive oil
½ tsp table salt
¼ tsp, ground black pepper
½ cup pecans, chopped
½ cup dried cranberries
1 tbsp balsamic vinegar
Directions
Preheat the oven to 400 degrees F
Line a rimmed baking sheet with aluminum foil or parchment paper.
Wash and trim the ends from the Brussels sprouts. Remove any dark outer leaves and slice the Brussels sprouts in half from top to bottom.
In a large bowl, combine the Brussels sprouts with the olive oil, salt, and pepper, and toss to coat.
Arrange the Brussels sprouts on the baking sheet and roast at 400 degrees F for 20-30 minutes or until the sprouts are tender with crispy, dark roasted outer leaves.
Remove Brussels sprouts from the oven, toss with the pecans and dried cranberries, then drizzle with the balsamic vinegar.