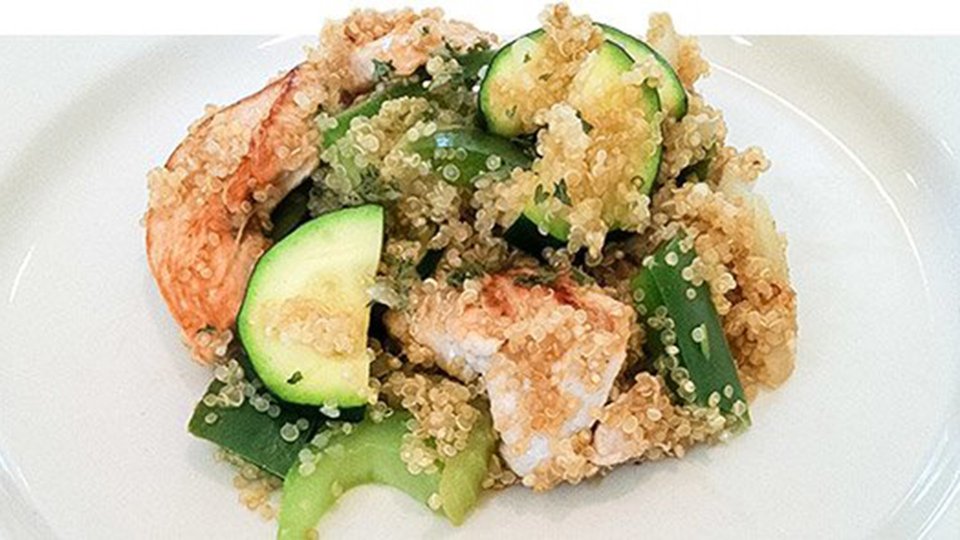 If fish doesn't float your boat, consider grilled chicken breast and quinoa. Quinoa is hearty, and contains more protein than most other grains. It's also rife with fiber, a necessary nutrient for long-term health support.
Ingredients
1 cup quinoa, cooked
2 cup chicken bone broth
2 tbsp olive oil
1 tsp garlic, pureed
1 whole onion, finely diced
2 piece chicken breast
1 whole zucchini, sliced
1 whole green pepper, chopped
2 whole stalk celery, finely diced
1 tbsp onion flakes
Directions
In a large pot over medium heat, bring the quinoa and chicken broth to a boil.
Reduce the heat and allow to simmer for about 12 minutes or until the quinoa is fluffy and the broth is absorbed.
Heat one tbsp of the oil in a large skillet and then add garlic, onion, zucchini, pepper and celery.
Cook for 2-3 minutes or until tender, and remove.
Heat the second tbsp of olive oil in the pan, then add chicken breasts, cooking for 5-8 minutes, stirring occasionally.
Place the removed vegetables and quinoa back in the pan and add in onion flakes and any other spices you desire.
Cook for 1-2 more minutes to allow the flavors to blend.