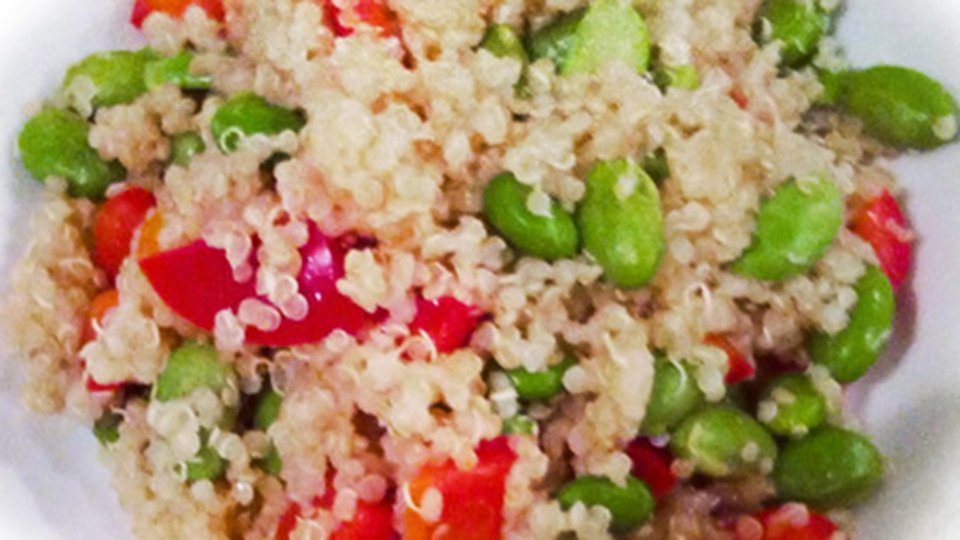 This is one of my favorite summer salads to bring to barbecues or to pot-luck parties. It also serves well for weekly meal planning! This dish isn't your average green side salad, but has a healthy dose of protein, complex carbs and good-for-you fats. Pair it with lean meat for a complete meal.
Ingredients
1 cup quinoa, cooked
1 cup, chopped red bell pepper, sliced
1 cup cilantro
1 tbsp olive oil
½ tsp garlic powder
1 salt and pepper to taste
1 cup edamame
1 fruit (2" dia) limes, raw
Directions
Bring 2 cups of water and 1 cup dry quinoa to a rolling boil. Boil for 2 minutes.
Reduce to a simmer and cover. Allow to cook for another 15 minutes, then fluff with a fork.
In a separate small saucepan, boil frozen edamame in water for 5 minutes, or until fully cooked.
Once quinoa and edamame are fully cooked, add all ingredients in a large bowl and mix until all flavors are incorporated.