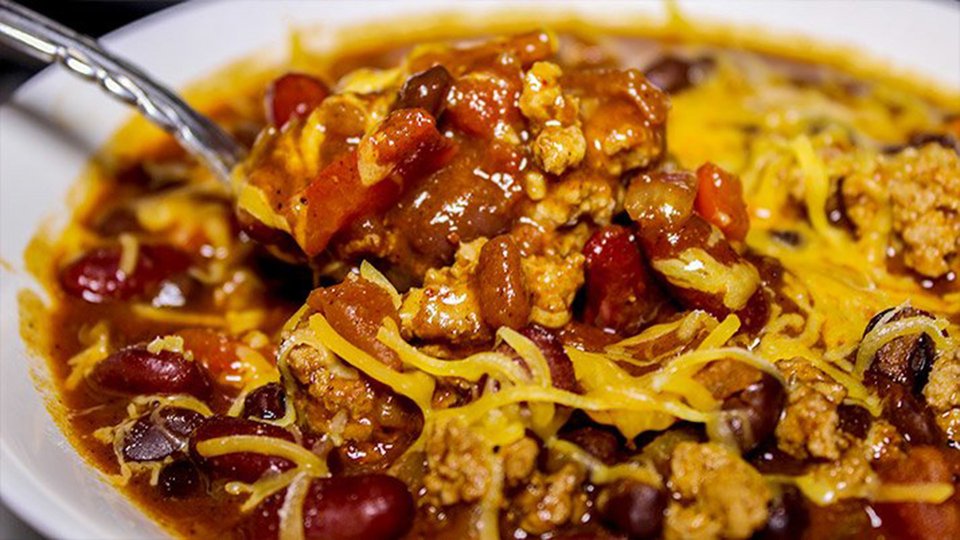 This chili recipe is mild in terms of heat. For an extra kick, add in Sriracha or some other hot sauce. For additional calories, top your chili with sour cream, cheese, bacon, or anything else you can think of!
Ingredients
1½ tbsp olive oil
1⅓ lb ground 99% fat-free turkey breast
2 cup water
½ whole red onion, sliced
1 small red bell pepper, sliced
1 tsp garlic, minced
1 tbsp green chilies, diced
⅛ cup red pepper, roasted, thinly sliced
15 oz black beans, drained and rinsed
16 oz kidney beans, canned
1 tsp red chili powder
2 cup tomatoes, crushed, canned
Directions
Heat a large pan on stove at medium heat.
Add olive oil and let that heat up.
Add lean ground turkey and brown on both sides, being careful not to overcook.
Add remaining ingredients and incorporate everything together, stirring occasionally.
Turn up the heat and bring chili to a boil.
Cover chili, lower heat, and simmer for another 30-35 minutes.